Introducing Vitriola Music Shambles
by Michael Legge
A Smiths agreement and a small Suede disagreement in 1992 has grown into 25 years of arguing for Robin Ince and Michael Legge.

I am that Michael Legge and I have lived through 25 glorious years of Robin praising Nick Cave and me calling him an idiot for not liking Queen enough and Robin screaming at me for not understanding "Techno-Cello" and me crying tears of joy at finally discovering Frank Zappa and then Robin and I not shutting up about how brilliant Savages are. Then, on a day much like this one, Robin turned to me and said "Heyyyy… Wouldn't it be awful if anyone ever else had to listen to us talk about music?". I agreed and voila! Vitriola was born. A phenomenally niche podcast featuring us two talking and shouting about what music we've listened to that week. Basically, it's like we made you a compilation tape and then talked over the top of it.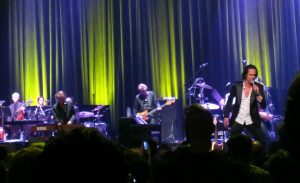 Over two years of Vitriola, listeners have written in with great recommendations for us and we've given them a good few in return. If it wasn't for listeners of Vitriola, I'd never have heard of excellent bands such as Birds of Hell, Built To Spill or Martha. Not heard of them either? You should listen to more Vitriola then because those bands are BRILLIANT! Nothing makes me happier than a listener writing in to say that an album or band we've recommended has got them all excited. The feedback we got from shouting about bands such as Real Estate, Malcolm Middleton, Ty Segal, Malcolm Middleton, Primitive Parts, Public Service Broadcasting, Malcolm Middleton, Savages and Malcolm Middleton has been joyously overwhelming. By the way, we listen to and talk about Malcolm Middleton a fuck of a lot. We're probably doing one of those two things right now. And it's a bit more sweary than some of the other cardigan-based podcast Robin does. But less sweary than all the others of mine.

We try to make Vitriola as much about new music as we can, but like so much of what we do, we fail. Often. That's because there's so much bloody brilliant music out there. How can we listen to the brand new Father John Misty album when we've decided on a whim to listen to all 23 albums by Sparks in order? Yes, it's a huge thrill to find out that the second Soft Machine album is wonderful but a devastating blow to think that, while we wasted decades on Menswe@r b-sides and the OTHER Elastica album, that it had been just sitting there waiting for us since 1969. While we were agreeing with the NME that Black Rebel Motorcycle Club probably had reinvented sound itself, that brilliant album was just lying there gathering dust. We had to wait until we'd gathered just as much dust ourselves before discovering it and realising we'd wasted a hell of a lot of time. And Frank Zappa's Hot Rats? HOW COULD WE NOT HAVE HEARD THIS BEFORE? I heard it for the first time last year and it is ONE OF THE GREATEST PIECES OF ART EVER CREATED. But it took me until 2016 to know that because I'd previously been busy listening to… well, other stuff that's not as good. To put it into perspective: I heard TWO albums by Steps before I listened to Hot Rats. I'm a fucking idiot.

Slowly, Vitriola and its kind listeners are curing me of missing out on the sort of thing I really should be listening to. Some of the very kind ones even join us on Twitter to listen along to brand new records and those very legendary albums that we just never got round to. We even had a midnight Twitter listening party starting the minute David Bowie released Blackstar. It's still a huge relief to us all that everyone only had great things to say about it because, three days later, we'd have looked like right dicks.
I hope you like our Music Shambles/Vitriola spin-off. The first episode is up now. It's just two men with a very simple mission: to listen to some good music, pass it on to some other people so they'll hopefully buy a record and not just nick it off the internet. But, you know, it's still just mainly us two trying finish that argument we started in '92.
Michael Legge is a stand up comedian and BAFTA nominated writer.  He is a team captain on the popular podcast series Do The Right Thing and co-hosts Vitriola/Music Shambles with Robin Ince.
Nick Cave feature photo credit: New York + Philly Live! via Foter.com / CC BY-SA