Welcome to the Cosmic Shambles Network
by Robin Ince
It is a smaller step from punching a melon on stage to standing in the middle of the Lovell telescope talking about gravitational waves than you might imagine.
The seed of Cosmic Shambles was in failure. An Edinburgh Fringe show that had been dreamt of in a bar at 1am was met with fury, incomprehension, but occasionally, glee. Fortunately, the few who were gleeful stayed to talk, and from these conversations, new ideas sprung forth.
At first, it was a show mixing variety acts, insane accordion cover versions, and reading from the more peculiar purchases from charity shops. From that came a series of nights where the variety acts were fused with scientists and philosophers discussing ideas that excited them.
This grew to fill the Hammersmith Apollo, where people would talk of sub atomic particles before Jarvis Cocker would cover songs by Greg Lake, and then this led to The Infinite Monkey Cage, a radio show I co-present with Brian Cox. This now goes back such a long way that it was before he had been moved to the plinth of "the sexy face of theoretical physics."
With the limits of 30 – 45 minutes on radio, and finding myself in the labs and reading rooms of a multitude of scientists, with Trent Burton of Trunkman Productions, The Incomplete Map of the Cosmic Genome was born. Grabbing epidemiologists and geneticists by the elbow, I would ask, "have you got 43 minutes to talk about your work and inspirations" and before they knew it, they were in front of a green screen.
Soon we had more scientists interviewed than there are elements in the known universe.
Meanwhile, my frequent cohort, Josie Long, and I decided we should resurrect our Utter Shambles podcast, formerly Things to Make and Do, a format so popular it was purloined by the scurrilous TV people who so often operate like Fagin's gang. The new podcast would try and hem us in a little by giving us a theme. Both voracious readers, we could make it a BOOK Shambles.
Around the same time, dissatisfied with only two podcasts to my name, I started Vitriola with Michael Legge, my angriest friend. This is Waldorf and Statler bitten by a rabid dog while trapped in Spotify, and so we shout about the world's failures, our failures, and what we consider to be music's successes.
All of these projects share the common aim of wanting to share things, to say, "Look what I've found, I think it's brilliant and I hope you like it too".
For those as old as me, these are relentless compilation tapes for first dates, for the younger, some kind of playlist link you can share in your virtual world.
People are interested if you show them interesting things.
And so now, with the Trunkman Productions team, we have decided to bring all that together by creating The Cosmic Shambles Network.  A network of ideas and interesting things.  Podcasts, web series, documentaries, articles, interviews, live events and whatever else we come up with, growing and evolving over time like some sort of organism being constantly prodded in a petri dish.  And it's all for those that want to embrace the notion of curiosity, rather than run from it.
Part of our original Cosmic Genome idea was to show the passion of scientists, remove the idea that they are some form of replicant programmed to collate the world without relating to it and with it. There is a lot of cynicism and dogma shaping current politics. How do you combat bitter fundamentalism that is damaging to so many people, including those who are currently voting for it? Hopefully, finding different ways of showing the joy of finding things and enthusing people with a passion for doubtfulness and tolerance may have some purpose.
In Book Shambles, we frequently quote Kurt Vonnegut, especially the advice from God Bless You, Mr Rosewater, "Godammit, you've got to be kind."
Behind the mix of celebrating authors and scientific ideas is that sentiment, because evidence, not hearsay, builds to show that comradeship, curiosity, altruism and tolerance really can make things better than building more walls and hemming yourself further in on an already small planet.
Of course, it might turn out that burning progress down and smashing civilisation to bits is the way to go, but it is not as much fun as looking at the stars or reading Man in the High Castle or dragging a net through a pond and then seeing what wiggly things you've caught.
It's a pity to smash beautiful things for nothing. I've stopped punching melons now.
_______________________________________________________
NB: If you've got a spare five minutes, help us out by taking this quick survey and you could win a box of books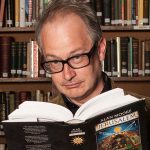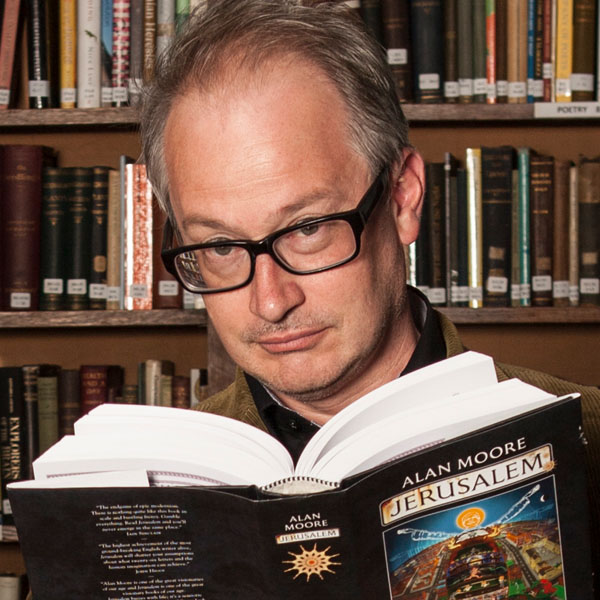 Robin Ince is a multi-award winning comedian, writer and broadcaster.  As well as spending decades as one the UK's most respected stand-ups, Robin is perhaps best known for co-hosting The Infinite Monkey Cage radio show with Brian Cox.  For his work on projects like Cosmic Shambles he was made an Honorary Doctor of Science by Royal Holloway, University of London.