Dina Nayeri
Book Shambles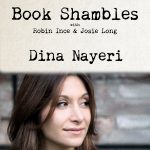 On this week's episode Robin and Josie chat with author Dina Nayeri about her new book The Ungrateful Refugee in which she looks back at her journey from leaving Iran as an 8 year old and arriving in the United States as a refugee with her family. They talk about the refugee experience, finding creativity during lockdown, the power of short stories and the challenges of teaching children about difficult subjects.
As always Book Shambles Patreon supporters get an extended edition of this week's episode plus, those at the behind the scenes tier, this week also get to watch the episode! Support us at patreon.com/bookshambles
Reading List
Dina recommends:
Writing Life Stories by Bill Roorbach
Women Talking by Miriam Toews
Women in Power by Mary Beard
The work of Lydia Davis
The work of Alice Munro
Drinking Coffee by ZZ Packer
The work of Maile Meloy
Boys Go to Jupiter by Danielle Evans
Robin recommends:
The Ungrateful Refugee by Dina Nayeri
The Bottle Factory Outing by Beryl Bainbridge
Everyday Madness by Lisa Appignanesi
I'm a Joke and So Are You by Robin Ince
The Guilty Feminist by Deborah Frances-White
War by Janne Teller
Josie recommends:
Sway by Pragya Agarwal
Small Acts of Resistance by John Jackson and Steve Crawshaw
The work of Raymond Carver
After the show Dina sent us an email saying she had so many short stories she wanted to recommend, particularly ones that "crack open the complexities of being a particular kind of person in a particular time and a place". So here's that list:
"The girl with the pimply face"  William Carlos Williams (1938) 
"A really good jazz piano," Richard Yates (1962)  
"Gold coast" James McPherson (1968)
"A manual for cleaning women" by Lucia Berlin (1960-1990?)  
"What you pawn I will redeem" Sherman Alexie (2004)  
"Everything that rises must converge" Flannery O'Connor (1962)
"Where is the voice coming from?" Eudora Welty (1963)   
"The night Rhonda Ferguson was killed" Edward P. Jones (1992)  
"Lost in the City" Edward P. Jones (1992) 
"Edison, New Jersey" Junot Diaz (1996)
"Brownies," ZZ Packer  (2000)
 "All our Names" [selection] (2014) Mengestu, Dinaw.
"The displaced person" Flannery O'Connor (1955)
"The German refugee" Bernard Malamud (1963)
"The management of grief,"  Bharati Mukherjee (1988)
"Two kinds" Amy Tan (1989) 
"Best quality" Amy Tan (1989) 
"Half and half" Amy Tan (1989) 
"The third and final continent" (1999) Jhumpa Lahiri  
"Hell-Heaven" (2004) Jhumpa Lahiri  
"Children as enemies" Ha Jin (2009)  
"Sonny's blues," James Baldwin (1958)  
"Car crash while hitchhiking" Denis Johnson (1992)  
"Emergency" Denis Johnson (1992)  
"The conversion of the Jews" Philip Roth (1959?)
"In the gloaming" Alice Elliott Dark (1993)
Middlesex, Jeffrey Eugenides (2002)  [selections]
"Here I stand ironing"  Tillie Olsen (1957) 
"My son the murderer" Bernard Malamud (1968)  
"The child screams and looks back at you" Russell Banks (1981) 
"What feels like the world" Richard Bausch  (1987) 
"The bear came over the mountain" Alice Munro (2001)
 "Bartleby" Herman Melville (1853)  
"The yellow wallpaper" Charlotte Perkins Gilman (1892)
"Signs and symbols," Vladimir Nabokov (1948)
"A perfect day for banana fish"  JD Salinger (1948)
"The swimmer" John Cheever (1964)
 "Child's play" Alice Munro (2008)
"The drowned life" by Jeffrey Ford  (2008)