Stewart Lee Returns
Season 7, Episode 4

Stewart Lee was our first ever guest on Book Shambles and now he's back in Season 7 as our first return guest. Unfortunately Josie was ill at the last minute so for this episode the role of Josie was played by Michael Legge. This was a long chat so we've split it into two parts. 
In Part 1 Robin, Michael and Stew chat about Jarret Kobek, Alice Cooper and Mohave Ethnopsychiatry. 
In Part 2 the three continue their conversation getting into the work of Rosemary Tonks, David Keenan, Dave Graney and Ithell Colquhoun. Also Stew doesn't like Dunkirk and Michael's annoyed on trains.
To hear an extended version of this episode, plus lots of other perks you can support the show at patreon.com/bookshambles
Part One
Part Two
Reading List
Stew recommends:
Workshy by Dave Graney
I Hate The Internet by Jarett Kobek
The Future Won't Be Long by Jarret Kobek
Woman at Otowi Crossing by Frank Waters
The Beautiful Poetry of Donald Trump by Rob Seers
The Last London by Iain Sinclair
Bedouin of the London Evening by Rosemary Tonks
Emir by Rosemary Tonks
The Living Stones by Ithell Colquhoun
The Crying of the Wind by Ithell Colquhoun
Robin recommends:
Bob Flanagan: Supermasochist by A. Juno
Mohave Ethnopsychiatry and Suicide: The Psychiatric Knowledge and the Psychic Disturbances of an Indian Tribe by George Devereux
This is Memorial Device by David Keenan
England's Hidden Reverse by David Keenan
Book of the Hopi by Frank Waters
Karloff's Circus by Steve Aylett
House of Psychotic Women by Kier-La Janisse
Mercy and Me by Reinhard Kleist
Year of Reading Dangerously by Andrew Miller
The Savage God by Al Alvarez
Michael doesn't recommend:
Golf Monster by Alice Cooper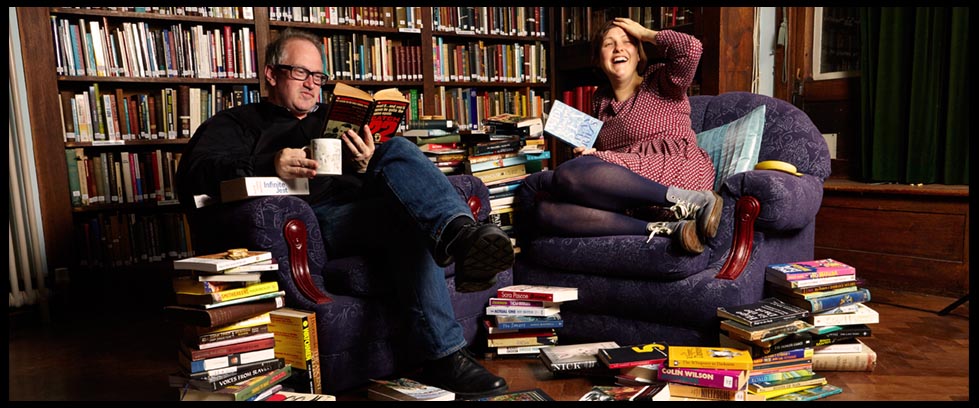 Feature Image of Stewart Lee from Nine Lessons 2017 and taken by Steve Best