A Chance Encounter With Marian Keyes
Robin Ince's Horizons Tour Diary
Monday is a travel day.One of those days that peters out with little recognition of doing anything beyond traveling over a thin sea.
What makes it more exciting is that Brian is always chipper when we get to an airport. He really loves flying and you never see him smile the way he smiles when he sees inside a cockpit. He is keen on the plane we are flying on today. He told me the make and number but it has quite slipped from my mind.
While we wait at City Airport, I pop to the WH Smith and ask if they would like me to sign my books. This has never occurred before and they ring the manager to check. They need some form of ID and, with empty pockets, the best I can do is show them a photo of me signing 1000 copies of my next book in a Grantham warehouse. From this, we build up a bind of trust and I write various phrases and sentences in a pile of books in my squiggly, sometimes inscrutable, biro writing. They are very friendly and I explain what my book is about to Cloe. 
Getting to the gate, I think I see Marian Keyes. We have only met virtually for a Book Shambles, but I risk going over to say hello. Her first look appears to be suspicion. I am sure she has been on the cusp of Misery situations, then she is ebullient. She apologises for any look of shock, she was immersed in sudoku. I used to think she was not an author meant for me until I actually bothered to read one of her novels and found out, as usual, how wrong I was. 
On the plane, I read another chapter of When We Cease to Understand. This one concerns the mathematician Grothendieck who saw so deeply into the heart of algebra that he resigned from the world as much as he could.
'He came to believe dreams were not proper to human beings, but missives from an external entity he called Le Rêveur, who sent them to allow us to recognise our true identities."
​The next chapter involves Schrodinger, so it is suitable for Dublin as the Schrodimnger lecture theatre has recently been renamed at Trinity due to revelations about his sex life that seem to have been in plain sight all along. One day it will be deemed best to name things after ideas rather than individuals and build statues that don't place progress into the idealisation of one alabaster head.
I also read a little more of the latest Fortean Times on monetising the ghost of Aileen Wuornos and the dark secrets of Percy Shelley.
Our driver, Paul, gives us a little Dublin history as we pass through the location where Handel's Messiah was performed for the very first time. I had forgotten that the Olympia Theatre was the last place that Laurel and Hardy performed live. When their ship came to dock, the church bells played Dance of the Cuckoos, their delight enhancing theme tune.
We go to a nice restaurant on the river bank and are joined by a musician pal of Brian's. The evening includes conversation about Marlon Brando, Nazi amphetamine use, and holograms.
In the corner of the room is a shelf of elderly books. I am desperate to browse, always imagining this might be the shelf where I find Ernest Thesiger's Practically True.
Back at the hotel, the others continue the night with a martini, but I go off to watch an episode of Jordan Peele's reboot of The Twilight Zone. As has become my habit, the digestion of our rich supper brings forth strange dreams of asylums and missed trains.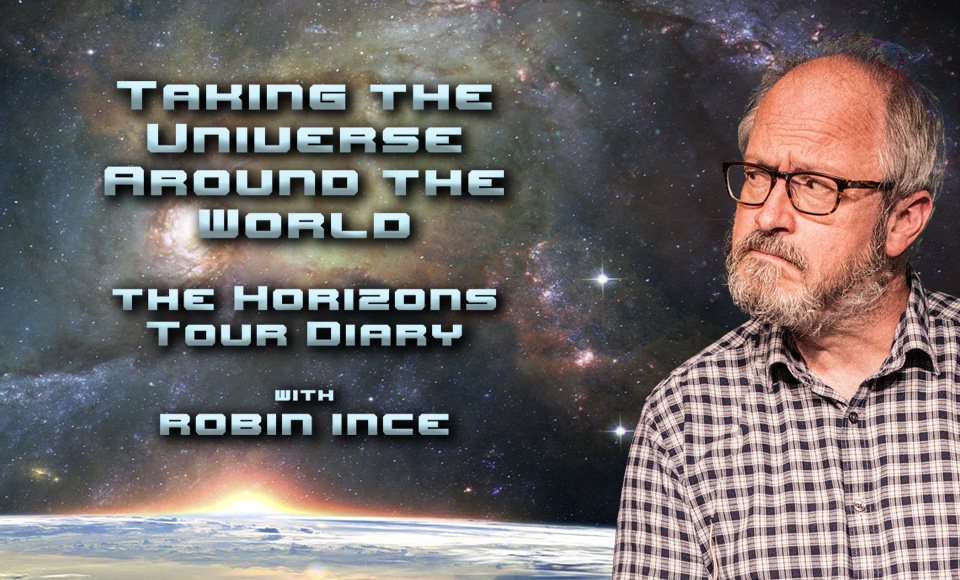 Listen to the Horizons tour podcast, Taking the Universe Around the World HERE.
Bibliomaniac is available for pre-order now at cosmicshambles.com/shop with exclusive art cards.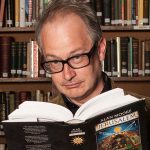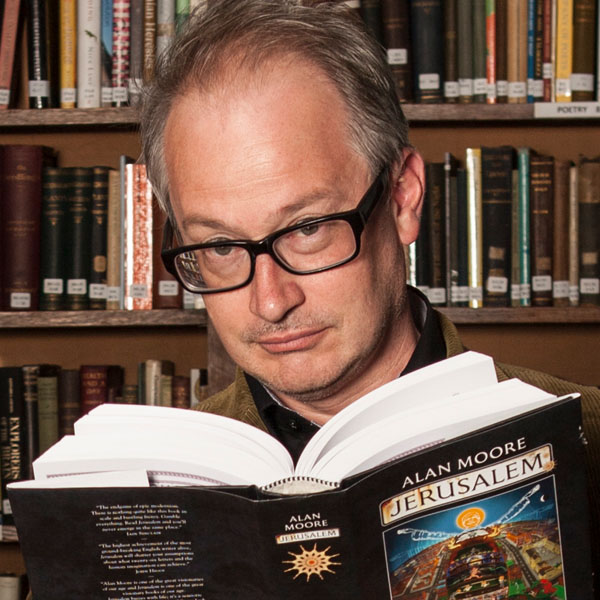 Robin Ince is a multi-award winning comedian, writer and broadcaster.  As well as spending decades as one the UK's most respected stand-ups, Robin is perhaps best known for co-hosting The Infinite Monkey Cage radio show with Brian Cox.  For his work on projects like Cosmic Shambles he was made an Honorary Doctor of Science by Royal Holloway, University of London. His latest book, The Importance of Being Interested is out now.
If you would like to reuse this content please contact us for details
Subscribe to The Cosmic Shambles Network Mailing list here.