A Man Called Philip Sainty
Robin Ince's Blog
East Anglia is a popular destination this Saturday, maybe everyone is going in search of one of the lost crowns of the kings of Albion.
I don't see many digging tools though. I am seated next to the door by two young men who are "sweating out" the night before and apparently made a mess of their hotel room the night before. They both feel punished but are already planning their Saturday night out in Colchester.
I am changing trains at Colchester so I can go to Wivenhoe, a perfect location for a 1970s children's TV drama about the ghost of a girl in a smock or location for a murder mystery investigated by a vicar. I pop into The Wivenhoe Bookshop which is being hectically vacuumed to remove the signs of autumn that have been trodden in. I am impressed by their books on display which includes Why Marianne Faithful Matters. My event for them is in the church opposite. A well-dressed elderly gentleman is in the churchyard and asks if he can get tickets for "this talk", he is told that they are sold out but I am pleased to see him snuck in to the back an hour later.
There's tea and biscuits for all attendees served from a hatch. This is the place to be on an afternoon like this. I saunter around the cemetery and find a grave for a man called Philip Sainty, a yacht builder who lived for 90 years and died in 1844. I have not seen the name Sainty before. I like being struck by names now gone in graveyards. In the sorting I found a grave remembering Philip Squibb and his wife Alice Maud Squibb. Next to the Sainty grave is a much smaller stone in memory of a man who died with Nelson at the Battle of Trafalgar.
The Wivenhoe audience probably has the highest average age of any talks I have done and the vocal reactions to some of the scientific ideas I talk about is delightful. I also re-enact slightly more of Powell and Pressburger's A Matter of Life and Death than I usually do because this seems the room to do that in.
I sign books until my train back to Colchester Town is imminent. Colchester is busy with Goths, bickering couples and people who have started their Saturday night a few hours before sundown.
My path is littered with charity shops and despite the fact I have very few minutes before the talk is about to begin, I pop into the SENSE shop and decided I need a 6 DVD set of The Three Stooges. I am talking in some disused office space above the shop. Jo has kindly bought me a vegan sandwich and some ring doughnuts but there is no time for that. This is a younger audience, even further dragged down to youthfulness by two girls in the front row who I am guessing are around ten years old. When they were even younger they attended one of the arena shows where I interrupt Brian Cox. A mug of tea was covertly positioned by my feet after I began my talk. About 20 minutes in, I was assailed by a light dizziness and decided to do the rest of the talk sitting down. I should have had that doughnut. I don't think anyone noticed a loss in momentum. I ended up reading one more poem than usual. I like reading my poetry though usually apologise for it and try and reduce it to "just some words in a shape".  There were some good questions and it was lovely to hear from Alex in the audience who had bought my copy of Totem and Taboo when I was selling my books online and had. Now decided to go and study anthropology.
More books signed, including a stack for Woodbridge Emporium who were meant to be my next stop that day but we had had to cancel due to staff illness, After my dizzy spell I was quite pleased that I would be able to get to bed early.
I sat on the train listening to an EP by Dry Cleaning and dreaming of a plan for my next book.
I am quite keen to write one called Bibliomaniac using my 112 bookshop tour as a jumping off point for all manner of digressions on books and bookshops.
————————————————————-
Next up Norwich Science Festival, then 5 days in the South West – Okehampton, Crediton, Totnes, Ivybridge, Plymouth, Liskeard, Mevagissey, Penzance, Falmouth, Tiverton, Bridgwater and Taunton (then a weekend in Caversham, Eastbourne, Uckfield and Shoreham) – come and see me.. All Tour dates here.

Order signed and dedicated copies of The Importance of being Interested here.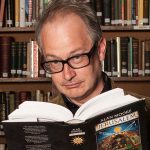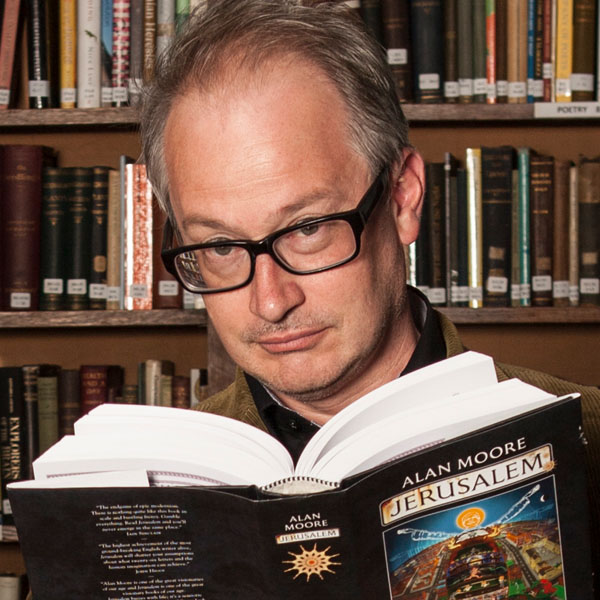 Robin Ince is a multi-award winning comedian, writer and broadcaster.  As well as spending decades as one the UK's most respected stand-ups, Robin is perhaps best known for co-hosting The Infinite Monkey Cage radio show with Brian Cox.  For his work on projects like Cosmic Shambles he was made an Honorary Doctor of Science by Royal Holloway, University of London. His latest book, The Importance of Being Interested has just been released.
If you would like to reuse this content please contact us for details
Subscribe to The Cosmic Shambles Network Mailing list here.