A Manic State of Mind
Robin Ince's Blog
I am unable to do one thing at a time.
While my cosmological double act partner Brian Cox has laser focus, I have to take on multiple deadlines so I am almost always on the cusp of motion sickness as I spin them all and then get spun back by them in return.
When I am in a manic frame of mind,  I come up with an idea, ignite it as soon as I can, then wonder how the hell I am going to complete it. The 100 Bookshop tour is very typical, much like my frequent decisions to do put on 4 or 5 Edinburgh Fringe shows over August.
Firstly, I must say that doing the bookshop shows is a delight. I love going on multiple tangents, throwing a load of ideas in the air and making rapid connections.
"As we left your event, my wife said,'I forgot just how fast he talks'" is pretty typical feedback.
As I wrote in the poem that I more often than not read during this tour,
"I do not like my anxiety
But it might also be my fire
That which destroys me
Might also create me".
As I drag my case and lug my rucksack on trains from destination to destination, I worry.
Is this endeavour too preposterous an undertaking?
And then I start to wonder, "will it kill me".
Some nights, in mid flow, the tips of my fingers feel numb.
Is that real or psychosomatic?
A symptom similar to my IBS?
"It's all in your mind!"
"Isn't everything?"
Maybe I was thinking about this because another comedian has died.
I never knew Phil Butler, I was on the margins of the comedy circuit and he was flamboyantly in the mainstream. I have read a lot of fond memories of him on social media – from his period of time living in a naturist camp near St Albans to his many cruise ship escapades. He was 51.
There is a stereotype about comedians that they are all bitching narcissists, but at times like these you see the warmth of the camaraderie. For a bunch of supposed narcissists, they are actually frequently very supportive and compassionate.
Tuesday was a good day. The week before, a bookshop had to cancel. I thought that I could take the night off, but then noticed that someone had commented that it was a pity I wasn't playing Hebden Bridge and so I hastily contacted The Book Case in Hebden Bridge and told them I had a Tuesday off and so if they would like me to, I would love to visit. The event quickly sold out and the brief vacuum in my diary was filled. On top of that, Manchester was nearby and Tuesday is the night of its exemplary comedy club XS Malarkey, so I asked its host Toby Hadoke if I could pass by and do ten minutes.
I arrived at Hebden Bridge just in time for Oxfam and it turned out that I needed a book about Earth Mother religions, an Olivia Laing and tow children's books from the late 40s, one about a crow and another about a Promethea Moth. I ate good cake with my friends Kirsty and Nick Doody and then showed off to a full bookshop before a fast walk to the station. Hebden Bridge is a very pretty station and I was just enjoying its MR James ambience when I realised I was standing by some sick. I moved to another bench and some more sick. It seems that someone had decided to vomit one puddle of sick by each bench.
I arrived at XS Malarkey in time to walk on stage fully coated and rucksacked.
It was a lovely crowd and delightful to see the XS Malarkey team.
I was also glad to catch Lulu Popplewell's work in progress which is worth catching whenever you can.
And then to Levenshulme and toast and watching Steven Van Zandt on MSNBC being poetical scathing of America's right. I fall asleep and dream of Chorlton.
————————————————————-
Coming up – after Colchester and the Norwich Science festival this weekend, I have 5 days in the South West including Penzance, Falmouth, Taunton and Crediton.  All Tour dates here.

Order signed and dedicated copies of The Importance of being Interested here.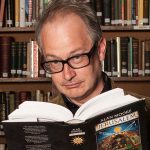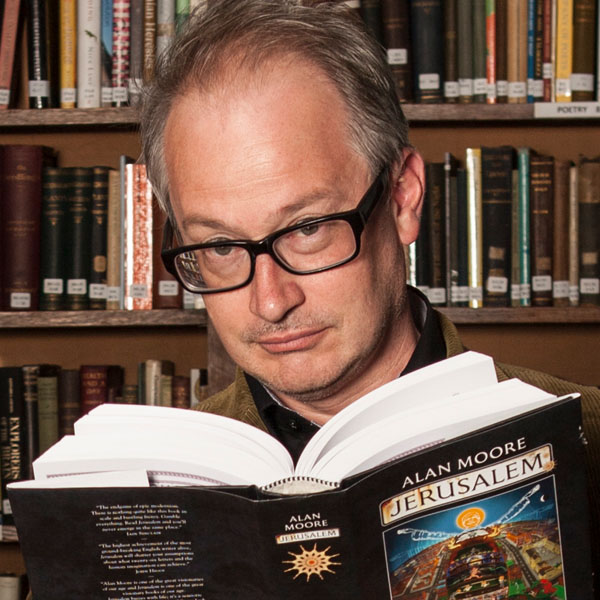 Robin Ince is a multi-award winning comedian, writer and broadcaster.  As well as spending decades as one the UK's most respected stand-ups, Robin is perhaps best known for co-hosting The Infinite Monkey Cage radio show with Brian Cox.  For his work on projects like Cosmic Shambles he was made an Honorary Doctor of Science by Royal Holloway, University of London. His latest book, The Importance of Being Interested has just been released.
If you would like to reuse this content please contact us for details
Subscribe to The Cosmic Shambles Network Mailing list here.