A Momentary Lapse
Robin Ince's Blog
I like to keep a lid on it.  I am the last generation brought up on Saturday afternoon movies with Richard Todd and Jack Hawkins.
I may lift the lift the lid when arguing with obstreperous inanimate objects, and my leash can loosen when exhausted, anxious or perturbed, but overall, I keep my carapace secure in public places.
On Friday evening, at the Wigtown Book Festival, without so much as a claw hammer, my shell splintered and was then hastily glued back together.
I was talking about my new book with the erudite inquisitor, Lee Randall.
Sat behind the plumes of plastic flowers and in front of an audience, Lee asked me about the first chapter. I told the story I have told before about the car crash I was in again. Quite unexpectedly, emotion crept up on me and said, "Boo". I have never released a tear on stage before, but there they were. Some alignment of events and memories had led to this hijacking. I soon regained my composure, but the leak was long enough for Lee to think, "Hmmm, what do I do now?"
She did the right thing, she waited, and I returned to the story and eventually the stupid voices and jumping about and non-sequiturs too.
This may be one of the perils of keeping it all in, sometimes it has to appear out of nowhere like a highwayman or a guilty fox in a bin.
I have had some near misses on stage in the past. I remember the day we found out John Peel died, and that night, at the Tristram Bates Theatre, I decided to do a little tribute to him. Just as I was about to launch into my impression, a rapid edit of all the childhood moments of musical influence, the Radio Times columns about Sheila's aneurysm and his ironic Top of the Pops presentations played vividly in my mind. I turned away from the audience briefly, though it would have looked like an impressionist turning around to adjust his face for his Roger Moore or Ronnie Corbett, took a breath, and all was back to normal.
The other two times were both connected to my mother's death.
Seventy-two hours before she died, I was playing the lovely Folkestone Literary Festival.
The event ended with me showing the last footage of Richard Feynman exuberantly playing the bongos for the final time, he would die soon after. As I explained the scene and talked of Feynman's final days, with my adrenaline lowered as the show was almost at an end and the reality of a death far closer to me being imminent, I felt the eddy of emotion form. I pressed play, the bongo ecstatic song about orange juice played, and I briefly hid behind the curtain, let out a drum solo concealed snort, and returned intact to end the show.
Two years later, and at the same time of year, I was back at the Quarterhouse in Folkestone and reaching the point in my show, Pragmatic Insanity, where I told some absurd stories about me that occurred around the time of my mum's death. Just as I reach the one about that attack of stress related diarrhea that occurred before the recording of a Monkey Cage Christmas Special, everything that happened two years before came sharply into focus and I paused. I stumbled and told the audience, "Sorry, I don't think I can tell you this tonight" and then regained my composure and said, "Yes I can, here we go" and all was back to normal.
Occasionally, when very tired, when I reenacted Richard Harris's conversation with his son in The Wild Geese, the emotional porn of movies almost caught me.
Generally, I like to keep it in and then, when everyone else is out, I get out the whisky and play Michael Nyman's sadder soundtracks and Mike Oldfield's Killing Fields.
The rarity of lachrymose moments means that it took my wife quite by surprise when I burst out crying watching the denouement of Inside No. 9's award winning Twelve Days of Christine episode. I'd watched it secretly twice already and have never felt such a gut punch of spluttering, snotty emotion form anything on the screen before. It is perhaps explained by some of the events in my own life. My wife, rather than taking pity on me, just presumed I had gone quite mad.
Don't worry, I'll keep the carapace strapped on for all future book events, twice in a decade would really be too much. What would Jack Hawkins say?
The Cosmic Shambles Network relies on your support on pledges via Patreon so we can continue to provide great, new, exciting content without the need for third party ads or paywalls.
For as little as $1 a month you can support what we do and get some great rewards for doing so as well. Click the Patreon logo to pledge or find out more.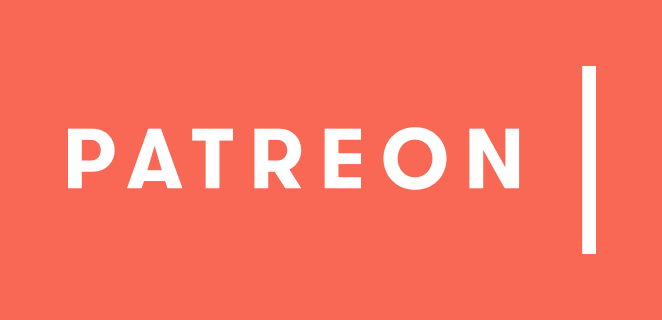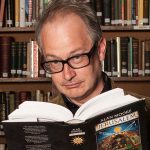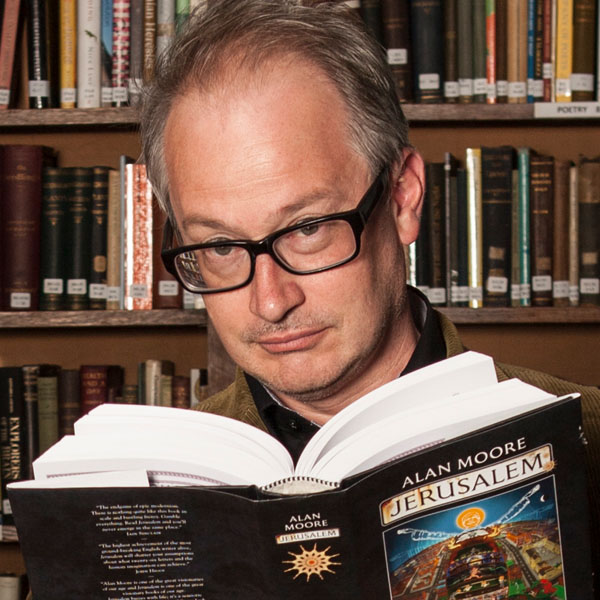 Robin Ince is a multi-award winning comedian, writer and broadcaster.  As well as spending decades as one the UK's most respected stand-ups, Robin is perhaps best known for co-hosting The Infinite Monkey Cage radio show with Brian Cox.  For his work on projects like Cosmic Shambles he was made an Honorary Doctor of Science by Royal Holloway, University of London.
If you would like to reuse this content please contact us for details
Subscribe to The Cosmic Shambles Network Mailing list here.