A Rare Day Off
Robin Ince's Blog
I was originally meant to be making a non-book related project on Wednesday but now find myself in the most peculiar position of being at a loose end at home.
Not that loose, but nothing to write home about because I am at home already. Maybe I will send a letter to the attic.
I email everyone who is on at the Berkhamsted Book Festival on Sunday – a full day that starts with me talking about my book at 10.15am then interviewing Mike Brearley about psychotherapy, form and cricket, Claudia Hammond about the nature of rest, AL Kennedy about activism and art and Nichola Raihani about evolution and social instincts. I will be flying by the seat of my trousers and aim to remember who is who and where I am.
Then, I do my tax, a considerably easier collection of numbers to collate after 18 months of much work, but few pay packets. As I look at the dates, I realise that time without movement is far more difficult area to map in your memory and mind.
Finally, I write a proposal for a new book and end the day watching Modern Family with my modern family.
Day 30
Today, I see one of the most beautiful tattoos I have ever witnessed. It is the pale blue dot colliding with Douglas Adams and a sentence transcribed from someone who died too young all nestling on the inside of an arm.
This is a gentle day, just two bookshops in close proximity and given lifts to and from both.
I try to read in the morning, but I have found I do not have the bandwidth for leisure. If I needed to read a book for an author interview deadline then my mind would function, but juggling so many shows has put me in an Edinburgh fringe brain fug. In between my displays, I am jittery and unfocused.
Gerrards Cross Books is my first destination. I spent a few Saturdays in Gerrards Cross when I was young. It was where my mum would come to have "her hair done". Sometimes, I would sit on one of those seat boards that would be placed on the cutter's chair so your face was high enough to meet the mirror. After my mum and dad bought a video recorder in the early 1980s, the salon owner recommended they watch the film Porkies as it was hilarious.
They did not finds it so. I have no idea what they made of the high school kid having his penis tugged through a hole in the wall and I never asked. Gerrards Cross cinema was also where I saw Star Wars and Herbie Goes Bananas (not a double bill, separate screenings). It is now a rather lovely looking Everyman. The cinema was the location for Sid James and Bernard Bresslaw to take their partners to see a naturist movie in Carry on Behind (or was it Camping?) . Anyway, Joan Sims was as unamused as my parents during Porkies.
I chatted to a few people at the bookshop and signed some books. I helped one of the customers choose a Paddington picture book for her granddaughter and then had to explain that I didn't actually work there. I told her I was signing my book and, when she asked me what it was about, the first thing I mentioned was the chapter about time. This was fortunate as she is currently studying time on her weekly philosophy course, that was another sale.
Time to visit my dad and deliver a book about Michael Wilding, the matinee idol movie star whose career was hampered by his epilepsy.
A nice sold out gathering in the Chorleywood Bookshop. It was here that I saw the stunning and moving tattoo. Back home again, a lift from Clare Swatman whose latest novel, Dear Grace, has been very warmly received. I will read it when my head regains its bandwidth.
————————————————————-
All Tour dates here including Berkamsted Book Festival and Kings Place London Launch Event.
Order signed and dedicated copies of The Importance of being Interested here.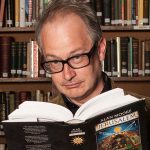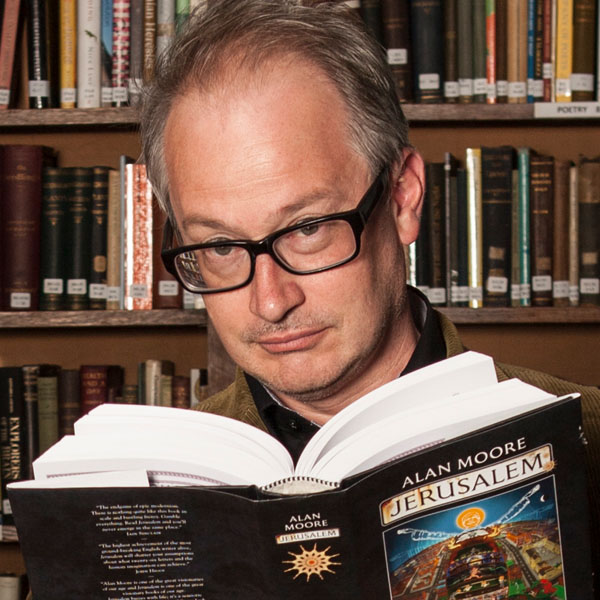 Robin Ince is a multi-award winning comedian, writer and broadcaster.  As well as spending decades as one the UK's most respected stand-ups, Robin is perhaps best known for co-hosting The Infinite Monkey Cage radio show with Brian Cox.  For his work on projects like Cosmic Shambles he was made an Honorary Doctor of Science by Royal Holloway, University of London. His latest book, The Importance of Being Interested has just been released.
If you would like to reuse this content please contact us for details
Subscribe to The Cosmic Shambles Network Mailing list here.