Not 'Only Me' But Someone Else
Robin Ince's Blog
Departing a light lunch of sticky toffee pudding and a pint of Neck Oil with Barry Cryer and Harry Hill, I bump my head on a quandary.
The waiter stops me in the stairwell and asks for a selfie. I am light on either celebrity or notoriety, but will sometimes have people approach me due to my work of being screeched at by Ricky Gervais, interrupting Professor Brian Cox and even occasionally because someone has read one of my books. I tell him that is fine and, as he withdraws his camera from his apron, tells me that Kevin and Perry was a major part of his growing up.
He thinks I am Harry Enfield.
What to do? Is it best to embarrass him now and tell him I did not brighten up his childhood or do I attempt my most Enfieldian face and scarper. I chose the latter and then worry on the way to Oxfam that he will be ribbed by his friends when he posts it on social media and they inform him that the owlish man, whoever he is, has not once declaimed, "Only me!" Or "Hello everybody matey peeps".
The rest of Bristol's Slapstick Festival is reasonably uneventful. I interview Tim Brooke Taylor about At Last the 1948 show, discus the influence of classical Rome on comedy with Robert Ross and Dr Shelley Hales, talk to The Goodies about their favourite moments on the 50th anniversary of their television birth, laugh at Laurel and Hardy with Stephen Merchant, watch Looney Tunes cartoons with Bill Oddie and discuss PG Wodehouse with Sophie Ratcliffe and Joanna Neary (parts of most of these events will be up as a series of podcasts on Book Shambles soon).
Hosting Slapstick events is always an education. I am usually talking to or about comedians I admire but usually rummage through my shelves and read up on the subjects, so last week it was Right Ho, Jeeves, Goodies Rule OK, The Comic Art of Stan Laurel and eyE Marty.
eyE Marty was the revelation. It was given to me a year ago but not opened until I had the excuse to read it and call it work. Due to the variety of projects I work on, my reading is very often inspired by whatever the next project is. Last week went straight from Quantum Mechanics to falling over with aplomb. eyE Marty is the autobiography of Marty Feldman, a document that had lain dormant in the attic for nearly thirty years, only discovered after the death of his wife, Lauretta. Feldman was a brilliant comic writer, fondly remembered for his work on Round the Horne, in particular the Julian and Sandy dialogues performed by Hugh Paddick and Kenneth Williams. Despite David Frost's reservations about Feldman's energetic eyes putting off viewers, he became a star after writing and performing At Last the 1948 show with Tim Brooke Taylor, Graham Chapman and John Cleese. (It was here that The Four Yorkshiremen sketch was created, not Monty Python, and Tim said that he did receive a cheque for it's use at the O2.)
Feldman wrote that he did not look back in anger at David Frost, but he did look sideways in suspicion. It appears that the publication went almost unnoticed as many of the comedy fans at Slapstick, including Tim Brooke Taylor, knew nothing about it. Tim is as delightful and convivial as you might hope. He fitted four Slapstick events in between playing Worthing with I'm Sorry I Haven't a Clue shows in Worthing and Bradford.
The Cosmic Shambles Network relies on your support on pledges via Patreon so we can continue to provide great, new, exciting content without the need for third party ads or paywalls.
For as little as $1 a month you can support what we do and get some great rewards for doing so as well. Click the Patreon logo to pledge or find out more.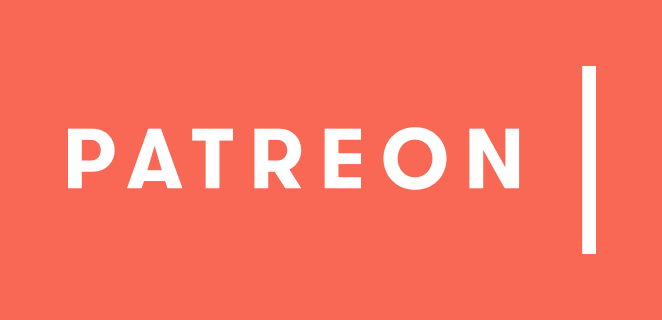 There is a sweetness in being sat next to someone watching their past work, often work they have not seem for twenty, thirty, even fifty years. Tim told the audience that he had been lucky with who he worked with, but Feldman writes of his excellence as a performer, the security you felt when you were in a sketch with him and his brilliance as a writer. Watch Tim's manic performance as a robot hospital visitor or his chartered accountant dance to get a sense of his impeccable comic timing, something he still possesses now.
In his foreword to eyE Marty, Eric Idle fondly remembers Feldman's delight in creating public practical jokes. At a packed Chelsea ground he turned to Tim Brooke Taylor and yelled, "No, I will not come back to your place, you filthy man" and storming off as Tim's blush glowed. Feldman missed being able to do such things when his face became famous. eyE Marty is a very warm book, filled with love and celebration of others. Before our conversation on stage I mentioned the book to Tim and his wife Christine and both immediately volunteered their fondness for Feldman.
There are sometimes awkward moments in show business when you mention the name of a hero to someone who knew them and you see the facial muscles drop towards the ground as the entertainer tries to find a kind word for someone who was clearly an arrogant, pompous ass. This was not one of those times. One of my favourite stories is of a night where Feldman got pissed with Francis Bacon. Stories of people getting pissed with Francis Bacon are not rare, Tom Baker's autobiography has some fine recollections of nights when he "hammered the optics" with Bacon, but on this occasion, Bacon proceeded to recite the Julian and Sandy sketches. What a thing to see, Kenneth Williams coming out of Francis Bacon's mouth (reading this back, I think I have made the image bawdier than intended, but I blame it on the effect of watching Garden, Cryer and Brooke Taylor recalling the lines of Humphrey Lyttleton at yesterday's I'm Sorry I Haven't a Clue event).
Feldman's love for Lauretta runs throughout the book. As he was dying from a heart attack, Graham Chapman was tending him. When Chapman visited Lauretta, he told of Feldman's dying words, he told Chapman, "Tell her I love her very much and I am so happy I never had to put my thing in anyone else".
After he died, a napkin was found in his jacket pocket. On it was written –
"The function of my comedy is not to provide answers, but to postulate questions, impertinent questions and, therefore finally, pertinent question. Not to open doors, merely to unlock them…."
Podcasts of these events will be on the Cosmic Shambles Network soon. Robin will be doing a double bill at the Norwich Playhouse on January 31st.
Pictures from the Slapstick Festival are by David Betteridge.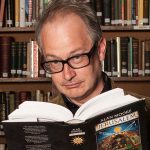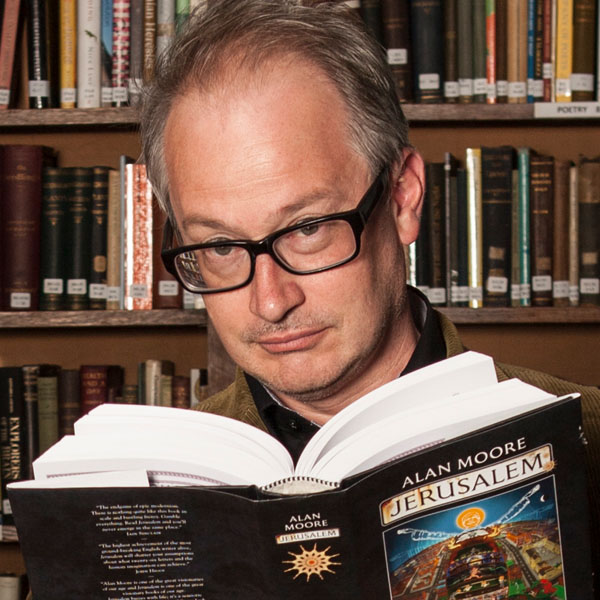 Robin Ince is a multi-award winning comedian, writer and broadcaster.  As well as spending decades as one the UK's most respected stand-ups, Robin is perhaps best known for co-hosting The Infinite Monkey Cage radio show with Brian Cox.  For his work on projects like Cosmic Shambles he was made an Honorary Doctor of Science by Royal Holloway, University of London. His latest book, I'm a Joke and So Are You is out now.
If you would like to reuse this content please contact us for details
Subscribe to The Cosmic Shambles Network Mailing list here.
The Cosmic Shambles Network relies on your support on pledges via Patreon so we can continue to provide great, new, exciting content without the need for third party ads or paywalls.
For as little as $1 a month you can support what we do and get some great rewards for doing so as well. Click the Patreon logo to pledge or find out more.