A Travel Day is a Non-Day
Robin Ince's Horizons Tour Diary
Alex Jones is screaming out of my Twitter.
21 years ago, when I first came across Jones, I thought he was a guy who might be quite interesting and had an alternative viewpoint to much of the mainstream. I think I could have gone one of two ways then and one of them could have led to me being a full on conspiracy theorist living on a flat earth where the moon was a spaceship and John F Kennedy was alive and well and working as an Elvis impersonator in an Atlantic City bar that was owned by a similarly still living Elvis Presley. I do not think the mainstream news narratives are necessarily trustworthy, but fortunately nor do I think that whatever is called "an alternative news source" run by a middle aged egotist who is "just asking questions" is trustworthy either.
It didn't take too long to see that Alex Jones was a pompous, excruciatingly loud and flatulent man, one of many, who poison the water with their effluence and jam up the networks where far more rigorous critical thinking could exist. His demonising of the parents who lost children in school shootings is so utterly repellent that I think anyone who believes he has any purpose whatsoever is seriously misguided. This man is derangement for the purpose of selling his snake oil wrapped up as vitamin pills. This morning, late as ever, I realised that Jones and his ilk are the same as the revivalist preachers and TV evangelists who will fleece their viewers in the name of a fantasy – where once Jesus Christ was the cloak for their greed, now it is "Freedom" . 
During my US travels, I have also been disappointed to see numerous others, frequently middle aged men for whom a sense of superiority and ersatz relevance is more important than a responsible attitude to evidence and political discourse. 
Today is a non-day – a travel day.
It is the last day on our tour bus too, which has been expertly driven by a sweet man from Nashville called Jeremy. We sometimes talked of zombie movies and, as I bid him farewell, I recommended Stakeland to him, too.
Brian does not nap as we travel along the freeway on this occasion. Instead, we watch four episodes of Severance back to back. The curtains are drawn, so I only get to occasionally see a billboard –
Paul Bunyan's lumberjack meals
Totally 80s candy store
The Sherwood Forest RV park replete with carved archer.
I also spot a pro life billboard, but don't catch the whole message. It might also have been an atheist anti indoctrination billboard as I have read in the past that Minnesota atheists sometime borrow the iconography of anti abortion fundamentalists for their roadside campaigns.
Watching English politics from abroad and American politics in their land has not been pleasant. The relentless hypocrisy of the right wing's morality makes the head spin.
Brian also decides that it is utterly unacceptable that I have not seen Top Gun. I am rare among males of my generation in this, but Top Gun's release coincided with my discovery of London's arthouse cinemas, so while many were getting a testosterone injection through aerial balletics, I was getting my testosterone from watching Gabriel Byrne as Lord Byron in Ken Russell's Gothic.
Last time we entered Minnesota, the streets were filled by people dressed as old women. We never found out why despite questioning numerous locals. This time, the streets are quite apart from the pneumatic drills digging up the roads.
On arrival, I look up a few bookshops that might be in walking distance – sadly, the wonderfully titled Eat My Words and The Bookhouse in Dinkytown are just a little too far away, but James and Mary Lauire Booksellers looks close enough – these are only research trips now, I must buy no more. Sadly, it looks like Uncle Hugo's science fiction bookstore has closed down now.
I am excited to see that Supernatural America – The paranormal in American Art is currently the exhibition at the Art Institute. American galleries have a habit of being between exhibitions when I come to town but for once, I arrive with two days to spare.
Steph, Brian and I go for a walk and look at a mixture of bridge construction and Minnesota's rich history of grinding grain.
After a day of watching Severance, I am unsure if I am hallucinating when I notice a building that declares it is the property of Lumen. Like the tourists we are, we take numerous images of ourselves imagining that we are in the existential despair of being Lumen employees experiencing our daily severance. I won't get in a lift for the the next few days.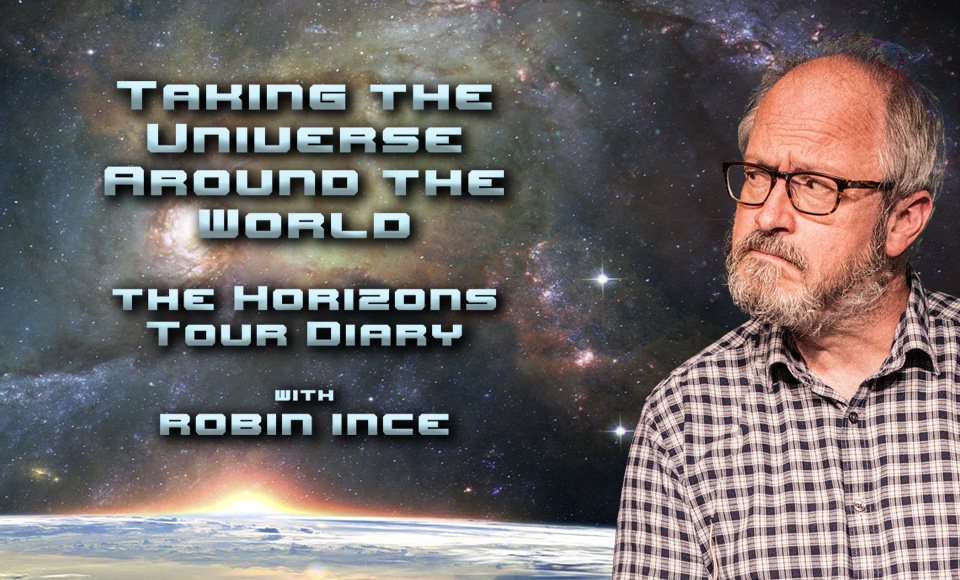 Listen to the Horizons tour podcast, Taking the Universe Around the World HERE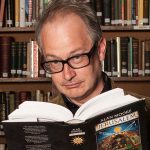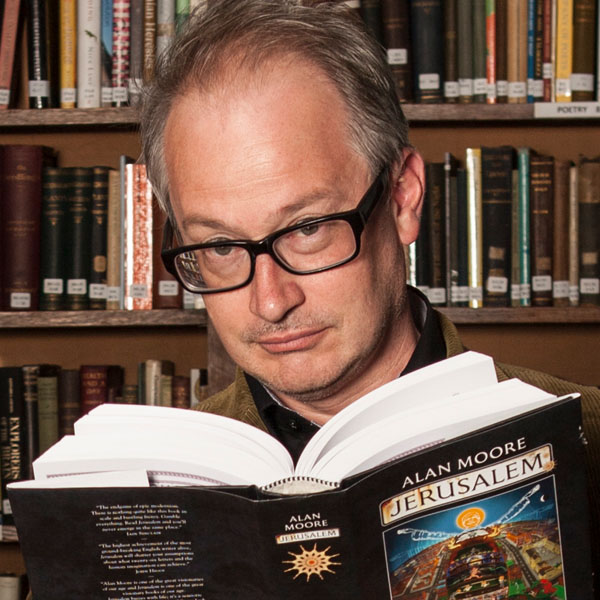 Robin Ince is a multi-award winning comedian, writer and broadcaster.  As well as spending decades as one the UK's most respected stand-ups, Robin is perhaps best known for co-hosting The Infinite Monkey Cage radio show with Brian Cox.  For his work on projects like Cosmic Shambles he was made an Honorary Doctor of Science by Royal Holloway, University of London. His latest book, The Importance of Being Interested is out now.
If you would like to reuse this content please contact us for details
Subscribe to The Cosmic Shambles Network Mailing list here.