An Excellent Selection of Carrots
Robin Ince's Blog
My first talk of the day was directly above an excellent selection of carrots. If I did not have another couple of trains to catch, I would have taken some home with me.
There is nothing my wife likes more than me returning home late on a Friday night declaring, "don't worry, I have a fine selection of carrots with me." (after all, we were all taught in our late teens that "flowers are just tarts for the bees").
This was my first day back on the trains after 48 hours off. Lately, I have noticed that my anxiety on public transport has gone up. I wonder if anxiety is exacerbated by tiredness? I was made for solitude, the more strangers around me, the greater the uncertainty.
At St Pancras, I bumped into UFO academic and astronaut expert Dallas Campbell. Neither of us had any anomalous events to report, so we went our separate ways.
I think this was the first time I have stopped at Market Harborough, it is a station of two halves. I chose the half designed for a Brave New World to walk out of. All clean lines and tarmac with no clues that Market Harborough was anymore than a car park. A good start for one of those films when someone wakes up in a world with automobile hints of life, but no knowledge of who he is and no one to ask. In the end, we discover his body is long dead and the aliens are finding somewhere that his consciousness will feel at home in, but his reality never sets hard enough to remain.
I had got out the wrong side.
The other side is an old station building with a Metro dispensing stand containing returned half read copies with hints of sudoku pen marks, leaflets for 1/3 off travel and all the other signs of human behaviour.
I am picked up by Chris, who owns Quinns Bookshop. His car is modern, but a rare yellow, harking back to the days when cars were not all some bland metallic blue or grey hue. I never have a clue about cars. Sometimes I will be told, "you'll be picked up by an Audi Languedoc Humspinner" which means nothing to me, colour is one of the few clues that means anything or "it's got a roof rack with a stuffed pelican on top of it".
Chris did not need to pick me up. The venue, Eco Village was a short walk, but I am not always on top of checking locations due to the number of them, details like that might mean I will never reach my 100 Bookshop target, every second counts. The rule used to be – make sure you put everything you want to ask me in the first line of the email, now I would suggest within the first four syllables.
I meet Danny from Quinns and her Eco Village chums and I am given a tour of the cakes, chutneys and art corners. I see a blackberry and rosemary muffin that I know will one day be mine, but not yet, not yet. Any digestion may rob me of energy I need to generate a talk.
It is a packed room and I happily waffle on, sign books and THEN the muffin is mine.
I pop along to Quinns, a lovely room down a back alley with a warcraft outlet above it. On the way back to the station, I pop into the Age UK bookshop and pick up a book by Houdini about psychic mediums, something about the quest for the holy grail, a Jungian guide to grotesques in literature and Mishima's The Sailor Who Fell from Grace With The Sea (perhaps because I referenced it the day before when talking about Sarah Miles plan to cage Richard Dawkins in a haunted house).
I walk a circuitous but picturesque route along the river to the Space Centre. I say picturesque, it would be if night had not been called in early. I meet a couple of friendly Deliveroo riders on the path and look down at my feet as I pass a couple smooching under a lamppost like a pencil sketch on a 1930s song sheet (I make up their melancholy back story as I pass by).
The Space Centre is as magnificent as ever with a new magnificent ride around the corner, a ride that is still being engineered and glued.
Erica and Allan pop in to see me early. Allan has a bad book habit too so I decide he should have the Houdini book rather than me. WE are then joined by Neil and Gwen. Neil fronted one of my favourite bands of the 1990s – Delicatessen. We talk of bird language and crow knowledge.
I am feeling exhausted and hope I can muster a two hour show.
I can.
They sell all the books of mine they have and sign the lot while talking about horticulture and Grace Petrie.
Erica and Allan kindly give me a lift to Northampton where I board the surpassingly sober train that will take me home. At Milton Keynes Central, an intense and alarmed man screams that the doors won't open and frantically runs down the carriage to press more buttons. I explain that the platform is on the right rather than the left. He leaves without a thank you but I have the reward of feeling like Michael Landon in Highway to Heaven.
————————————————————-
Monday night I am at Kings Place in London with a wonderful selection of special guests and on Tuesday at 330pm I am at the Stratford Upon Avon book festival. The weekend includes Harrogate, Ripon, Holmfirth and Leeds. All Tour dates here.

Order signed and dedicated copies of The Importance of being Interested here.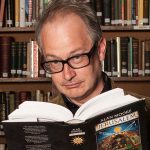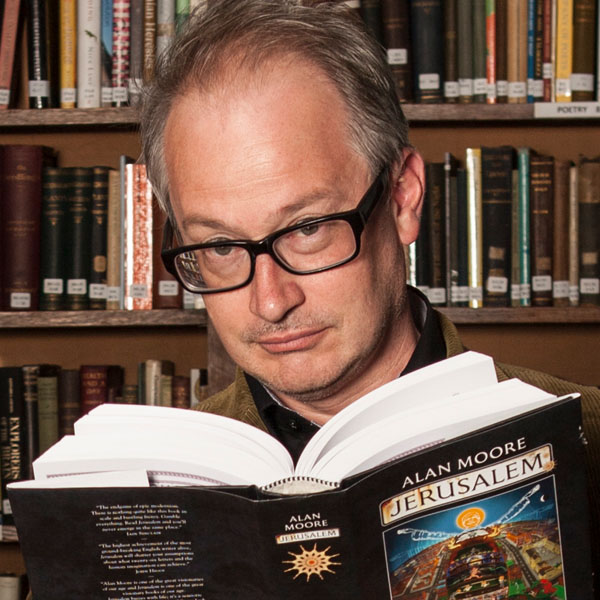 Robin Ince is a multi-award winning comedian, writer and broadcaster.  As well as spending decades as one the UK's most respected stand-ups, Robin is perhaps best known for co-hosting The Infinite Monkey Cage radio show with Brian Cox.  For his work on projects like Cosmic Shambles he was made an Honorary Doctor of Science by Royal Holloway, University of London. His latest book, The Importance of Being Interested has just been released.
If you would like to reuse this content please contact us for details
Subscribe to The Cosmic Shambles Network Mailing list here.