An Increase in Art Telling the Stories of the First Nation People
Robin Ince's Horizons Tour Diary
The blog posts are currently going backwards, so it was Monday/Tuesday yesterday, but now it is back to Saturday/Sunday.
There are two gigs in Perth on Saturday, midday show then 7.30pm. 
There are some technical battles, but by showtime the Universe appears to be seamless, or as seamless as something moving perpetually into disorder can be. 
An old university pal, Jill, and her husband and son have popped along and we see how the world and its attitudes have changed in 33 years. I last saw her in 2006, a night that has worried me ever since. I was performing at Manchester's XS Malarkey. Shortly before the gig began, I got the news that my brother in law, Paul, was about to die.
He was a big and jolly man who I had known since I was 15 and an excellent dad to my four nieces as well as the finest creator of a Sunday lunch. He won me over when he first started dating my sister by taking me to the John Landis movie, Into the Night, and then to a Berni Steakhouse. Obviously, this was playing on my mind. XS has always been a place where comics hang out on their nights off and I knew that I might not seem exactly normal. I went onstage and noticed that certain lines were a little bit more about death than usual. Outwardly, it was a cracking gig. I walked offstage to rapturous applause and Jill, who I had not seen for 14 years, ran up, bumping into my pint and very jovial. Unfortunately, I got an encore, so had to go straight back onstage. The moment my gig adrenaline dropped, the reality of the family situation returned and when I got behind the microphone, my mind had to lurch for something else to say. I find a routine about when you bump into people you haven't seen for years and have nothing to say anymore. As it came out of my mouth, I suddenly became aware that Jill might think that was aimed at her. When I came off a second time, she was gone. I was filled with anxiety that she would believe I had slighted her. I searched to see if there was any way of contacting her, but no links could be found. That seems like a typical encore story from me – "Sure, the crowd loved me, but my brother in law was about to die and I was filled with anxiety that someone had left believing I had wronged them".
Now, backstage in 2022, I explained it all. 
"What, Me Worry?"
Caroline, Matt, Jack and I went off to the Jurassic Park legs exhibition with its raptors and T-Rex and then they raced cars they had made. I had sent images of the Lego magnificence back to my son and then rushed to catch the last 20 minutes of the Gallery of Western Australia. There has been a major rehang of the gallery but the Stanley Spencer is still there. This is one of the only galleries outside the UK where I have seen a Spencer. I presume this is because Perth has quite a British population as once they get to Australia they are too tired to go any further East and settle here, waiting for repeats of Are You Being Served?
Every time I return to Australian galleries, I see an increase in art telling the stories of the first nation people and the stolen generation. The first painting I see is The Pay-back by Julie Darling. It shows two indigenous Australian women taking a knife to the throat of a policeman – it was her reaction to three women being abducted and murdered near her artist studio and then a long time friend being pulled out of a phonebook and into a car by two men. It transpired these two men were police and they had racially profiled her friend as she was a first nation person in a middle class neighbourhood.
Jan Senberg's Wittenoom series, in particular Blue Angel of Wittenoom, are striking visualisations of a town in North Western Australia that was him to an asbestos mine. After its closure, people continued to live there and suffer the horrible physical damage that comes with such an area. Lin Omus's Maralinga is a stark statue of a mother sheltering her child from the lethal wind after an atom bomb test. I was also taken by Sandra Hill's series of paintings based around the attempt to "suburbanise" first nation women in the 1950s and teach them the skills of "the homemaker".
My twenty minutes were up and I decided to stroll, finding a strange shopping alley that was somewhere between olde England made of plaster and plywood and the two where the sadomasochistic Baron and Child Catcher live in Chitty Chitty Bang Bang, perhaps it was constructed to sell tourist knick knacks in memory of Robert Helpmann. At the end, there was a little secondhand bookshop. There were many yachting books, but among them were the film tie-in novel of Caligula – and one should always own more things with Malcom McDowell's face decorating them, and a book on the space age from Russia's Progress Press with some adorable images of interplanetary journeys and martian landings.
Back at the theatre, I ate rice with the crew, followed by a Crunchie bar as delicate dessert, then we performed the penultimate Horizons show of the Australian tour.
Audience questions included –
are you aware of how many people hear you talk and then take a big gulp of beer hoping it'll help them understand better?
At what size does a potato chip become a french fries?
Is Tim Minchin here at the show?
No he wasn't, but we met up the next day at the airport where we all flew to Adelaide.
​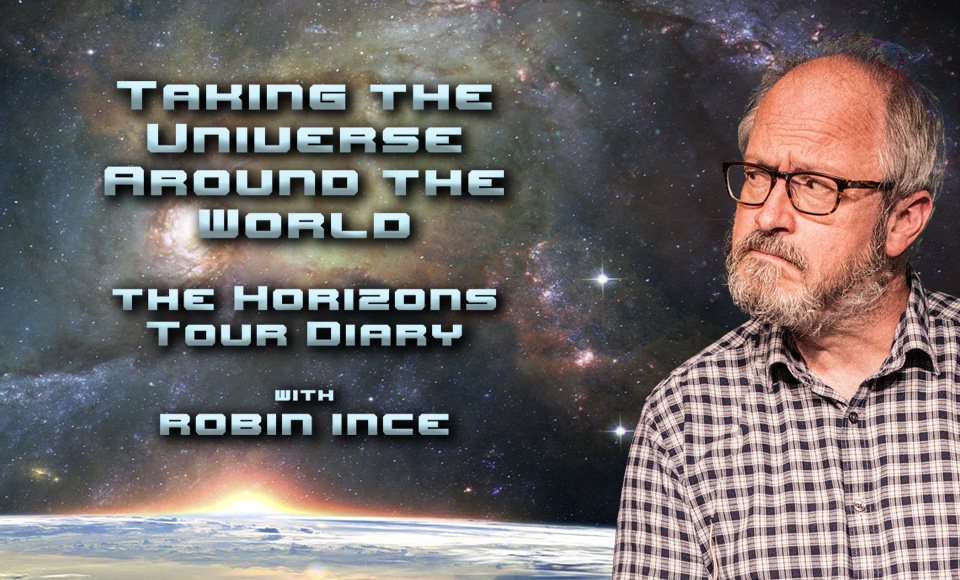 Listen to the Horizons tour podcast, Taking the Universe Around the World HERE.
Bibliomaniac is available for pre-order now at cosmicshambles.com/shop with exclusive art cards.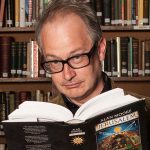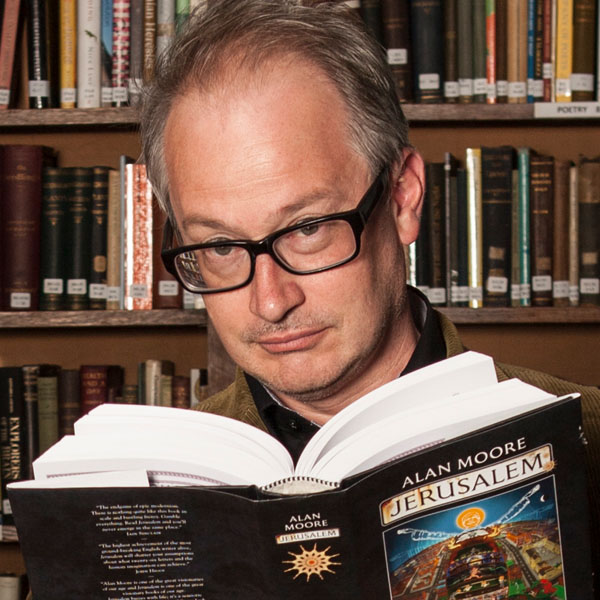 Robin Ince is a multi-award winning comedian, writer and broadcaster.  As well as spending decades as one the UK's most respected stand-ups, Robin is perhaps best known for co-hosting The Infinite Monkey Cage radio show with Brian Cox.  For his work on projects like Cosmic Shambles he was made an Honorary Doctor of Science by Royal Holloway, University of London. His latest book, The Importance of Being Interested is out now.
If you would like to reuse this content please contact us for details
Subscribe to The Cosmic Shambles Network Mailing list here.