An Edinburgh Fringe Tale - Part 1
Robin Ince's Blog
Robin Ince is coming back up to Edinburgh with two solo shows – Chaos of Delight and Satanic Rites of Robin Ince. He will also be hosting six live episodes of Book Shambles with special guests. His book, I'm a Joke and So Are You, is out this Autumn. He will be touring as many bookshops and festivals he can fit in, dates here. 
The Edinburgh Fringe defines many comedians, it is where they have been made and destroyed, sometimes in the same day. I first visited it thirty-one years ago. I will be back again this year. Dangerously or stupidly, I will still be using it as a fringe festival. My show, Chaos of Delight, has some shape and form after five previews, but Satanic Rites of Robin Ince, my mix of readings from horror novels I read as a child with thoughts on why a scared wimp eight year old fell in love with the uncanny and shadowy, will not be performed in any way until the first night at Stand Two. Do not expect material from either appearing on Live at the Apollo. Recently, I finished a book about imagination, inner voices, social anxiety, love, death and stand up called I'm a Joke and So Are You. It is about comedians, but I think it is about other humans, too. It is about how we become what we become and how best to cope with that situation.
The original first chapter was all about the Edinburgh Fringe, but during the frequent bouts of banging my head against the wall and wailing, the chapter was torn out of the book. With a bit of rewriting, here is the first part of a story about a night in 2014 that led to me writing the book.
___________________________________
The furious and fecund minded author Harlan Ellison wrote of working in a carnival, "stand behind the tent flap and look at their faces. You will learn all you ever need to know about the darker side of human nature."
Philip K Dick wrote that the problem of the entertainment industry was that it wanted to disturb the senses, but it did not want to disturb the mind.
The problem with aiming to disturb an audience's mind is this may well require you to disturb your own mind, as Dick frequently proved himself, though the amphetamines probably didn't help either.
If you want to observe the disturbed and disturbing, the Edinburgh Fringe Festival is a good place to set up your hide.
This is the most concerted cultural invasion of any city in the world. It is a vast gallery of the antsy, the desperate, the needy, the hopeful and the curious, the delightful and the strange. It is the greatest gathering of eggshell egos and brilliant or botched ideas.
There will be tantrums. There will be tears. There will be people stencilling extra stars onto their reviews after midnight. It is exciting, highly addictive, and hazardous to both your physical and mental health. It is also the largest gathering of critics; pro, semi-pro, and amateur, but zealous.
The city is lined with six foot high posters of comedian's Cheshire Cat faces imploring you to see their show and love them so much that TV executives cannot ignore them. It is a landscape of gurning Big Brothers who would rather be watched than watching.
It had been a place of misfortune for me in the past. I have now learnt that for most events in your life, the trick is to lower your expectations, but heighten your chutzpah. Reduce as many factors of failure you can, but expect it anyway and then anything else becomes a treat. One year, my arm was broken by the father of a cartoon boy, another year my home flooded with sewage, and in another year, the audience looked on with fear and uncertainty most nights as I punched a melon with the face of a TV presenter drawn on until it exploded and then burst into "Mustang Sally". Then there was that night I had to lock myself in a toilet while one of my show compatriots tried to attack me. After he threw me against the cistern, I had a toilet shaped bruise decorating my back for a week, I looked like a monk who had been given the most peculiar penance or had been blighted by lavatorial stigmata.
By 2014, I had found ways of managing my fringe neuroticism and I could even eat solids in the first week of the run. Before that, lentil soup and sugary cereals drowned in milk were the most extreme things I could stomach, even oxygen seemed a bit heavy on the stomach some days.
On 12th August, I had performed seven shows, three of my own and four as a guest of other comedians. I had talked about the human genome project; Lenny Bruce's ghost; dolphin language lessons; the down side of eating human brains, and the tooth fairy. I'd been in a perpetual rush, both to find ideas and to find venues hidden behind tidal surges of street performers and the sort of impromptu open air musicals that would make a nun heckle.
My final show was 'Cheaper than Therapy', a nightly mental health charity event where comedians perform routines about their own therapy, their own insanity, or experiences of mental health in general. Not all acts are keen to do it. Some are too keen. As with most nights in Edinburgh I am late for this last gig of the day. It's near midnight, but that is only early evening in Edinburgh and flyers are thrust towards me as the pimpish showman try to lure me into their shows like seedy strip joint proprietors trying to lure a Belgian tourist into a cellar of Pomagne and blackmail. The comedian Stewart Lee once compared stand up comedy to prostitution, a comparison he now sees a flawed, but with all these humans in doorways attempting to hide their desperation as they beg you to pay a little for their company, it seems true for a day.
"Sir! Sir! I promise I'll make you laugh longtime and so loud, you won't want anyone else to make you laugh after you have seen my jokes. My jokes are fresh and young."
I saw the best minds of my generation destroyed by madness, starving hysterical, and naked, and hoping one of the punters was reviewing for an online magazine.
Friends advised me to do fewer gigs to avoid all the breathlessness and panic.
"Saunter and booze languorously", they suggested.
But why would I do this in a city of events with so many rooms wired up for hollering? Panic gives you momentum – some of my best performances have come from rapid fire anxieties and fear. I am like the supply teacher version of Jason Statham in 'Crank' or a librarian Bourne.
I scream because I am. Plus constantly gigging means I always have an alibi for avoiding other people's shows I don't really want to see:
'Oh your doing a monologue in Latin based on your favourite episodes of The Jetsons at 4.30? Damn, I'm doing 'Stand Up Tragedy' then'.
'Oh, your recital of the songs of about the invention of the ironing board  is at 10am? Sorry, I am doing Beckett for the under 5s'.
'Oh, your show about the time you licked a non-hallucinogenic toad in Peru is on at 4am? That's when I am aggressively invading other people's dreams'.
Also, by exhausting my inner monologue with constant requests for new ideas, it would sometimes be too tired to burble during the hours reserved for insomnia, and so I might get five hours sleep.
I stumble into the heavily perspiring room where 'Cheaper than Therapy' is waiting for its concluding act. Like many Edinburgh fringe auditoriums, this isn't a purpose built venue. It could be a classroom, Quaker Meeting hall, homeless refuge, or the shower room of an abattoir. The prime aim of the part-time impresario is to find as many rooms as they can with as little air circulation as possible, so that the act and audience can sweat and gasp as if they were extras in a torpedoed submarine movie. You feel like Icarus when  freed. As the rooms hold up to twelve shows a day, by the final event they have become a fascinating, fetid laboratory for all sweat research scientists. It can be like an hour living inside the pocket of a wrestler's leotard.
The compere is on stage filling time, waiting for me. Relieved that I have not drowned en route in the street juggler sea. He introduces me before I can get my rucksack off or refill my lungs. I reach the stage just in time for my glasses to steam up. I'm fog-eyed and wheezy, yet oddly ready. I start mid-sentence, no time to waste with any 'Hey, how you doing's or even 'Hello'. After five hours of performing my chest still has demons sitting on it and this is my last chance of the day to cast them off. Oh the money you save on exorcisms in this job.
During my Olympian hobble to the gig, I'd decided to resort to a rough routine that had cropped up semi-regularly in my fringe show about neuroscience. It would start at maximum fury and then accelerate from there. I was hoping to disturb the fabric of space-time, or at least move the stage seven millimetres to the right with my bombastic performance. Gesticulating wildly is a pleasant way to end the working day. Sometimes my arms are doing one routine while my mouth is doing another. That's value for money. By the time my glasses clear, I have reached a self-righteous peak. Not only am I alive, but my left arm is tingling just enough to hint that I better stop before I am dead.
Man, that's living.
Part Two soon.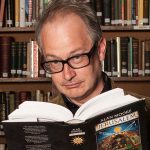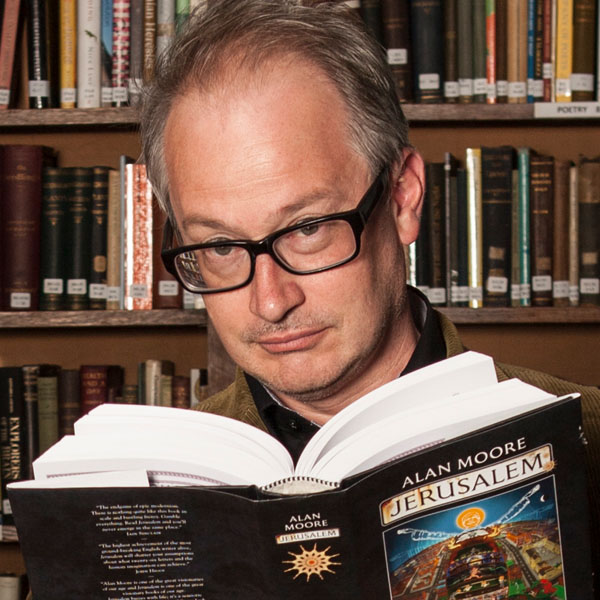 Robin Ince is a multi-award winning comedian, writer and broadcaster.  As well as spending decades as one the UK's most respected stand-ups, Robin is perhaps best known for co-hosting The Infinite Monkey Cage radio show with Brian Cox.  For his work on projects like Cosmic Shambles he was made an Honorary Doctor of Science by Royal Holloway, University of London.