And so to Australia
Robin Ince's Horizons Tour Diary
The longest part of packing is still working out what books to take. Everyone around me looks delicious and necessary when I know I have to leave most of them behind. 
I work out how many T shirts, boxer shorts and socks, add the pharmaceuticals, toothpaste and specialist shampoo made of urine (or similar) to try to detain a scalp determined to escape from itself. I print out visas, Covid certificates and flight details, then back to the bookshelves. 
My final decisions are – the books that came with the blu ray for Nic Roeg's Walkabout (novel, screenplay and essays), Bruce Pascoe's Dark Emu to inform me of the aboriginal history that was erased, Nick Cave's conversations with Sean O'Hagan to pep up my humanity, The Making of 2001 – a series of essays, reviews and philosophising around this enigmatic film (not the original copy I owned, but the one I unearthed in the magnificent Utah Books and Magazines) , a Marina Warner book of her Reith lectures to ensure I don't escape the fantastical and what it means, William Burroughs' Blade Runner treatment , Book of the Hopi (a gift from Stewart Lee that will also enrich me with the meaning of ritual), Leila Taylor's Darkly , about being a both black and a goth and the different meanings of southern gothic, Why Patti Smith Matters, a lecture by Howard Zinn (for further humanising and enlightenment through activism) , Carlo Rovelli's Helgoland because it is the nearest I have come to beginning to understand quantum theory, a pocket guide to quantum theory , and, to top it off, John Higgs' Love and Let Die because he is one of my favourite authors and he never fails to change me. 
I also take the Kindle Fire I was given so that I don't have to lug too many books around. 
Charlie kindly gives me a lift to the airport which gives us time to talk about the Berkhamsted Book Festival I am helping him with (20th November – Jenny Eclair, Nigel Planer, Pragya Agarwal, Helen Czerski, Gaia Vince, Henry Normal and much more) . 
Check in is fast and, as we travel elaborately rather than economy, I sink into a long chair with a view of take offs and landings, remembering the days as a child where a visit to the airport was a day out. 
I am determined to sleep on the planes and keep my melatonin near the top of my hand luggage. I eat and drink more than I should on flight one and I am then far more parsimonious on flight 2. I break up my sleep pattern with Mrs Harris Goes to Paris. It is the sort of warm, friendly film that I like on a plane when my emotions are nearer the surface due to air pressure. 
We are in our Sydney hotel by 7.45am. It seems somehow silly that exactly one week ago we were on the stage at The Sunderland Empire, but there is also the peculiarity of traveling so far and yet seeing a culture so much the same. 
We sleep a little more , then wander down to the MCA. This has been one of my favourite galleries in the world. It was here that I discovered the confrontational and beautiful work of Tracey Moffatt and was mesmerised by Ugo Rondinone. I do not use the word mesmerised lightly. In one room off his Everyday Sunshine exhibition, there were four walls of monochrome projections of simple, looped images and Sunshine Everyday by Swell playing. I would sit in the middle for 10, 20, 30 minutes. At around 40 minutes I would think it was time to leave the next time the drums kicked in. They would kick in and I would remain. I think the most recent exhibition I experienced was Pipilotti Rist, whose video art made me beam Cheshirely and also introduced me to Kevin Coyne.
She also creates the greatest version of Chris Isaak's Wicked Game.
The gallery is between exhibitions, so we observe their fries and elderflower pressé instead.
Monday is a day off and I meet up with one of my oldest friends, Carolyn, who I wrote the movie Razzle Dazzle: A Journey Into Dance with. We walk around the Gallery of New South Wales, also between exhibitions, and catch up on the culture and politics that has surrounded us own different hemispheres. We rarely talk of our past, but look at the present. I think you know you may be in for long friendships when you meet with people you haven't seen for a while and you do not have to lean on what was to fill the silence.
​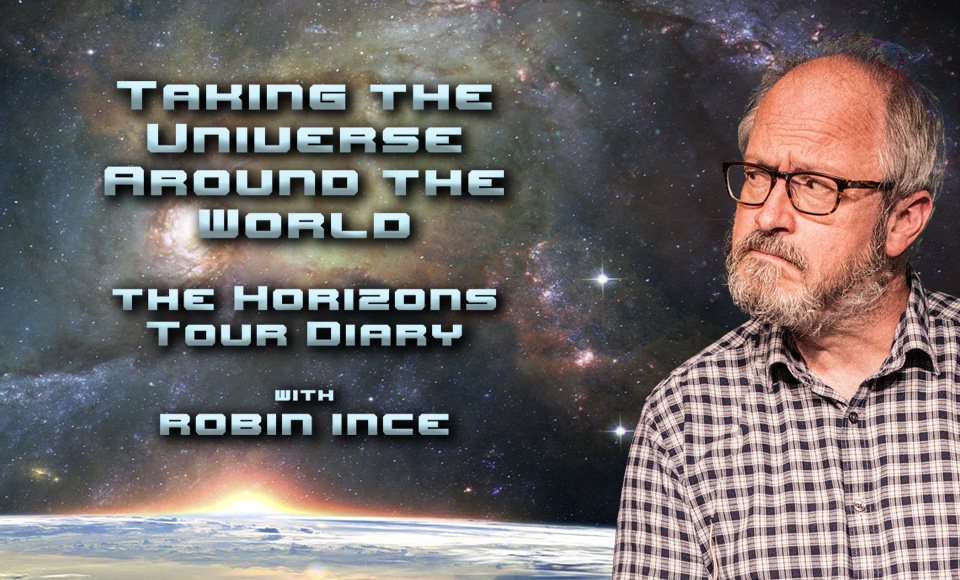 Listen to the Horizons tour podcast, Taking the Universe Around the World HERE.
Bibliomaniac is available for order now at cosmicshambles.com/shop with exclusive art cards.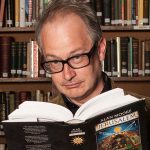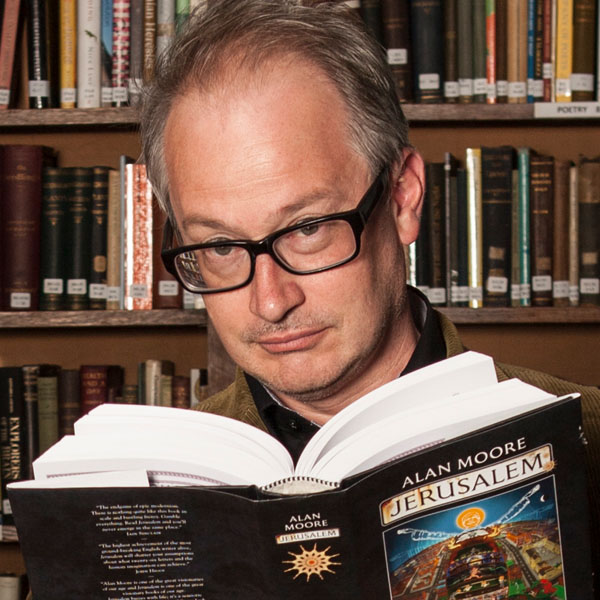 Robin Ince is a multi-award winning comedian, writer and broadcaster.  As well as spending decades as one the UK's most respected stand-ups, Robin is perhaps best known for co-hosting The Infinite Monkey Cage radio show with Brian Cox.  For his work on projects like Cosmic Shambles he was made an Honorary Doctor of Science by Royal Holloway, University of London. His latest book, The Importance of Being Interested is out now.
If you would like to reuse this content please contact us for details
Subscribe to The Cosmic Shambles Network Mailing list here.