Another Reminder of Why I Decided to do This
Robin Ince's Blog
What a set up when I got to JE Books. This was yet another reminder of why I decided to do this.
JE Books is a dinky shop, possibly the smallest I have visited. It is between this and ShelfLife books in Cardiff. There was a table set up for me, a chair with a cushion and a hot water bottle in case I had a cold bottom, disinfectant gel and a box of Cadbury's Heroes. As ever with Hull, I met lots of lovely people, some of whom had popped over from Sheffield with Dean Wilson Film Club badges on their overcoats. It was an invigorating way to start the day and cannot stress enough how much you should support Julie's shop. I had to do a hasty browse as I needed to get the 12.33 as I had an online interview to do with Mo Gawdat in the evening.
I could have found far more, so many temptations, but I left with a NEL edition of Richard Allen's Skinhead Escapes, an early 1950s Penguin Guide to Devon, David Foster Wallace – The Last Interview and Paul Feyerabend's Against Method (that is the leats likely of the four that I will get around to reading). 
There is no more space anywhere for books and so I depart and start the journey home. 
I enjoy the Humber Bridge as I louchely eat chocolates. 
When I get back to the office I share with artists and illustrators, I stack up the books I have bought over the last 12 days, they are about 3 foot tall. 
I have already come up with my next book challenge now the 100 (108) Bookshops are nearly done. When I tour with Brian Cox next year, I am going to read a book by an author from every town and city we visit. We start in Leicester (I won't cheat, obviously I have read Orton and Colin Wilson, so suggest more), Scunthorpe and Stockton, then to Brisbane….
On Day 61 I start with a lie-in and the guilt sets in fast.
I am soon a lazy good for nothing in my head. 
I organise a couple more bookshop events for early 2022 and get my laundry underway. There will be an onslaught of paperwork and reduction of chaos when I am back in my room more permanently. I have dashed in, deposited the memorabilia and bags of my many trips and the entropy of my bedroom is reaching a point where I might soon have the foundations for a Boltzmann Brain.
On my way to Warwick Books I detour to West Hampstead to sign some more of their stock (my book, no one else's), my trundle to Warwick is then leisurely. The town is dark and mainly closed when I arrive. It reminds me of the story from Vault of Horror where Daniel Massey arrives in a quiet town, kills his sister and then goes for a meal. He is surprised at just how bloody everything on the menu is until, with the unveiling of a mirror, it is revealed that he is the only non-vampire dining. His still very much alive though dead vampire sister arrives and Massey is turned upside down and has a tap place in his jugular vein.
None of this happens to me in Warwick.
As usual with all these independents, Warwick Bookshop is like no other. I go on my hunt for the book I have not seen in any other shop. Everywhere I go, even after over 100 shops, I always see something I haven't noticed anywhere else. Today, it is A Ghost in the Throat by Doireann Ní Ghríofa, despite the many awards it has won, today is the first time in comes into my field of vision. I go to buy a copy of Whitney Chadwick's The Militant Muse, but my money is no good here. I am also given a copy of Delphine De Vigan's Gratitude, a beautiful short novel of beautiful empathy to the old and what they lose as dementia takes its insidious hold.
The event is beautifully catered – Prosecco, grapes, cheese cubes and cheese straws.
As usual, I try to make sure that I start somewhere I have never started before with the talk to keep it fresh and surprise myself. This also means that as I go to start the talk in a new direction, my brain distracts itself with another thought that has been hiding away which causes another to get released and so it is 10 minutes before I get to the new starting point of the talk.
I overrun (with permission) and then take questions which include "do you meditate?" (No. I can't shut this grey matter up) and "Who would win in a fight – Alan Moore or Morrissey?" – Alan Moore would both refuse to fight and at the same time mentally crush Morrissey so he would be left untouched but utterly vanquished on the canvas.
————————————————————-
All Tour dates here. Nine Lessons and Carols for Curious People is coming up soon too, at Kings Place, as is mine and Brian Cox's Compendium of Reason at the Royal Albert Hall.

Order signed and dedicated copies of The Importance of being Interested here.
​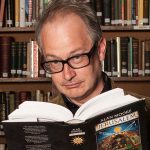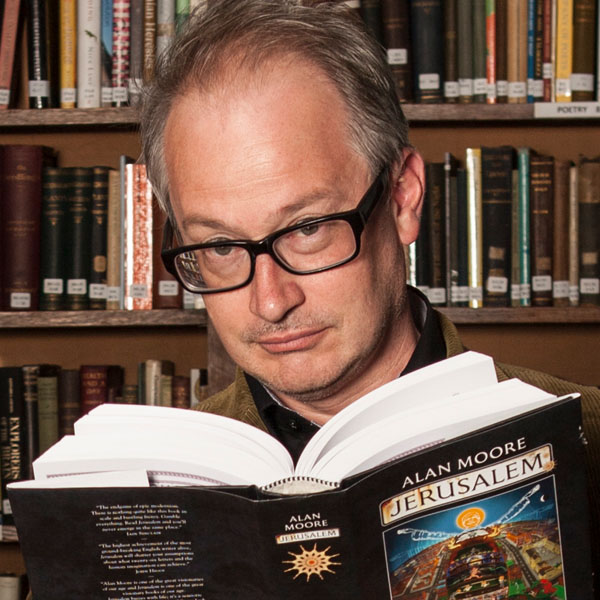 Robin Ince is a multi-award winning comedian, writer and broadcaster.  As well as spending decades as one the UK's most respected stand-ups, Robin is perhaps best known for co-hosting The Infinite Monkey Cage radio show with Brian Cox.  For his work on projects like Cosmic Shambles he was made an Honorary Doctor of Science by Royal Holloway, University of London. His latest book, The Importance of Being Interested has just been released.
If you would like to reuse this content please contact us for details
Subscribe to The Cosmic Shambles Network Mailing list here.