Anxious Dreams and Sidney Nolan
Robin Ince's Horizons Tour Diary
Many of my anxious thoughts for early mornings and late nights dwell on whether Bibliomaniac is selling or, as David Hume wrote of one of his books, has fallen "still born from the press".
Last year, when Importance of Being Interested came out, I had the comfort of performing in two our three bookshops a day and seeing 60 or more books leaving the shops with my scribbles in. Here, the only clues are readers' reviews and occasionally glances at my Amazon chart positions (though I have made a pact with myself not to plug their links etc, something I try to shy away from even when book is not a journey through independent bookshops). 
My hotel hand washing has gone awry. Blanching at the cost of hotel laundries, I try to avoid them even when others are picking up the bill. Sadly, the socks I washed on Monday are still damp on Wednesday so they may have been cleaned but now they smell of a distant past and their gloomy aroma means I must start again in Brisbane.
There is a lot more traveling across states in the next ten days, so I leave some of my heavier book bags at the Lateral Events office to pick up just before the flight home. I go luggage shopping with Carolyn, aware that I may need another suitcase for books as usual, but nothing is quite biblio enough. 
Walking up Oxford Street, Carolyn tells me that many of the gay bars and indie LGBT shops didn't make it through the pandemic and there has been a concerted effort to revitalise it so that Pride doesn't look too boarded up. 
We visit the Sydney Jewish Museum.  The security to enter and exit is a disturbing sign of the rise in anti semitism. We have far too little time here. It is a bright space to illuminate so much dark history. The top floor exhibition on human rights and dignity also focuses on attitudes to LGBT, Downs Syndrome, indigenous people and much more. It is a cry against dehumanisation in many forms. In the basement, there was an exhibition of work by the revered Australian artist Sidney Nolan. In January 1962, Nolan visited Auschwitz with the author Al Alvarez. It was intended that he would illustrate the article about the death camp that Alvarez was writing for The Observer. 
Nolan was so overwhelmed by what he saw, the physical remnants of those who had been destroyed – hair, shoes, spectacles – that he could not take on the project. He was unable to listen to music for some time after the visit. 
24 years later, he wrote, "Am I moving towards Auschwitz painting at last. I hope not".
Before the visit, he had started to paint victims of the holocaust, then paintings in agonised brush strokes, their brutality heightened by their simplicity, poured out of him. A few weeks after, he went to Auschwitz and was overwhelmed. 
In the non-fiction novel When We Cease to Understand, there is the story of the mathematician (was it Schwarzschild, I don't have my copy at hand), who upon realising the possibility of a Universe that could contain something as powerful as black holes, fell into a depression thinking that if matter can come together to create something so destructive, could enough human minds come together in agreement and commit terrible atrocities.
Later, we went back out through the security doors and walked towards a cinema. 
The segue from the museum to Moonage Daydream was provided by Bowie's words on Nietzsche and purpose and destruction opening the film.
I sat in the cinema nervously, Brian to one side, Carolyn to the other, fearful that I had been so positive about the film (having managed to squeeze in the first 90 minutes while crossing Newcastle on the way to a Bibliomaniac bookshop event) that I would be blamed should either of them be dissatisfied by what they saw. In between attempts to immerse myself in the documentaries brilliance, I would be distracted by slight coughs or jiggling, fearing they were signs of disproval (hurray hyper vigilance) . I was relieved as the lights came up to find out that they both loved it.
Sitting in the movies with Carolyn gave me a prickle of melancholy nostalgia, the sense of time past that cannot be retrieved. In the late 80s, Carolyn, her sister Heather , and me spent a great deal of time at the movies – Hairspray, Robocop, Withnail and I, and also Flowers in the Attic and Twins. We once fell out over a disagreement about The Last Temptation of Christ, about misogyny not liturgy. We hung around a Greek vegetarian cafe and I ate mushroom pate for the first time and products from The Body Shop, including a mud mask that was meant to release me from acne, were exotic.
On Thursday, we go to Brisbane. We had imagined the Australian Spring would be all sunshine and blossoms, but the long range forecast suggests I was right to pack my cagoule.
Before we leave, I pop into Dymocks bookshop to buy the missing chapter of Picnic at Hanging Rock. There is a koala Christmas apron on a mannequin and a memory of my mother appears fully formed. Were she alive, I would buy it for her. I could see the delight on her face as she unwrapped it. I could see her wearing it as she prepared a dinner party. I could taste the cake mixture when we were allowed eat what was left in the bowl.
As well as the short book with and about the removed final chapter of Hanging Rock, I picked up a book by Tori Amos and one about Black Lives Matter. I was pleased to see a queue. Usually, a queue is off-putting , but to see so many people on their lunch break who had popped in to buy a book created a positive picture of the world.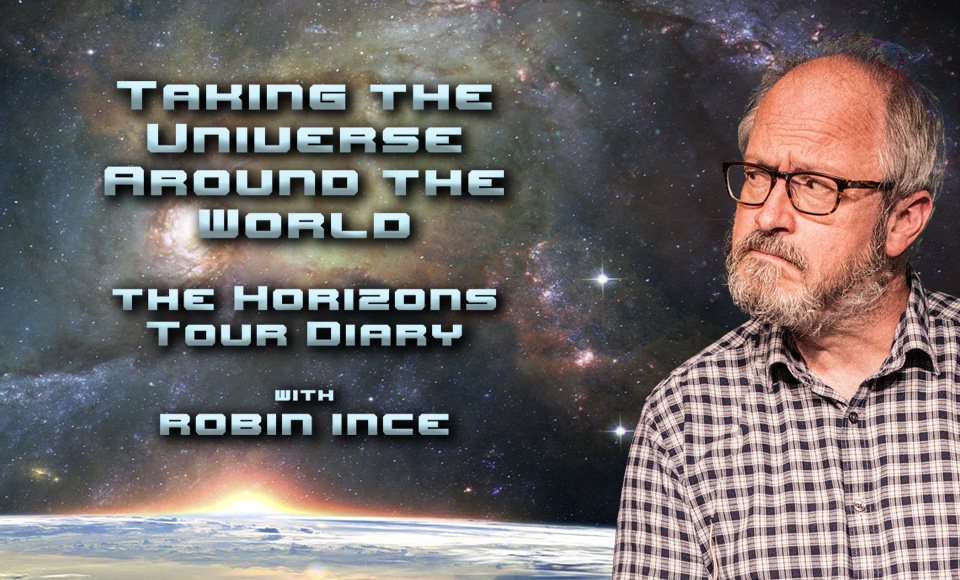 Listen to the Horizons tour podcast, Taking the Universe Around the World HERE.
Bibliomaniac is available for pre-order now at cosmicshambles.com/shop with exclusive art cards.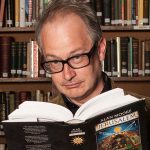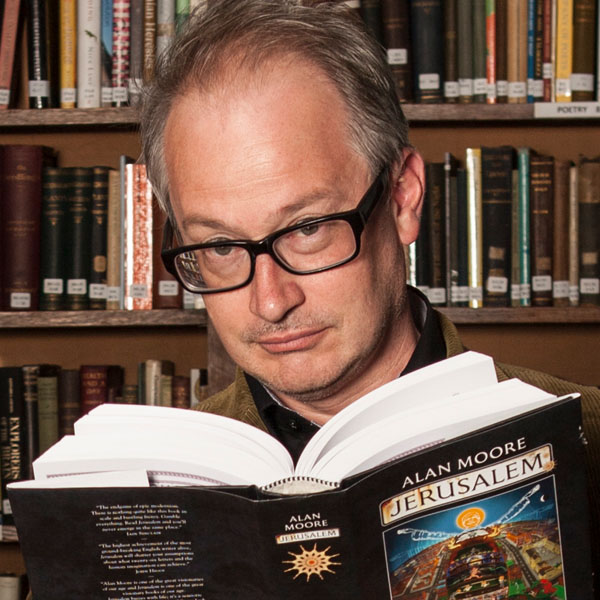 Robin Ince is a multi-award winning comedian, writer and broadcaster.  As well as spending decades as one the UK's most respected stand-ups, Robin is perhaps best known for co-hosting The Infinite Monkey Cage radio show with Brian Cox.  For his work on projects like Cosmic Shambles he was made an Honorary Doctor of Science by Royal Holloway, University of London. His latest book, The Importance of Being Interested is out now.
If you would like to reuse this content please contact us for details
Subscribe to The Cosmic Shambles Network Mailing list here.