Some Homemade Battenburg Cake on Day 7
Robin Ince's Blog
If you judge a bookshop on the quality of its homemade Battenberg cake, and some days I most definitely do, then the Cotswold Book Room is the greatest bookshop in the world.
I woke up in Ilkley on Tuesday and took three trains to get to Cam and Dursley station. The longest stretch of the journey was in the company of three chefs. There were two quiet ones and one burly and highly opinionated one who, with the exception of a brief mention of Béchamel sauce, focused more on loudly complaining about people who had not given him what he deserved. He was not like the nice chefs In the Night Kitchen. When not complaining about the many who had wronged him (being wronged was generally not being given a discount for something), it was a litany of places and times where he got battered and leathered – "fifteen pints on the way to the station", "necked one in very pub that day" – and then a few comments on how pathetic the alcoholics in Wetherspoons are who want a drink at 7.30am.
Alcoholism is all about knowing when to drink your fifteen pints that day.
After all that, Wotton-Under-Edge was a quiet place, pretty houses and thin sloping streets ready to have a little straw strewn on them for a Sunday night Jane Austen adaptation. The bookshop grew from being a single room in someone's house 70 years ago. Cathy (who made the superb cake and Gideon took it over when it was going to close down because they believed it was important for the town that there was a proper bookshop. It is two rooms now, one plentifully stocked with children's books, and a very pretty shop front. I was happy to see that they had Susan Oglivy's Nests, a really beautiful book of life size paintings of birds' nests which will delight anyone with a hint of ornithological interest (I gave a copy to my dad just before I began the tour and he was enraptured). Strolling about I found an intriguing looking side street cinema and then bumped into Chris who was on the way to my bookshop event. He joined me on my charity shop browse which was, fortunately for my spine, unsuccessful for me, but successful for him and included Keith Emerson's autobiography, Pictures of an Exhibitionist. He likes his prog.
The bookshop had room for twelve people and that is how many we had, so it was a sellout.
My friend Laura, formerly from She Makes War, now creating music as Penfriend, kindly came to collect me and take me to Bookhaus, a new bookshop in Bristol. If you haven't bought her recent top 40 album from Bandcamp then you should. On the journey we talked of cold water swimming and Grace Petrie's recent chart success with her new album. I spied a particularly lovely looking Yayoi Kusama book in the shop, but wisely deprived myself of it. Having been a self propelled rambler for the most of the events, it was enjoyable to be interviewed instead for this event. Dr Hannah Little did a great job and we diverted to talking about what she is working on, a book about extraterrestrial language inspired by the outstanding movie Arrival, based on a Ted Chiang short story (I presume you have seen it, if not you should. And while we are on Amy Adams' films that you really must see, find Junebug).
Laura and I then ate in a cargo crate, they are popular places to eat in Bristol.
I was happy to find that KT Tunstall's utterly delightful documentary about Ivor Cutler was on when I got back to the hotel. The next morning would be the first morning where I truly had tour brain as I looked at the sparse details on my Premier Inn room and wondered which city I had woken up in and where I had to go now (a)Bristol b) Sidmouth). Breakfast was served by a French prestidigitator who showed me his magic coin and we talked of BREXIT and cultures that survive without numbers.
(I will fill you in a little later about the Sidmouth and Exeter, both now in the past of my block Universe – it is now Thursday and I am off to Crickhowell this evening.
————————————————————-
Friday, I will be going to Storyville Books in Pontypridd at Lunchtime and then the Volcano theatre in Swansea in the evening. Hope to see some of you there at Shelf Life in Cardiff at 1pm on Saturday, Griffin Books in Penarth at 730pm or Think Tank in Birmingham at 2pm on Sunday. Then, I get 20 hours to go home, wash everything and start again in Oxford on Monday). All Tour dates here.

Order signed and dedicated copies of The Importance of being Interested here.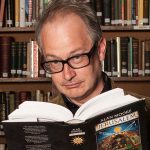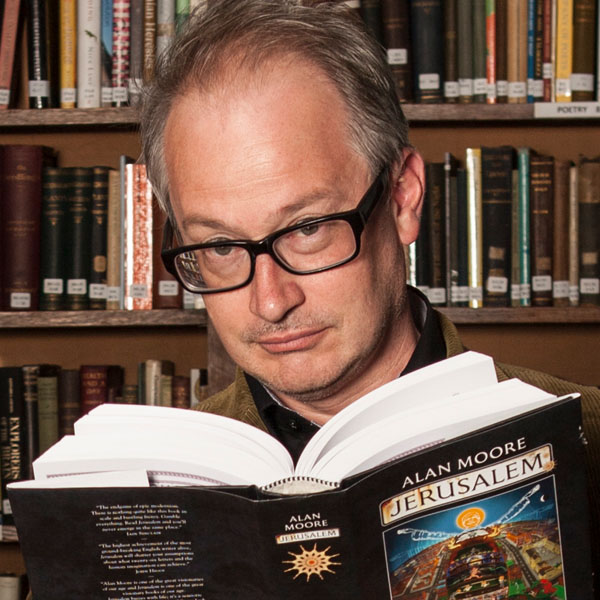 Robin Ince is a multi-award winning comedian, writer and broadcaster.  As well as spending decades as one the UK's most respected stand-ups, Robin is perhaps best known for co-hosting The Infinite Monkey Cage radio show with Brian Cox.  For his work on projects like Cosmic Shambles he was made an Honorary Doctor of Science by Royal Holloway, University of London. His latest book, The Importance of Being Interested has just been released.
If you would like to reuse this content please contact us for details
Subscribe to The Cosmic Shambles Network Mailing list here.