A Beckett Bookmark for the Week
Robin Ince's Horizons Tour Diary
Most days, there is no shortage of apologies for things not being as they should be due to staff shortages.
My first train of the day is cancelled, but I have left in good time and decide to remain calm. The first train that arrives is pretty full and I decide to join the few who would rather spend a little extra time on platform 4 rather than jostled and knocked. Elbow clashing trains are no good for reading so that would be 42 minutes wasted. On my quiet train , I read Benjamin Labatut's When We Cease to Understand the World, the story of how the search for the beautiful led to chemicals enabling genocide is strikingly told in chapter one. 
As I am now away for one week, the biggest problem is choosing which books that will accompany me. As well as Labatut's , I have chosen Muriel Spark's The Abbess of Crewe, Alan Garner's Treacle Walk, Clare Carlisle's biography of Kierkergaard and a book celebrating Samuel Beckett's 60th birthday. 
The last time I read Labatut must have been in Mousehole, as a bag of postcard's from Penlee House gallery fell out of the book. As well as a Dora Carrington, a couple of Dod Proctor's and an advert for Penzance's Jubilee Bathing Pool, there was one of Caspar David Friedrich's Two Men Contemplating the Moon. This painting is said to have influenced Waiting for Godot, so it will become my Beckett bookmark for the week. 
The new Fortean Times is out too, promising the Devil's Arse and a Whistling Scrotum. I particularly enjoyed the letter about a coincidence that occurred while cleaning a Burmese python's vivarium which incorporated Terry Jones. 
Arriving 4 minutes too late for the train to Cardiff, I decide to take the next train from Paddington to Reading where I can fit in a speed browse at the Oxfam before the next train to Wales. 
I go straight to the glass cabinet and see a hardback first edition of William Burroughs' Exterminator!. It is an ex-library copy, but still very reasonable at £10, plus I like the sense of all the people who have been in it before. This one started its life as part of the Belfast Public Libraries system – Andersontown. 
I also buy Ivan Butler's Religion in the Cinema and a hardback first edition of Christopher Frayling's Spaghetti Western, pristine and a mere £4.99. I have become increasingly fascinated in spaghetti westerns since I filmed a two hour conversation about them with Stewart Lee that, sadly, has never seen the light of day. I have a habit of re-buying books that I once thought I could do without and so pick up Roger Lewis's  The Man who was Private Widdle, a slim biography of Charles Hawtrey. The back cover has a photograph of Hawtrey stumbling drunken and wig-less out of a Deal pub. There are still a few pub landlords in Deal who can tell you a story of Charles's terrible intoxication. I don't know which pub was the final one to bar him. The book ends with a letter from Kenneth Williams telling a friend of a visit to Deal to see Hawtrey. He is taken to a cafe where the cakes are so heavy that they damage Williams' delicate digestive tract. 
"Took a lot of bicarb and farting to shift it. O never again."
(if you need just one biography of Hawtrey then you should find Wes Butters' Whatshisname, not cheap, but very good. I have just spied a hardcover copy on Abebooks for £15. Snap it up if you can ). 
It is Pride day in Reading, and Co-Op sponsored rainbow flags are spilling out of canvas bags. The air is thick and syrupy as I approach the station, Prosecco has flowed and one mother who has come to support her gay child is now being supported by her child as she topples like a Weeble, always conquering gravity in the end. 
The assistant at Reading station's WH Smith is friendly and a little surprised as I interrupt him stocking the fizzy mango drink cabinet to ask if it is okay if I sign my books.  He tells me that no author has ever popped in to sign their books before, take that Grohl and Tucci. I try to leave a different message in each one. 
4pm St Mary Street looks like 1am St Mary Street today. There are many ecstatic people and roads closed. Despite the bustle, Oxfam Bookshop is quiet, so I buy a biography of Arnold Ridley, David Widgery's Against Miserablism, a nice hardback copy of Humphrey Lyttleton's 1958 jazz memoir, Second Chorus, and a book about art made of out trench war artefacts. 
After a chat with the woman behind the counter, it seems that Cardiff is elated and hectic because there is wrestling at the castle. 70,000 people have turned up. I know my barber pal, Will, he of Hepcats barbers and beauty parlour is attending and, earlier in the day, he met Adrian Street, the glam wrestler who also appeared in Pasolini's Canterbury Tales and on the cover of Black Box Recorder's England Made Me. As I walk to tonight's venue, I play a game of cosmology or camel clutch? Are the passers-by off to see the professor or are they grapple fans. Maybe they are both. 
Watching the audience come in, I am pleased to see that, barring those in astronaut outfits, most of tonight's audience look like a pretty typical Saturday night crowd for whatever. It is a sign that the professor is hopefully reaching people who really wouldn't have once thought they would get into science again . 
Just before the interval, I looked at my phone and saw that Mik Raven had died. Mik was a lovely person who came to so many of my gigs that I kept telling him that I would just let him on for free but he would have none of it. I finally persuaded him and his wife Angela into taking free tickets for last year's Albert Hall show. He would always tell me that each show was different enough that he should buy another ticket. As time went on, we would often drink after the shows he came to. He had a wonderful downbeat , self effacing delivery that belied his hugely entertaining performances in a New York Dolls' tribute band (among others). I last saw Mik at the Leeds Skeptics event last month. He did not look well, but I was hopeful he would make it to the Leeds Arena gig next week. I am fortunate that, though I am no big name, there are some very loyal people who I have got to know from first meeting them as an audience. I wish I had seen Mik's New York Dolls act live. I am going to miss him whenever I look out across a northern audience and notice that his wide brimmed hat is not there. 
Tonight's audience questions included – 
WWhat, in your opinion, is the strangest exoplanet? (Ed aged 12) 
If we can see in the past to the Big Bang, why can't we see in to the future of the Big Bang? Are we In the middle of the end, from Keaton age 10  
Why is the moon bumpy? (Fliss, 8) and do you dream of unicorns?
How many strawberries would you need to have enough mass to create a black hole..and would they then be forever alive or dead?
​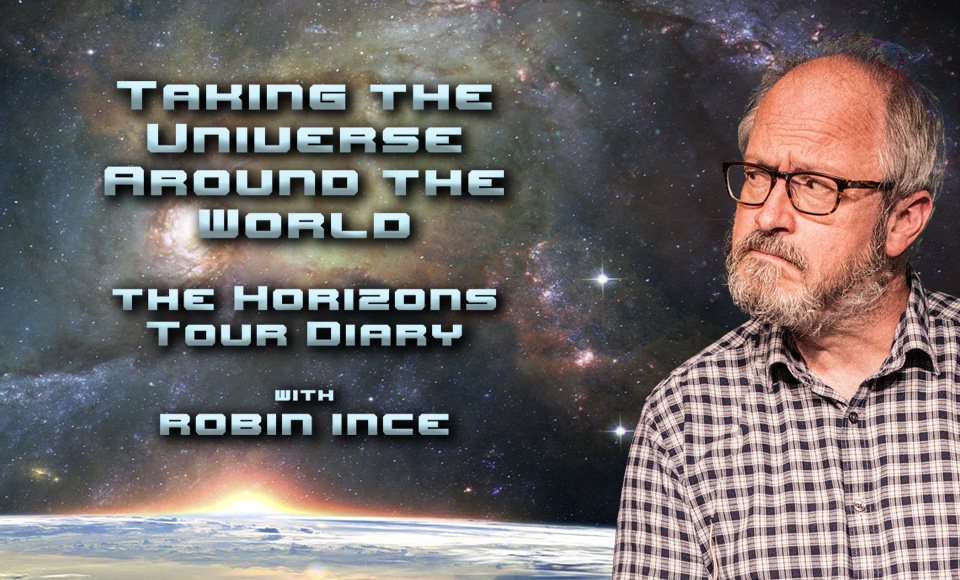 Listen to the Horizons tour podcast, Taking the Universe Around the World HERE.
Bibliomaniac is available for pre-order now at cosmicshambles.com/shop with exclusive art cards.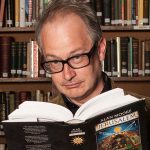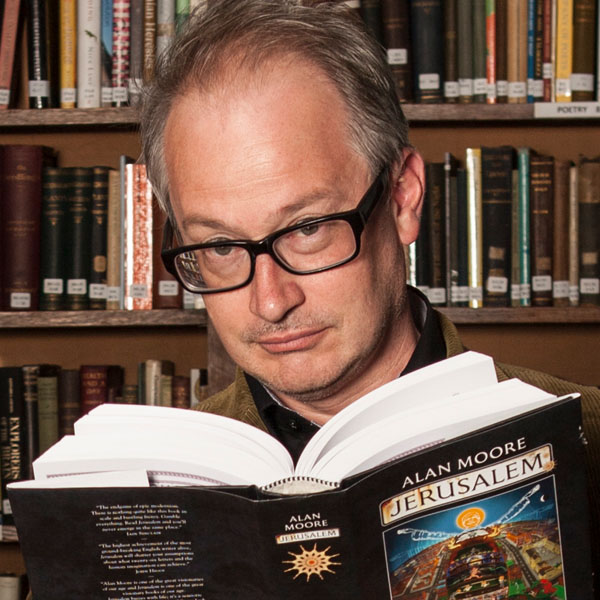 Robin Ince is a multi-award winning comedian, writer and broadcaster.  As well as spending decades as one the UK's most respected stand-ups, Robin is perhaps best known for co-hosting The Infinite Monkey Cage radio show with Brian Cox.  For his work on projects like Cosmic Shambles he was made an Honorary Doctor of Science by Royal Holloway, University of London. His latest book, The Importance of Being Interested is out now.
If you would like to reuse this content please contact us for details
Subscribe to The Cosmic Shambles Network Mailing list here.