A Better Class of Person in the Audience
Robin Ince's Bibliomaniac Tour Diary
You meet a better class of person in the audience. 
Carl Cooper, now a genius BBC Radio producer who brilliantly enhanced and sewed together my show Reality Tunnel, was someone I first met when in the Frog and Bucket crowd and would travel with him when he went to pick up ice cream on Friday mornings to sell in Blackburn Market. 
I think I first met Natalie Kay Thatcher after a Richard Feynman celebration at the Bloomsbury Theatre and it turned out she was a brilliant artist and illustrated my latest book, Bibliomaniac, as well as illustrating some of the Infinite Monkey Cage book. 
Trent Burton came to a The Book Club show and we now have had a tremendously creative working relationship for what must be well over a decade, always driven first by the desire to create more than the desire to make money (maybe one of us should be a little more money orientated, but no).
Others you come pally with. Mik died earlier this year and I regret that my haphazard thinking meant I never sent him the recordings of poems he was going to put music to. 
Julia has so often given me lifts to venues and is very hard to persuade to take free tickets for shows. 
Friday, it was John's turn to save my bacon. 
I met up with John and his daughter, Mirren, at Winchester. I decided to patronise an independent cafe rather than fill the coffers of a multinational coffee company and for that I was rewarded with the worst toastier I have EVER eaten. The rankness of the tomato and the parsimony of the cheese still swirls around my taste buds. 
By the time they arrived at Winchester, I was in the town's secondhand bookshop, yet again hoping to find Ernest Thesiger's Practically True. Instead, I found a 1940s Film Review annual with wonderfully gaudy technicolor images of Greer Garson, Hedy Lamarr and Gene Tierney. I also found yet another hardback copy of Darwin's book on earthworms  (Faber 1945 this time) . 
We all met up in Oxfam where I bought James Acaster's Perfect Sound Whatever and I signed a copy of The Infinite Monkey Cage book. The number of times I find it in Oxfam bookshops is a sign of its success rather than failure (IT IS!). 
Our journey to P&G Wells, the oldest bookshop to appear in Bibliomaniac, led us past the cathedral's bookshop and I found a Barbara Comyns' novel I didn't have, A Touch of Mistletoe, and a book of Weegee's revered photographs of New York's frequently seedy and bloody nightlife.
At the checkout, I was told the Comyns was £1.50 but I told them that it said £10 as I could not have got through that rest of the day if I had scammed a bookshop.
Biscuits and tea at P&G Wells followed by conversation with an avuncular vicar who bought my book to deal with an imminent period of Nil by mouth before an operation.
Others came and went and there was plenty of conversation about books and book people.
John. Had kindly brought me a Doctor Who Annual from 1978, one that I owned as a child, and with pristine and untainted word searches and games. He also gave me a copy of a comic he has contributed to that I am hugely looking forward to engaging with.
Then, we all went to Hungerford. John, one of the finest railway station lift designers in the land, had volunteered to scoot me about and Mirren thought it would be fun to come along  too.
Being kind people, they also helped Emma and the team from Hungerford Books put the chairs out.
Just before start time, all turned to manure when I found out the train I was relying on to get me to Eastbourne tonight (a necessity with the train strike on Saturday) was cancelled.
I attempted numerous schemes, but all looked hopeless. After signing and chatting, Mirren told me that John was willing to drive me to a connecting station – this would be hugely out of his way.
We went on a road trip. At the petrol station, Mirren went food shopping (refusing to let me pay) and looked at some sour cream and onion Pringles, then said, "If I bring these into the car, dad will be furious." She swapped them for NikNaks. Even the mention of the near possibility of sour cream Pringles entering his car startled John.
Then, we drove to Gatwick and talked about animal autopsies, Jeffrey Dahmer and vintage pornography photographed at Stonehenge.
It was a lovely trip and the kindness of John and Mirren was something that made my heart glow and sing.
I first met John some years back when, due to a tweet, I offered him free tickets to show.
Ten years later (or so) , the chain of meetings since then led to him making sure I had a family weekend at the seaside.
The world can seem full of mean and greedy people, but they are just allowed to make the most noise. There is kindness everywhere, sometimes, you just have to show that you are open and ready for it.
Bibliomaniac is available now. Get signed copies from the Shambles shop.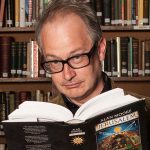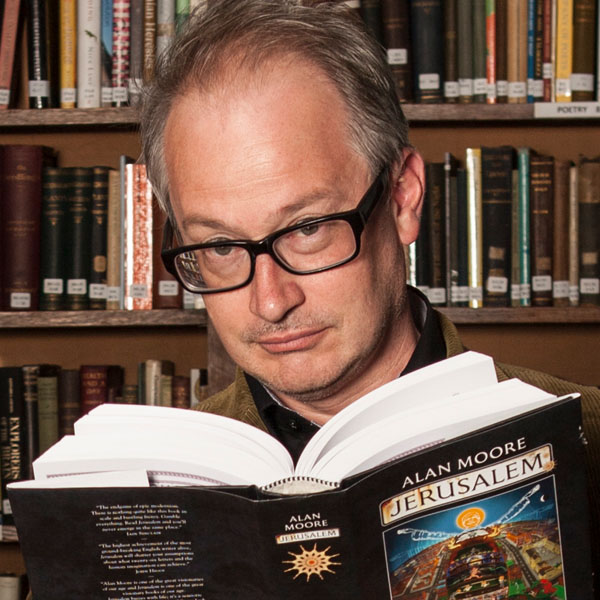 Robin Ince is a multi-award winning comedian, writer and broadcaster.  As well as spending decades as one the UK's most respected stand-ups, Robin is perhaps best known for co-hosting The Infinite Monkey Cage radio show with Brian Cox.  For his work on projects like Cosmic Shambles he was made an Honorary Doctor of Science by Royal Holloway, University of London. His latest books are The Importance of Being Interested and Bibliomaniac.
If you would like to reuse this content please contact us for details
Subscribe to The Cosmic Shambles Network Mailing list here.