A Hasty Bibliotrawl Across London
Robin Ince's Blog
Last weekend began at bookshop 75 and ends at bookshop 85, in a hasty bibliotrawl across London.
I start the weekend with the booster jab and the hope that I will not live out the tales of fevered exhaustion I have seen on social media from other recently boosted people. I must remind myself that the first shivers of tattered health are more likely to be from doing 74 gigs across the uk in 44 days rather than my bodies reaction to the tiny robots that will soon be taking over my mind and body in a microbial remake of Fritz Lang's Metropolis (if the Rotwang panorama conspiracies are true). 
I start at Brick Lane Bookshop. This is a bookshop with a history of counterculture and protest. It also has shortbread biscuits. Before the tour began, in my Ealing comedy England mindset, I had imagined the potential obesity I might tackle due to the enormous number of home-made Victoria sponges that would be offered to me as walked across the bookshop threshold. This was my iced England of myth, though I have drunk a lot of tea. 
I sign a few copies for the shop and then sign a copy for Alan Gilbey who I first knew as one half of a comedy duo, Penner and Gilbey. His performance years go back to being a teen on the punk/post punk poet era and now he wins BAFTAs for his animation work. Before he arrives, we are promised that he will be appearing in his slippers as he is working from home at the moment and has only just learned about the event. Sadly, on arrival, his shoes are sturdy and his pyjamas long gone. 
Next, I take the wrong route to West End Lane books entirely misremembering its location and with a flat battery phone, I swear my way up Finchley Road with a little hope. The pavements are too busy and I am impatient. I am grumpy hobo today. 
Its location comes flooding back to me when I reach its door with all the usefulness of deja vu. 
It was in a pub a few metres from here that I had a blazing row with a friend of mine about whether Rising Damp was racist or not. I was certain it mocked racism and he was certain it was racist. I blame the sociology degree that he was studying for in Colchester. 30 years on, he remains my oldest friend, having introduced me to REM and Robyn Hitchcock. I do not know his current view of Rising Damp. I think it is a masterpiece. It was one of the last things that made my mum laugh uncontrollably as she faded. 
Before my talk, I have to sign 300 labels for my publisher to send to independent shops that have run out of signed stock. When signing your name so frequently, it is rather odd that this repetition leads to you forgetting how to sign it every now and again. 
The shop is well-attended and my book zooms out, greatly aided by Karyl, who decides that at least twelve of her friends will be getting my book for Christmas.
Thank you, Karyl. 
As vague coincidence would happen, I return to the flat of my lifelong pal who I had the Rossiter row with and we drink wine. One of the first signs that I knew we would stay friends is that whenever we reunite we rarely talk of the past. It has never been a camaraderie of nostalgia.
Saturday morning begins in Kirkdale Bookshop in Sydenham. I am sorely tempted by their precious books cabinet which holds a lovely hardback copy of Beckett's No's Knife within. For 930am, it is just busy enough. Michael pops along with a pastry and Matthew Sweet, author of a couple of favourites too, pops by. I forget the question I needed to ask him about the actor Charles Gray.
Off to Bookseller Crow in Crystal Palace. Another pleasant gathering including Ben Moor who, rather delightfully, has any books signed to him inscribed with "To Ben, You are my greatest inspiration" so that he might become even more legendary in death.
I lurch west to Kew Books and do my first proper talk of the day among the shelves, then to Sheen Bookshop. I detour to the Mind shop and buy a few too many treats including the Pan edition of Saturday Night and Sunday Morning with the beautifully confrontational painting of Albert Finney on the cover.
I end at Waterstones in Piccadilly. The gathering is the sparsest evening talk I have done so far. You play in the centre of London's busy London and few turn up. Those who do are friendly faces but the low numbers do give me a bit of a shock and it brings up another engulfing wave of failure. I remind myself that tomorrow's gig at The Wanstead Tap sold out many months ago in a bid to boost my flagging ego.
————————————————————-
All Tour dates here.

Order signed and dedicated copies of The Importance of being Interested here.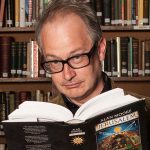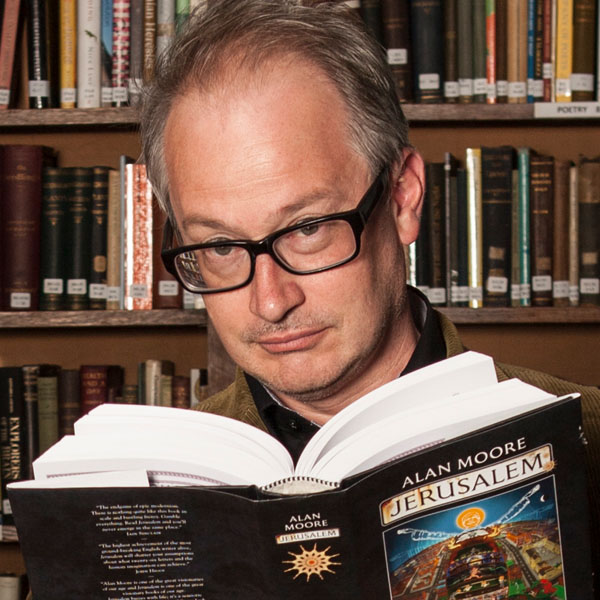 Robin Ince is a multi-award winning comedian, writer and broadcaster.  As well as spending decades as one the UK's most respected stand-ups, Robin is perhaps best known for co-hosting The Infinite Monkey Cage radio show with Brian Cox.  For his work on projects like Cosmic Shambles he was made an Honorary Doctor of Science by Royal Holloway, University of London. His latest book, The Importance of Being Interested has just been released.
If you would like to reuse this content please contact us for details
Subscribe to The Cosmic Shambles Network Mailing list here.