Boston Bound with Some '60s Pulp
Robin Ince's Horizons Tour Blog
In the morning, we go for a walk around New Haven.
Brian's directional capabilities are excellent for a cosmological scale, but disastrous on a terrestrial level, and, as usual, he has an incisive ability to always turn 180 degrees in the wrong direction. I manage to recalibrate his routing throughout. 
We find coffee as well as a small spinach omelette for me and a large bowl of lentil soup for Brian. When on tour, there is no shame in soup for breakfast. Walking back to the hotel, despite Brian's best efforts to walk us into the wilderness, at a crosswalk, I look behind me and notice Grey Matter Books and I cannot resist. Their window has a vivid display of lurid 1960s pulp novels and so we pop in. On the shelves inside, I find a paperback of Bram Stoker's The Lair of the White Worm, turned into a campy film by Ken Russell in the late 1980s. Each page has neat underlinings, it looks as if the first owner seriously studied the novel. 
"…he was on the high road to mental disturbance ….his brain was active….and to deal with memory….the legions of whirring wings…his overwrought brain…in his sleep he arose, and, as if in obedience…far beyond him in his normal state…taking the chest on his shoulder"
Sadly, I can't make out the signature inside the book or I would go in search of academic papers on Bram Stoker by this scribbler. 
The bookseller allows me to climb into the window to look at the pulp display. I survey the covers, then open at random. If I sentence strikes me, they are mine. I end up with –
Barbara Hoffman's Desire in the Female 
"A new analytical study of the causes and results of women's sexual desires"
William A Austin's Commit the Sins 
"In the coloured footlights, Champ was apart from other musicians. He was vibrant, living nervously back and forth in the confined space. The shadows on his face accentuated the craggy features and looked like the personification of evil – dark, forbidding, magnetic" 
Steve Bell's Venus of Lesbos 
"Long-legged, clad in nothing but the sun; she was a beautiful sex machine" 
Lillian Dowling's Sexy Psycho
"You got to be a sexy psycho to understand it, but you don't have to be one to appreciate reading it".
Brian finds a book on 19th century railway track innovation, but decides not to buy it.
At the next crosswalk, Brian is stopped by Keith Semple. Semple is fascinated in cosmology as well as being frequent contestant on TV talent shows, from Popstars: The Rivals to American Idol. He is in New Haven to play with his band Semple. In another piece of synchronicity/coincidence, his current drummer is also one of King Crimson's drummers (I watched In the Court of King Crimson only a few nights ago and King Crimson lead singer Jakko was one of the last people I saw before I left for the USA).
Our car journey passes without incident and with one flapjack each.
In Boston, Brian realises that he needs new luggage. Brian adores luggage shopping almost as much as I love book browsing. We find his favourite luggage shop (I don't even have a favourite luggage shop, the shame) and he browses bags of many shapes and forms, some with secret pockets, some with surprising abilities to expand. He finds the one he needs. The manager asks him if he would like a bag for his bag, but he decides the bag itself will do.
We pause for coffee and cheesecake.
In the park, we see a graveyard, fenced in by wrought iron. We look at the mausoleum names. I am particularly taken by Lemuel A Cooledge.
There is time for reading. I am getting behind on my book for every city project and had no time for New Haven author Bernard Wolfe the day before, so I start now. The Gollancz Masterworks edition begins with an introduction from Harlan Ellison, which goes some way to explaining why Neil Gaiman recommended this novel to me (Neil and Harlan were great friends and it is worth your time to find the documentary Dreams with Sharp Teeth and watch them in conversation. You will find the greatest ways of avenging yourself against any publishers that might have wronged you. And here is an episode of Book Shambles where Neil talks about his relationship with Harlan.). Ellison writes of finishing reading Limbo, "Yes, this was what reading was all about! You had to have more, had to have periodic transfusions from this man's supply of imagination".
Amongst other things, Wolfe was one of Leon Trotsky's bodyguards. Ellison points out that his excellence as a bodyguard is demonstrated by the fact that Trotsky was not assassinated until Wolfe had left his employment. I start Limbo with even greater excitement.
It is a night off, so Leigh, our tour manager, Brian and I have a very leisurely dinner served by our ebullient waiter, Eugene. The night ends with Brian telling us stories of large bats getting stuck to his face and going mad from malaria medicine on the way to Caracas.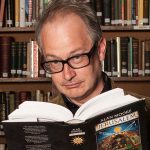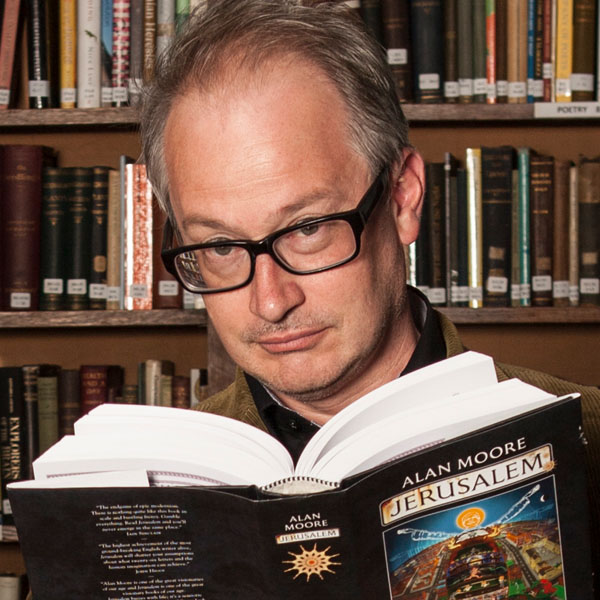 Robin Ince is a multi-award winning comedian, writer and broadcaster.  As well as spending decades as one the UK's most respected stand-ups, Robin is perhaps best known for co-hosting The Infinite Monkey Cage radio show with Brian Cox.  For his work on projects like Cosmic Shambles he was made an Honorary Doctor of Science by Royal Holloway, University of London. His latest book, The Importance of Being Interested is out now.
If you would like to reuse this content please contact us for details
Subscribe to The Cosmic Shambles Network Mailing list here.