Brian Takes Charge of the In Van Disco
Robin Ince's Horizons Tour Diary
Lat night, I dreamt I was being hunted by Nazis after I shot my machine gun into their petrol tanks.
I took refuge in a pretty cottage that sat in a river and turned out to be the property of Pam St  Clement. Together, we spoke of grief. 
I woke up with a sense of sadness at the distance I was from my family, but I usually wake up with a vague silhouette of melancholy that further consciousness can usually drive away. 
I am told by Steph and Brian that I strode into breakfast. I think it was because I was playing Francis Monkman's title theme from The Long Good Friday in my head. In this gangster frame of mind, I ordered granola and blueberries. 
Brian and Steph are checking on the life their body experienced the day before by looking at their watches and the graphs that reveal their pulmonary activity, step count and any flurries of cosmological understanding. 
Before the drive to Sacramento, Steph goes to the gym, Brian goes to finish his book about black holes, and I got to put a first LA recording of Monkey Cage into some shape and form which will of course be turned back into disorder the moment we start recording. This will be series 25, but my anxiety about the quality of the shows has never diminished. It has probably got worse. I am one of those with senses fine tuned to possibilities of error, disappointment or disdain, whether real or, more likely, imagined. The critical voices will not hush and so I still have no laurels to rest on and if I did rest on many laurels I imagine my skin would become inflamed and distressed by their touch. This is for the balance of the Universe, Brian is much calmer and confident about such things and has laurels from prestigious societies and the monarchy. 
Rwanda is trending on Twitter again. Whenever I try and explain the British governments new refugee policy to Americans, they are utterly perplexed. Whatever the colour of your British passport, the shame it carries with it increases daily. 
I read Steven Reigns's A Quilt for David, a true story told in poetry about a dentist blamed for infecting some of his patients with AIDS. Reigns spent 13 years testing thousands of people for AIDS and counselling many and is sceptical of the belief that David Acer contaminated his patients. It seems that he may have been a fall guy, once his status was known, people could conceal the more likely true reason for their HIV as it could carry shame and rejection with it, but blaming their dentist they could maintain the "innocence" that those around them may prefer. 
"Between the pen ink and death certificate, 
with the stark word AIDS, 
your calm, round face
was shown in every TV news station. 
name and practice in every newspaper . 
your parents dealt with sickness,
the loss of their son, 
and then the slaughter 
of your life in public" 
Touring can be a peculiar way of living. It is not a bad one on this level. Nice food, hotels and people to ensure you are facing the right direction, but there is an absurdity, a sensation that things don't feel quite right. Then again, that is how most of life feels, easier to imagine than to live in. 
Driving out of San Francisco, I see Dashiell Hammet avenue and recall the terrible pub quiz in Plymouth where one of the questions was, "Who created the fictional detective Dashiell Hammett?" 
Once out of San Francisco, Brian predicts that we will be in Sacramento within the hour. As usual, at the exact point of his prediction, traffic moves to a standstill and three patrol cars speed by to deal with an accident. We arrive in Sacramento two hours later.
Along the freeway, a billboard promises us that Weird Al Yankovic will be playing Circus Circus in Las Vegas. I have never got over my disappointment that their rotating bar, immortalised by Hunter S Thompson, was no longer turning.
When we get to Sacramento, we make the mistake of walking down K Avenue when we should have walked up L Avenue. K Avenue gives the impression that Sacramento is closed on Tuesday with the exception of the graduating students coming out of a theatre tethered to their congratulatory helium balloons. We find a bar restaurant that is half closed but does food at the bar. Brian has reached his hangry stage and seeing there are chicken lollipops and pork bellies available is happy to take a stool.
After a selection of dips and lettuces, I wander up L Avenue and bump into Brenna and Marge. They have traveled from Fresno for tonight's show. I am pleased to hear that when Brenna read my first book, The Bad Book Club, she laughed so uproariously at my description of tiresome venom peddler Ann Coulter that her parents came into her room to check she was okay.
I can't remember what I wrote but I do remember that I had to argue with my publisher's legal team to get the words in the book.
I have to speed browse in Time Tested Books, so my choices are erratic.
I see a copy for Jorge Luis Borges's Atlas for the second time in 24 hours. $50 cheaper than the edition I saw in San Francisco. The cover has Borges happily stood in the basket of a hot air balloon (property of Balloon Aviation of Napa Valley). It is a slight book in terms of words and pictures, but as they are the words of Borges I am certain that there will be something in that creates light.
"In some prologue I remember writing the phrase 'crystal and crepuscular Venice. Twilight and Venice are for me practically synonymous words. Twilight for us has lost its light and is fearful of nightfall, while the twilight of Venice is delicate and eternal, without a before or an after'.
At the counter, I see Hoaxes, Humbugs and Spectacles, a collection of circus sideshow performers and performers of athletic feats. It includes "Lilian riding the wall of death in her stunt car, with no hands on the wheel, and displaying broken digit" and the frecklesisomograph whose lens is used to reveal which child possesses the most freckles. Today's impulse buy is the novelisation of the Sergeant Pepper's Lonely Hearts Club Band movie, starring The Bee Gees, George Burns and Peter Frampton. It is described as "the year's most spectacular novel" in much the same way that movie was the most spectacular movie of 1978.
"It was a fair day in Heartland and the highlight of the fair was Sgt Pepper's Lonely Hearts Club Band. What a day for fun, music, magic and letting go of balloons."
Sadly, the Crocker Art Gallery was not open today as I would have been very keen to see the exhibition of Wayne Thiebaud's paintings of cakes and pies.
On the way back from Sacramento, Brian takes charge of the in van disco and, after some Carly Simon and Cyndi Lauper, we treat Steph and Leigh to our melodramatic torch song mimes to Say Hello, Wave Goodbye, a favourite of both of us (and a stand out moment of the Albert Hall Christmas show when Marc Almond joined us).  We end the journey with Brian miming piano to Life on Mars.
Audience questions in Sacramento include –
How does the idea of infinite inflation work against the idea of the eventual heat death of the universe? If things eventually spread out to the point where heat virtually ceases to exist, how can there continue to be energy to spur on inflation?
How long does it take to get to the singularity if you enter in the infinite future as opposed to if you had entered in the infinite past? Whats in the triangle? Can you avoid the singularity and cross back over the event horizon?
How do I convince my lovely patient wife that tonight counts as a great date night?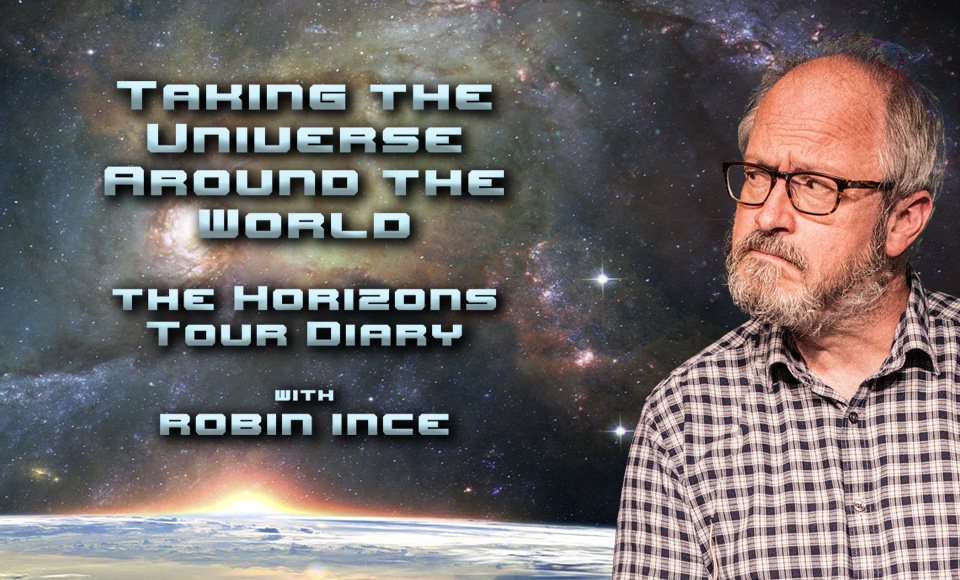 Listen to the Horizons tour podcast, Taking the Universe Around the World HERE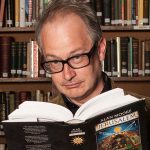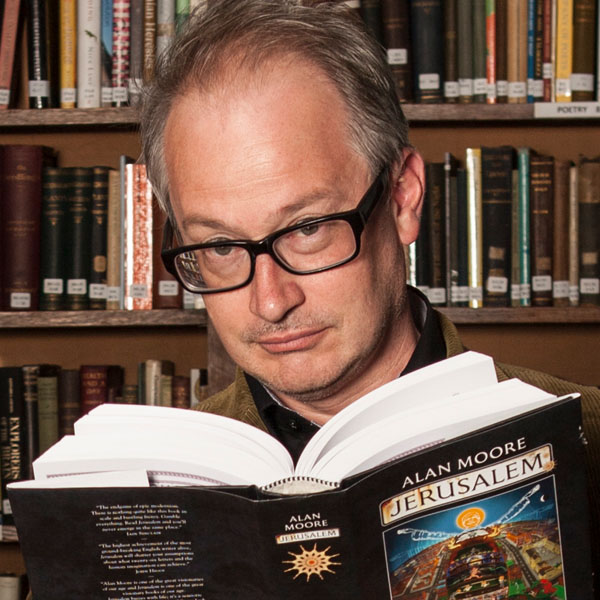 Robin Ince is a multi-award winning comedian, writer and broadcaster.  As well as spending decades as one the UK's most respected stand-ups, Robin is perhaps best known for co-hosting The Infinite Monkey Cage radio show with Brian Cox.  For his work on projects like Cosmic Shambles he was made an Honorary Doctor of Science by Royal Holloway, University of London. His latest book, The Importance of Being Interested is out now.
If you would like to reuse this content please contact us for details
Subscribe to The Cosmic Shambles Network Mailing list here.