Beauty Spot Head Cavity – Day 10 (or 11 or 12 or 9) of The Brian Cox Tour
Robin Ince's Blog
It doesn't take long when a sea is between you and your family and you change hotel four to five times a week to feel that this has been your only life. Tour sleep peculiarities, airport check-ins, unpack, repack, "where's my shampoo? have I remembered to steal as many hotel pens as I can?" becomes quite normal.
"Oh look, another beautiful view across a bay."
The time expands, not at an hourly rate, the hours move at the usual speed, but the distance from passport control to sixth landing is a divide of generations.
One day soon, my body wash and cotton buds will not be complimentary.
We start the day watching a man in the hotel opposite eating a tube of Pringles. Our hotel is one of those ones where each window is almost directly opposite the windows of another hotel. At night, when the net curtains are translucent, we wait to see hints of murder and live out a Hitchcockian fantasy.
It is show day in Auckland, so we warm up by going on a ferry to a dormant volcano with a vineyard restaurant. We remain teetotal, cosmology suffers under the effects of inebriation.
Despite his sinewy frame, Brian has an ability to consume that is somewhere between a Borgia and Mr Creosote. We arrive at the venue three hours after our vineyard lunch and he tucks into pre-show tea of meats and broccoli. We have had some very good broccoli on this tour. We will publish our league of broccoli just as soon as all the data is in.
After the show, we have a meet and greet and ask questions about quantum field theory in the bar.
Auckland has the most in depth questions on contemporary physics of any of these events so far.
There is also a six year old fan there who is in Professor Cox cosplay.
We fly to Wellington the next morning. This is a rapid turnaround trip. We have enough to land, lunch, and either go and do boxing training on a beach or go and see an exhibition of occult art at the City Gallery, I choose the latter and Brian and Steph choose the former.
I almost don't need to go to a gallery as our fashionable hotel has contemporary New Zealand art on all walls. Brian eats his steak under Liz Maw's Pandora Rides the Noon Day Demon.

My favourite title is of a painting is Simon Mee's The Attack of the 60ft Vermeer Inspired Woman and Despondent Chicken. I was also keen on Andrew Moon's Fast Supper.
"One should not paint nature at all, one should paint the will."
The Occulture exhibition is a brew of Aleister Crowley paintings, a Curtis Harrington's film about Marjorie Cameron, The Wormwood Star, a hint of Kenneth Anger and some more contemporary reactions to witchcraft, the occult and the eerie. Marjorie Cameron was the wife of Jack Parsons, the rocket scientist and occult practitioner who blew himself to smithereens while mixing explosives. There was also work of Rosaleen Norton of Dunedin whose occupations were listed as artist and witch. She would enter the astral plane using "a plasmic body" that was an astral counterpart to her physical body.
Upstairs, I am pleased to find two further exhibitions including one of my favourites, Tracey Moffatt. This time it is her plantation sequence in display as part of an exhibition about slavery and sugar. It also contains Jasmine Togo-Brisby's Bitter Sweet, a pile of skulls whose morbidity is in contrast to their ingredient which is cane sugar, these are representations of the bitter death required for our sweet desires.
My broad ignorance allows me to continually discover things I am sure I should know about and today it was the work of John Stezaker. I love his collages, particularly the faces with picture postcards of bridges and arches placed over them which makes them look like tourist beauty spot bullet holes.
Then, we did a gig. We drank some booze and we prepared for the 4 hours sleep before the 6am flight to Sydney. No time for a second visit to Te Papa's magnificent, provocative, empathetic and educational Gallipoli exhibition or to ogle the long squid.
The Monkey Cage book is out now.  And still some tickets for shows in Canberra and Adelaide (though not Perth or Sydney)
I am back on solo tour in UK soon, restarting in Dartmouth, Bordon, Totton and Folkestone, then off to Belfast, Newcastle, Exeter and on and on.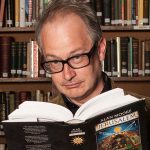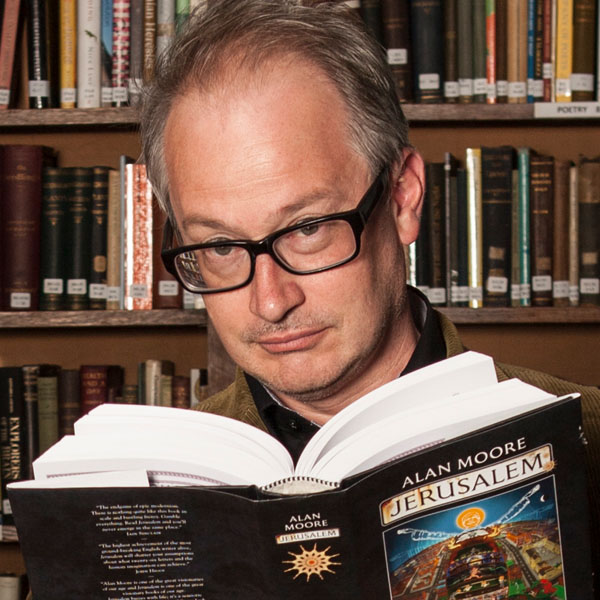 Robin Ince is a multi-award winning comedian, writer and broadcaster.  As well as spending decades as one the UK's most respected stand-ups, Robin is perhaps best known for co-hosting The Infinite Monkey Cage radio show with Brian Cox.  For his work on projects like Cosmic Shambles he was made an Honorary Doctor of Science by Royal Holloway, University of London.