My Canvas Bag is Getting Fuller
Robin Ince's Horizons Tour Diary
Last night, I dreamt of a large black spider, about the size of my hand. 
I didn't fear it, we were on the way to a Tibetan mountain and I noticed a Doctor Who annual that I was rather keen on too as it looked very rare. Nothing for Freud or Jung here.
We are doing an episode of Monkey Cage about spiders, I saw the end of the latest Doctor Who on telly last night, our producer Simon told us a tale of Tibet. 
We spent Monday in a vineyard. As a wine fool it was fascinating to hear about the alchemy of a bottle. We left with some scientific research about the nature of light interference in clear bottled champagne and the dangers that may or may not exist from these photons and the grape. 
My main points of entry for this conversation among experts was to mention the Columbo episode where spoilt wine is the key to condemnation – Any Port in A Storm – and Richard Feynman's musing over wine and the universe that my pal Natalie created an illustrated interpretation of. 
"A poet once said, "The whole universe is in a glass of wine." We will probably never know in what sense he meant that, for poets do not write to be understood. But it is true that if we look at a glass of wine closely enough we see the entire universe. There are the things of physics: the twisting liquid which evaporates depending on the wind and weather, the reflections in the glass, and our imagination adds the atoms. The glass is a distillation of the earth's rocks, and in its composition we see the secrets of the universe's age, and the evolution of stars. What strange array of chemicals are in the wine? How did they come to be? There are the ferments, the enzymes, the substrates, and the products. There in wine is found the great generalization: all life is fermentation. Nobody can discover the chemistry of wine without discovering, as did Louis Pasteur, the cause of much disease. How vivid is the claret, pressing its existence into the consciousness that watches it! If our small minds, for some convenience, divide this glass of wine, this universe, into parts—physics, biology, geology, astronomy, psychology, and so on—remember that nature does not know it! So let us put it all back together, not forgetting ultimately what it is for. Let it give us one more final pleasure: drink it and forget it all!"
At bedtime, I watched episode one of Andor due to my son's recommendation and raced through my favourite moments of David Cronenberg's The Fly as I had used a scene as reference to the nature of interpreting music and the requirements for the human tongue and human judgement when making wine. It was the best I could manage. 
On Tuesday, stood by a Jeffrey Smart painting , a man walks behind me and lets out a quiet gasp, he is pleased to see this Smart on the wall. I mention that it is a new acquisition since I was last here. We talk a little of the splendid variety of art in the gallery and how it may surprise people whop expect the "city of churches" to be a little more conservative. 
​On my first visit, I was struck by Marc Quinn's Buck, a gleaming statue of Buck, a trans man, chewing on a cigar and with a resplendent moustache. It is still there, still challenging you to meet their eyes.
Today is one of my solitary days. I walk to Oxfam Books, one of only two in Australia, and listen to the bubbly chatter of the volunteers, every book bought the trigger for a story or a little family history revealed. It is a charming soundtrack. Neither of those behind the counter fancy going to Sydney again for a while.
I have no more space for books, but but but ….
I am fascinated by Led by Lawrence by Gurney Slade. I though Gurney Slade was a village in Somerset, but it was also a pen name for Stephen Bartlett, author of Ships that Pass in the Night Club, The Long Arm of the Cardinal and Captain Quid. I am predominantly fascinated as it is the name Anthony Newley used for the brilliant and eccentric series that nearly sunk his career – The Strange World of Gurney Slade.
I eye it, but let it stay on the shelf for now.
Then, I see a book by William Irwin Thompson who I first came to know from a story Rusty Schweickart told. Thompson was initially sceptical of space explorers , imagining astronauts were just macho flyers going through their wild west story.  Then, he met Rusty, saw that he was a philosophical individual and then experienced the launching of Apollo 17 and the raw emotion of the event changed everything. I see Rusty is mentioned in the book, as is Sirens of Titan, so I take it with me. I see Penelope Gilliatt's Unholy Fools, essays on Gogol, Buster Keaton , Godard and Beckett. It is as pristine as it must have been in 1974. Clearly it was carefully read by Helen Gensch (the original owner, her name written decorously in ink). Under the poetry shelf is a slim book on William Blake and the Tree of Life.
"Blake anticipates the theory of relativity. His state of Beulah compels us to re-examine our inherited ideas of time."
And with that, I am sold.
There is Gabriel Byrne's memoir, Pictures in My Head which opens with an indelible image of Brendan Behan, noble and drunk on a Dublin bus. Everyone I know who saw Byrne's recent one man show has spoken of it rapturously.
I open Joan Lindsay's Time Without Clocks, there are two pressed daisies between pages 88 and 89 and a pressed dandelion between 170 and 171, so that deal is sealed.
I have a copy of Richard Neville's Playpower, but this has a better cover that interprets Oz's schookids' issue. Finally, I see the cover of Janet Hitchman's The King of the Barbareens. A memoir of foster care and rebellion while seeking love, I judge this book by the cover. Reaching the counter, I pick up Gurney Slade.
The man behind the counter studied engineering at Imperial College and he tells me of change and of his graduation photograph.
My canvas bag is fuller now, time for the art gallery and a piece of cake I think.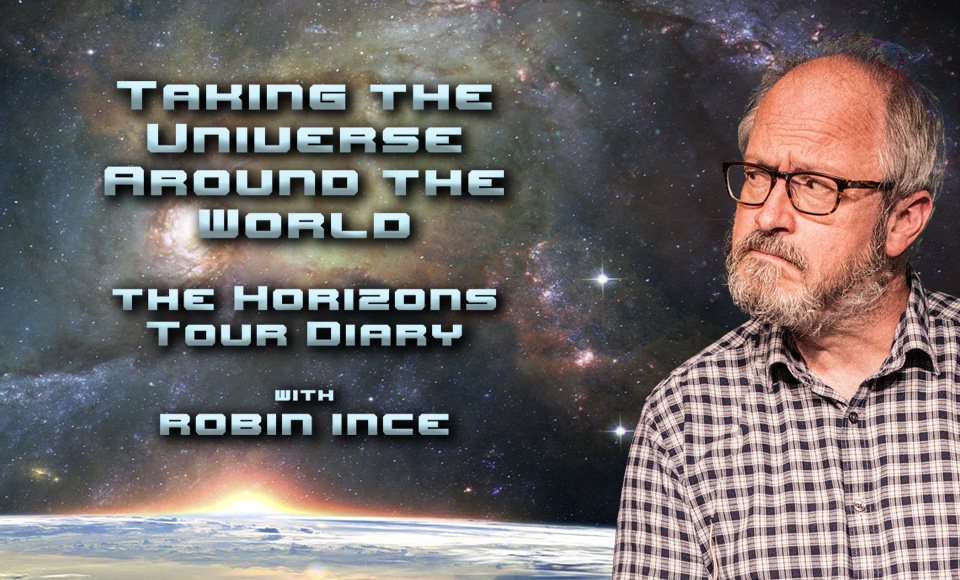 Listen to the Horizons tour podcast, Taking the Universe Around the World HERE.
Bibliomaniac is available for pre-order now at cosmicshambles.com/shop with exclusive art cards.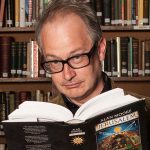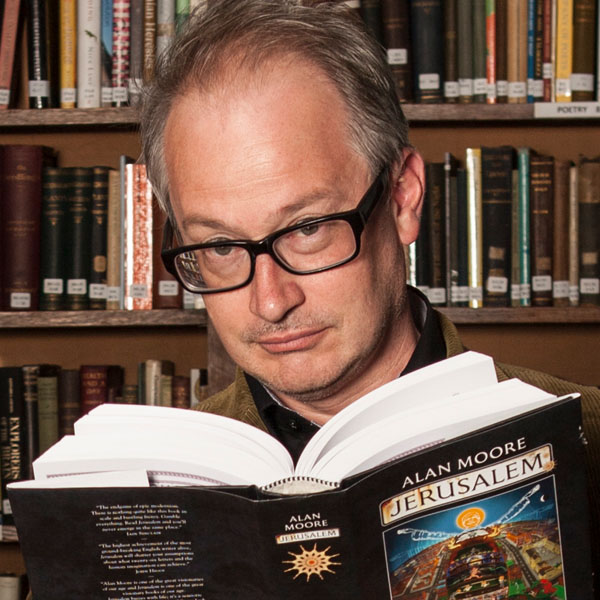 Robin Ince is a multi-award winning comedian, writer and broadcaster.  As well as spending decades as one the UK's most respected stand-ups, Robin is perhaps best known for co-hosting The Infinite Monkey Cage radio show with Brian Cox.  For his work on projects like Cosmic Shambles he was made an Honorary Doctor of Science by Royal Holloway, University of London. His latest book, The Importance of Being Interested is out now.
If you would like to reuse this content please contact us for details
Subscribe to The Cosmic Shambles Network Mailing list here.