Do These Cultural References Even Exist?
Robin Ince's Horizons Tour Diary
I woke up in a four poster bed.
We are staying in a hotel so swanky that it cost nearly as much as the IBIS in Cardiff when wrestling and 70,000 people come to the castle . It is a house that was owned by Henry VIII. He inherited via the noble tradition of chopping off the previous owner's head. We eat our toast under the watchful of eye of Edward VI.
At breakfast, I ask Giles and Brian if they remember Miranda Sex Garden. Brian gives me the look, "you know we never have any clue as to your cultural reference and even if they really existed". 
They were a trio of madrigal singers discovered by Barry Adamson (of the Bad Seeds, Magazine and of himself).  I played their first record at the wrong speed, not realising it was intended to be played at 45rpm, but was none the wiser for a while, they just sounded a little more like monks than I expected. 
Brian has a late check out, but unfortunately that was not available for the other rooms, so I go and sit in the garden and read Beckett while future brides wander around and appraise the facilities. Beckett at 60 is a wonderful collection of essays and remembrances. Pinter writes, "he leaves no stone unturned and no maggot lonely". Alan Schneider remembers directing the first USA production of Godot. It opened in Miami and was not greeted warmly. Schneider feels that the publicity debarking that it was "the laugh sensation of two continents did not help". 
This reminds me of when I first saw Synedoche New York. The DVD cover declared that it was "the funniest film of the year". Boy, was I in for a surprise.
At lunch, I bring up more references that befuddle Brian. Looking at the painting of Edward VI, I think of some of the melancholy and morbid paintings I have seen of sickly Victorian children. Brian, yet again, looks at me with the bemusement of a scientist confused by a moth. 
Brian goes off for a sleep and I go yo browse the tombs of the near-by church. I like looking for strange names and epitaphs. Nothing to out of the ordinary here, though I have not seem the surname "Widow" on a tomb before. As my friend John later remarked, "If in ye olde days, people were named after their professions, it would be a brave man that married a woman called Widow". 
There is a bug hotel and, when treading in the longer grass, I wonder if I might startle a grass snake or an adder. When my dad was a child, he had a pet grass snake that escaped from his pocket during a Sunday service. Hopefully that days sermon was set in the Garden of Eden. 
I find a bench that remembers a local vicar and sit in the thickening Autumn. I read some more about Beckett and then move on to chapter 2 of When We Cease To Understand the World. 
This chapter is all about Karl Schwarzschild, a central part of the Horizons show. Here was a scientist who could become so engrossed in the startling complexities of the cosmos that he would forget to take cover during a mortar attack on the Russian front. 
On a climbing trip, during the most dangerous part of the descent, he insisted on the safety ropes being loosened so he could join two others who were working on an equation using an ice pick for a pen and ice for paper. Observing an eclipse, he damaged one of his eyes, but merely said that he had blinded himself in one eye so he could see even more clearly with the other. When considering the possibility of black holes, what perturbed him the most was "if matter were prone to birthing monsters" what of the human psyche? "Could a sufficient concentration of human will…unleash something comparable to the singularity?"
The rain flecks my pages at just the right time, a reminder that I need to return to the hotel to drive to Cardiff. While I consider Schwarzschild's anguish, Brian buys some champagne.
In the interval, I meet Molly and Seth, as well as their parents and grandparents. Seth is wearing a "Young Astrophysicist" T shirt and has made a ring for Brian. He is 6 years old. He is fascinated by black holes. I promise to take both the ring and his message of love to the Professor. It is a delight to see beaming children in the middle of a lecture about cosmology.
We have a longish journey back from Cardiff to London so we can fly to Dublin tomorrow morning. We listen to Dear Joan and Jericha, a very funny and frequently brutal podcast by Julia Davis and Vicki Pepperdine, then watch Stewart Lee's Snowflake, the routine of Ricky Gervais truly saying the unsayable paralyses Brian with laughter much as I did when I saw it at Watford Coliseum.
We have a toilet break at Heston services. Sadly, the WH Smith does not have any copies of my book, so I can't do a 1am signing.
Tonight's audience questions included –
How much time do you think we have left until human extinction??  Amelie- Age 12 🙂
How long until the end of the universe, in seconds?
My boyfriend challenges you to an arm wrestle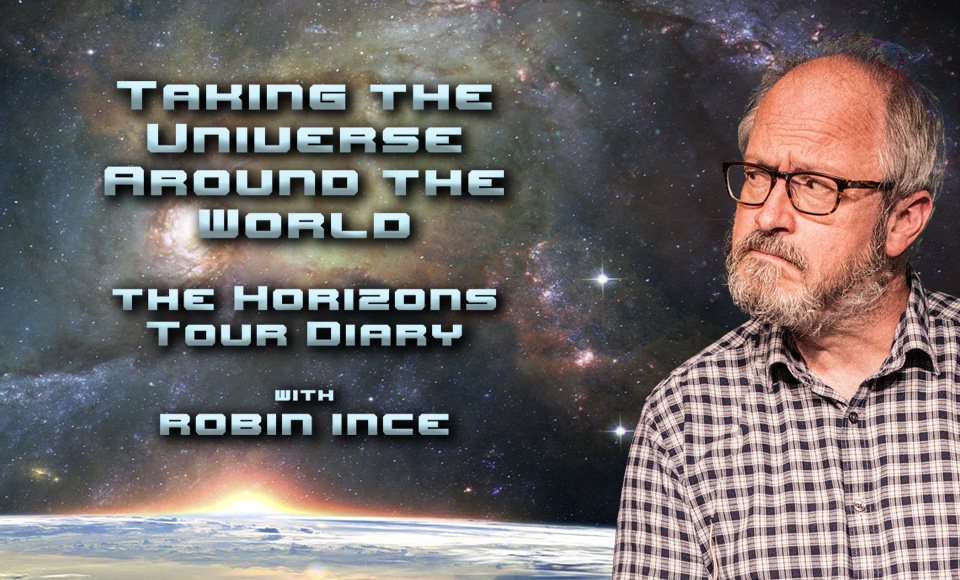 Listen to the Horizons tour podcast, Taking the Universe Around the World HERE.
Bibliomaniac is available for pre-order now at cosmicshambles.com/shop with exclusive art cards.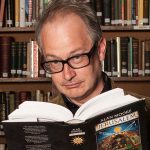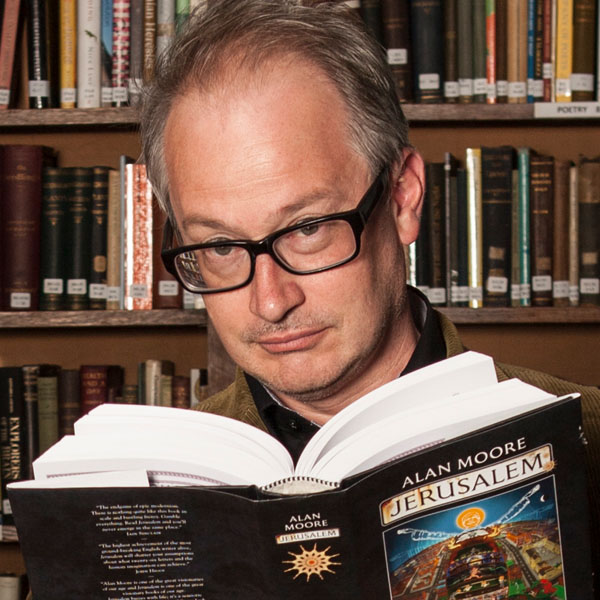 Robin Ince is a multi-award winning comedian, writer and broadcaster.  As well as spending decades as one the UK's most respected stand-ups, Robin is perhaps best known for co-hosting The Infinite Monkey Cage radio show with Brian Cox.  For his work on projects like Cosmic Shambles he was made an Honorary Doctor of Science by Royal Holloway, University of London. His latest book, The Importance of Being Interested is out now.
If you would like to reuse this content please contact us for details
Subscribe to The Cosmic Shambles Network Mailing list here.