Edinburgh Bookshops and the Ghosts of the Fringe
Robin Ince's Horizons Tour Diary
We drink tea, eat biscuits and look at Berwick-Upon-Tweed.
It is a genteel journey after the throb of the O2.
Giles, our tour manager, and I both wax lyrical about all the bricks it took to make Darlington station. Wall-wise, it is one of my favourite railways stations. 
I didn't manage to find time to sign copies of the new paperback edition of my book at St Pancras WH Smith, so I will try to do it on the way back, though I might have almost no signatures left in me as I am off to Grantham book depot tomorrow to sign 3000 copies of Bibliomaniac.
Usually, about one third of the way through, I forget what my signature looks like and my arm becomes that of Dr Strangelove, rebellious (though not fascistic). 
I read the first interview in a book about David Foster Wallace and go one chapter further into I Am Dynamite, the biography of Nietzsche. It is a feast.  Wagner said that he played the piano "like rat plays the flute". Maupassant described the poet Catulle Mendès, a beautiful but cruel man, as "a lily in urine". 
Once in Edinburgh, Brian goes for a snooze and I go across the meadows to sign books at The Edinburgh Bookshop. The secret of his eternal youth is the ability to go into sleep mode at any given moment whereas I jitter about, losing my hair and worrying that I have not done enough on any given day to justify my existence. I sign a little pile of my book and discuss Exorcist 3 – a masterpiece that perfectly balances humour, surrealism and terror. I am pleased to see my book nestles next to Carlo Rovelli's Helgoland as he is a delightful and brilliant person and so is his most recent book – I even briefly believed that I understood quantum theory when I read it in the bath. I had that flash of seeing something around the corner of my comprehension, a transcendent moment of delight. That this new comprehension did not remain tangible doesn't matter, it was a sense of such delight that I knew the adventure was worth continuing with. 
There is also a magnificently vast book of Apollo images, fresh out and coveted by both the bookseller and I. 
I walked across The Meadows, the shadows of the fringe festival were still being cast on the grass and motes of dusts seemed to spark in the air, burning out the last of the energy from August's creative energy. Looking at the posters still clasping the lampposts, I thought of all the hopes those posing performers will have had as their images were captured to be flyered – the imagined reviews, the imagined sell outs, the imagined validation – hopefully they found it.
I was pleased to see that Tills bookshop was still open. Until recently it was owned by a friendly Canadian who would tell me of his youthful adventures as a car park attendant for the Stratford Shakespeare festival. Not only did he sell books, he also had memorabilia. The centre of the shop was a deep stack of film posters. Near the end of one fringe run, on the way to my show at the Museum of Scotland, I found a quad poster of The Belstone Fox, the very first movie I saw in the cinema. I was 4 years old and confused by the lead huntsman dropping dead as he was about to knife a fox. Heart attacks were explained to me on the way home.
On the way to The Lighthouse Bookshop, I commit to a few hasty browses in the charity shops on the way. The Oxfam glass cabinet has some signed Iain Sinclair rarities which are fortunately just a little too highly priced, though I regret not buying a book of Marina Warner lectures. In the science section there is a hardback copy of the Infinite Monkey Cage book so, with permission, I sign it.
The PDSA shop has a pristine hardback first edition of The Name of the Rose for £5 which I cannot resist. I'll place it next to Infinite Jest on my shelf of good intentions.
I am very fond of The Lighthouse Bookshop run by Mairi. It declares that it is "a queer-owned and woman led independent community bookshop. We are an unapologetically activist, intersectional, feminist, antiracist, lgbtq+ community space." And I always find something interesting or have it thrust in my hand here. Last time I was here, Mairi gave me Undrowned by Alexis Pauline Gumbs. I sign a few books and ask Mairi what her current favourite book is. She tells me it is Nerves and Their Endings by Jessica Gaitan Johannesson so, without so much as opening it, I take it to the counter.
"'The body is not national' writes Danish poet Pia Tafdrup.
She was an in important poet to me, in the specific, stripped way that only poets discovered at the end of your teens are important, neither more nor less impactful, but never the same as later in life."
I walk down an alley that smells of toxic hot yoghurt and on to the Playhouse. It is odd to think that this 3300 seater venue is being viewed by Brian and I as an intimate venue after last night's gig at the O2. I remember that there is a Toppings and Co just one hundred metres from the theatre, so nip in their before soundcheck. I never go straight to the counter and, with an imagined red fedora on my head, and say, "hello, I am the author Robin Ince, do you have any of my books to sign…" I browse around and, if I find any, coyly approach the desk and say, "you have some of my books on the signing table, would you like me to sign them."
They do and I do.
Brian eats an energising meat pie before the gig, followed by a few wine gums.
The powerful screen illuminates the audience in a way that would be quite impossible in the arenas. I also yield to the temptation of a quick Brian Blessed impression, the first of the tour.
I had intended an early bed, but bread, cheese and warm wine end up restricting me to a five hour nap before the train to Grantham.
Tonight's audience questions included –
How many trans-neptunian objects are there from Jack aged 9
Do you think there's a possibility there's something smaller than the Planck length? What if our universe is on the Planck length and there could be infinite universes floating about in this very theatre…
When you get a hole in your wooly jumper, where does the wool go?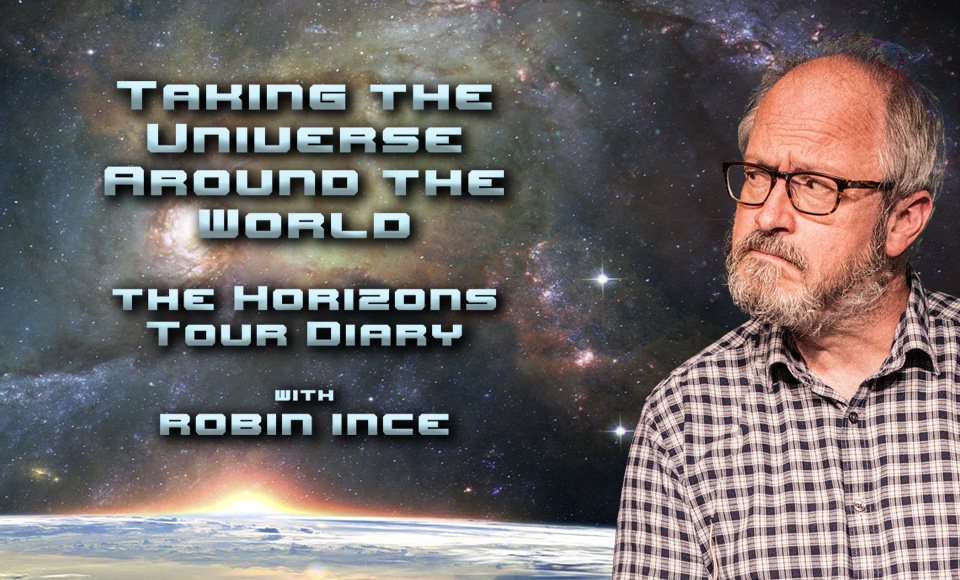 Listen to the Horizons tour podcast, Taking the Universe Around the World HERE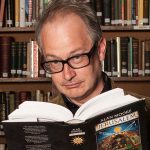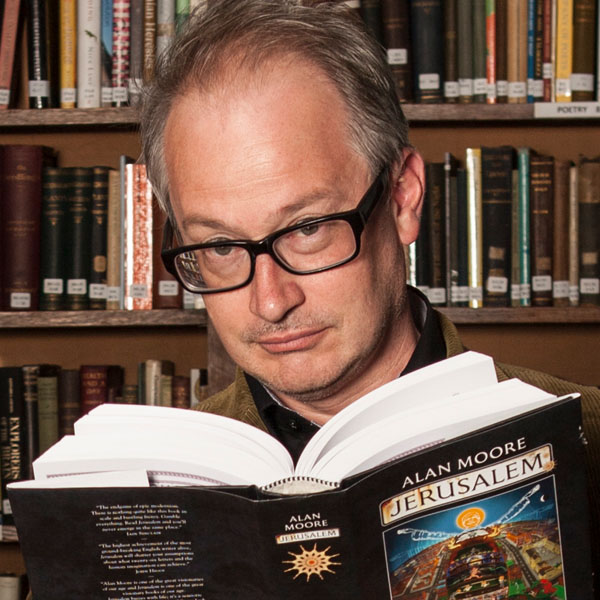 Robin Ince is a multi-award winning comedian, writer and broadcaster.  As well as spending decades as one the UK's most respected stand-ups, Robin is perhaps best known for co-hosting The Infinite Monkey Cage radio show with Brian Cox.  For his work on projects like Cosmic Shambles he was made an Honorary Doctor of Science by Royal Holloway, University of London. His latest book, The Importance of Being Interested is out now.
If you would like to reuse this content please contact us for details
Subscribe to The Cosmic Shambles Network Mailing list here.