Some Sort of Weasel in Edmonton
Robin Ince's Horizons Tour Diary
In the car to the hotel, I knew I must be tired because I could no longer remember which city I had just arrived in. 
On the last journey, a quiet flight, my book energy was now low, so I took to reading articles in Bookforum. 
First, about Billy Porter – 
"He frames that voice – this vocal ability that I cannot stop raving about – as his protection, "savior," and "weapon". 
The article is illustrated with a beguiling image of Porter casually erupting with utmost elegance. It reminds me of when I was young and would read Arena magazine. I would see the most beautiful suits and imagine what I would look like in them, thinking I could become stylish, but I have a forcefield of dishevelment that cannot be broken. 
Then, I read of Patricia Highsmith. This line from her journal is one of many worth repeating, "sometimes writing is like being seen crying ay a friends funeral". 
I checked in at 1.30am and woke at just before 7am. I toyed with fighting to further my sleep and then toyed with ensuring that I changed my setting on Twitter trends. Being so far from England, I have no desire to still be reading of Richard Madeley – a man whose mind is perpetually parcelled up in the chip wrappings of yesterday's Daily Express. 
Hotel breakfasts in North America are a place of "almost music". The soundtrack with sourdough is copyright free library music which is almost a tune and almost a memory of something you heard before, but never quite. You are housed in a queue as you slice your tomato, music for those in limbo waiting for heaven or hell. 
This morning, I read Antonia Horowitz's On Looking. 
She writes of the bias in our perspective depending on our expertise. In French it is described as "déformation professionelle: the tendency to look at every context from the point of view of one's profession". The psychiatrist sees symptoms as they interact with the world, the economist sees macroeconomics as they purchase a coffee. Wherever I was, I would be always looking for the potential of a joke, whether in a painting or on a bird table. Everything was a quest for a punchline.
I still obsess now, but less looking for a punchline and more looking for the fascination ands story within something. 
I use my usual tactic of choosing a bookshop a few kilometres from where I'm staying to get lost and find things. As a stranger, Edmonton does not initially seem pedestrian friendly and I pass no one for the first mile and a half. Eventually, I see some sort of weasel cross my path in Queen Elizabeth Park (sorry, some sort of weasel is the best I can do. My Canadian natural history knowledge is even worse than my British natural history knowledge). It seems to have hints of Pine Marten too. I take a vague diversion to the indigenous art park. 
"Before the land was a city, it was a place for Cree, Dene, Blackfoot, Saulteaux, Stoney and Metis people to gather. Its deep history resonates in the present…" explains the rich at the entrance. Understanding the history of the land and the stories that lie within it and grow from it is something I have come to realise is more and more important. Otherwise, we can disconnect and rewrite to suit our own ideologies and superiorities. The art is soundtracked by two people in the distance arguing on their bicycles. 
Out of the park, I find two storey Edmonton. Pretty wooden houses draped in Ukrainian flags and Pride flags. 
Before I find the bookshop of my choice, Gritty Grotto, I find The Edmonton Book Store, run by an Englishman, Simon Dowsey. I ask after my holy grail book, Ernest Thesiger's Practically True, but he hasn't heard of it, though he shows me some fine hardbacks of thrillers such as Sapper's Bulldog Drummond adventure, The Female of the Species. He also has an impressive shelf of Colin Wilson rarities, many signed, one to Compton Mackenzie, but I decide I already own too many Wilson book and read too few. My parsimonious mind reminds me there are many cities and many bookshops to go. 
I miss the Gritty Grotto in first attempt, it is down some stairs and mixed in with stalls of fashion and mystical scents. Again, I deny myself. There is an attractive paperback of Philip K Dick's Time Out of Joint and Ubik, but I must stop buying books I already have just because these editions have more alluring covers. There is also a slim A4 book about the band Madness (my first favourite band, a joint tie with The Specials). Had there been one more book, I would have toppled.
Back across the river, I visit the Wee Book Inn where I picked up a good stack of Will Eisner work last time. None this time, but my parsimony is cracked by an original 1948 hardback of Octave Mirbeau's Torture Garden.
"For those who relish the bizarre, who find joys in the weird, who appreciate the nuances of sensation, this book will be a stupendous experience."
In the coffee bar, I drink tea that is bad and eat banana cake that is good. I began reading Echo Tree, a collection of stories by Henry Dumas. I was introduced to him by Carl, my Levenshulme pal who has done such a brilliant job of producing my Radio 4 two parter – Robin Ince's Reality Tunnel (recorded in Hulme's excellent Z-Arts just before first leg of the North America tour).
When I'm around Manchester, I normally stay at his place as he has a self inflating lilo. We stay up later watching all manner of oddities and his found objects of youtube. One of them was an excellent short film on the cultural influences on the TV series Atlanta, in particular Henry Dumas.
He was hugely admired by Toni Morrison but died unjustly at 33 when he was shot by a police officer after seeing Sun Ra. The final stories in this book are The Metagenesis of Sunra.
In his introduction, John Keene writes, "Dumas drew from a range of traditions, including realist, gothic, horror, and supernatural fiction, yet he also grounded his work in African and African American spirituality, folklore, and myths, drawn from oral and written traditions of storytelling, producing in the process what one might term an authentically Black, politically engaged "magical realism"…"
I am one story in and he has hooked me.
In the Art Gallery of Alberta, I am introduced to the work of Manuel Mathieu, much of which deals with Haiti, its oppression and its dictators. Siimone, his interpretation of the face of the wife of Papa Doc Duvalier is particularly grisly – it reminds me of some of the works of Frank Auerbach which spooked my sister so much at the Tate that she dropped out early. I don't think she would have made it around the whole of this exhibition either. I was highly enamoured, though that might change if these images start to become the special effects designers of my dreams.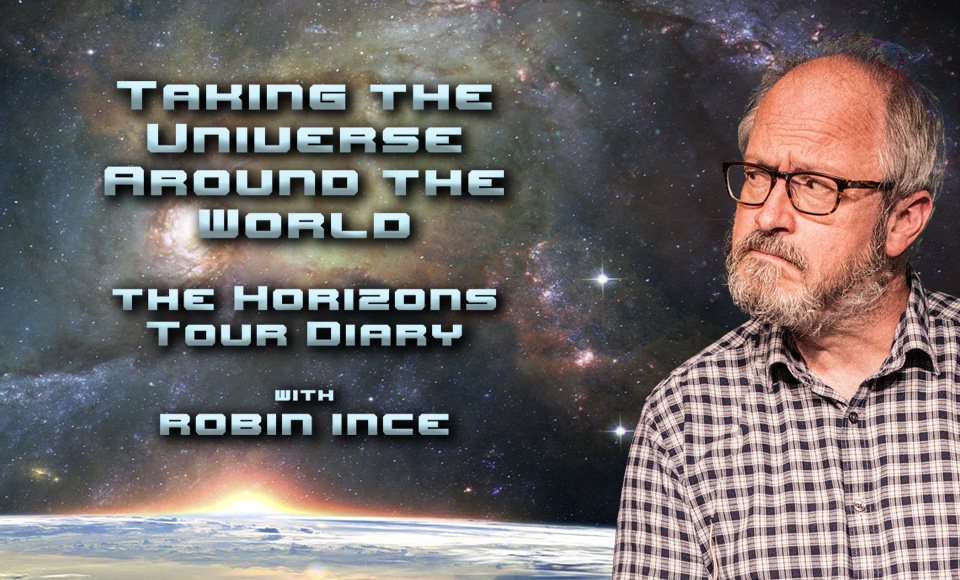 Listen to the Horizons tour podcast, Taking the Universe Around the World HERE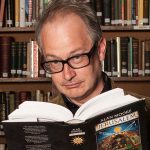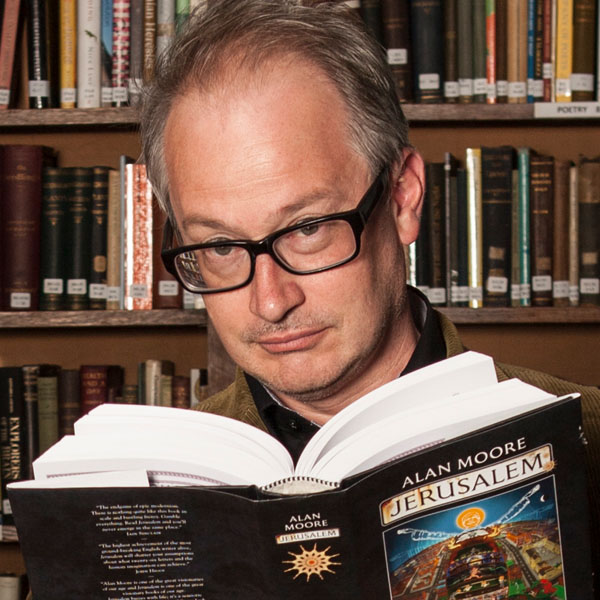 Robin Ince is a multi-award winning comedian, writer and broadcaster.  As well as spending decades as one the UK's most respected stand-ups, Robin is perhaps best known for co-hosting The Infinite Monkey Cage radio show with Brian Cox.  For his work on projects like Cosmic Shambles he was made an Honorary Doctor of Science by Royal Holloway, University of London. His latest book, The Importance of Being Interested is out now.
If you would like to reuse this content please contact us for details
Subscribe to The Cosmic Shambles Network Mailing list here.