The Emotional Punch of Baked Goods
Robin Ince's Horizons Tour Diary
I felt the emotional punch of sweet treat baked goods today. 
I cannot recommend Edmonton's Sugared & Spiced enough. They were one of the lovely stores that contributed to a luxury survival pack when my stay in their city was extended. 
What made this box of delights even more delightful, beyond their deliciousness, was that two of the items had strong connections to my childhood. An individual lemon meringue pie and a Nanaimo bar. I have been eating these my whole life, but only today did I discover they were Nanaimo bars. These were "Christmas biscuits". These were the contribution to our festive goodies that my grandmother made every year. It wasn't Christmas until the Nanaimo bars were in the fridge. When my grandmother died, my mother would make them every Christmas. Now, it is usually my sister. Lemon Meringue pies (yes, it should be capitalised) were also the most looked forward to puddings put on the table by mum of grandmother. When you are alone and far from home, to be reminded of the childhood treats those who loved you would make is something that can uplift you. Walking along the river. I think of Nanaimo bars and I think of my mother and I worry that I have never properly mourned her. She died in her mid seventies, but from her sixties, she was plagued by ill health and depression. She had lost her fight, and she had need a lot of fight for much of her life, so when she died, we couldn't have wished she had lived longer in such a state of unhappiness. The relief was not for us, but for her. 
Anyway, these are the kind of thoughts that came from biscuits. 
A few months after she died, I thought about Richard Feynman talking about the weeks after his first wife Arlene died. He talked of evading the situation, of moving on, and then, one day, he sees a dress in the window and thinks, "'Arlene would like that' and then it hit me".
In the movies and the melodramas, grief is always so big, so romantic, so tragic, if it doesn't floor you in reality, you think you have somehow failed the grief exam. For some of us, it is tiny jabs. It is looking in that shop window. I remember our first family holiday, six or seven months after my mum died. Walking all along the seafront, my wife and I looked in the fudge shop and realised that  we did not need to go in. I did not need to carry a bag of fudge back to my mum. 
When I was first attempting to write poetry, it was that day I tried to tackle.
The Fudge in the window
was spur for a memory.
Cut Cubes behind glass
Wasps dipping & licking.
No need to go in now
I can leave the shop be.
Last time we bought some,
They slumped in that paper bag
to the left of your chair
lumping back   
to single candy mass
in the sunlight.
Never Forgetful over sweet treats
You barely touched them now,
Still there when you were gone.
No purchase needed
I'll browse a while anyway
Maybe a quarter of clotted cream
Shame to leave empty-handed
What shop window will I be reflected in when I'm gone?
Today was mainly given over to procrastination.
I read another Henry Dumas story from Echo Tree – Goodbye, Sweetwater. None of them have disappointed me. I would like to put into words how wonderful I think his stories are, but I worry that if I get the wording wrong, then I will put you off them and that would be a terrible disservice to someone who is beguiling and enchanting me so much.
I also reread the famous last interview of Dennis Potter.
Suffering from an untreatable cancer, he sat in a carefully cooled studio, sometimes supping morphine from a flask, while Melvyn Bragg gave him the space to express himself beautifully.
For me, this is my 1953 Coronation memory. Staying in that night in 1994 with friends, sat around our Rumbelows rented television and watching in reverential silence.
I was 25, Potter was in his 50s, and now I am too.
He was able to pierce through so much of the cant of our society.
Years later, I took my dad to a screening at the BFI of Potter's plays Traitor and Blade on the Feather. Traitor is John Le Mesurier's most brilliant performance, as a British double agent, now trapped in a small Moscow apartment with only his alcoholism and public school days to comfort and torture him. The plays were introduced by Kenith Trodd, Potter's long time producer. He said the class Potter had the most disdain for was the upper class. They were devoid of patriotism, but would use it to manipulate others. They would happily give over their country to the Nazis, for instance, as long as they still had their power and stately homes, people did not matter to them.
There is so much to inspire in that final interview. The reminder that death focuses your mind on the nowness of now and what a pity it is to wait until it is nearly over to find that focus.
"The fact is, if you see the present tense, boy do you see it!"
That perpetual presentness in childhood, how a wet Tuesday afternoon can be years long.
"I remember losing a pen once – the sleeplessness, the anxiety – I've lost my pen, oh my god, I've lost my pen … oh the pen-ness of that pen, and the lostness of that loss is so great in a child"
And his comments on Rupert Murdoch, he called his cancer Rupert, which gives you some idea of his opinion of this apocalyptic man.
"Just pick up a copy of The Sun and say, 'is this Britain? Is this what we have done to ourselves?"
My other distraction was The Marvelous Mrs Maisel. I was a series and a half through it some years back and, as so often, got distracted and only returned to it yesterday. What a feast, though my stomach tightens so often when I fear she will have a gig that does not fly. I forgot how much watching other stand ups, whether real of fictional, can tighten my stomach.
I have also realised that, now Rip Torn is dead, Alex Borstein may be the world's greatest deliverer of swearwords.
I rebuild my studio set in the corner of the hotel room ready to speak to Brian in Vancouver.
I did tell Brian that I would email him a list of books I needed him to search for in Vancouver's superb secondhand bookshops and, for a moment, I think he believed I really would . For a moment, so did I.
Questions in Vancouver tonight included –
I was in Jaspar National park last week and couldn't help but notice the abundance of satellites passing through the sky, curious to know do these cause a problem for astronomers/cosmologists?
What's Brian's reaction to all key elements for RNA being found in meteorites. How's panspermia looking these days?
Is there any chance ghosts do exist and they are made of dark matter?
That is the end of the Canadian tour and it has been quite brilliant. Brian and I are already talking about a bigger tour of Canada. Time for Winnipeg.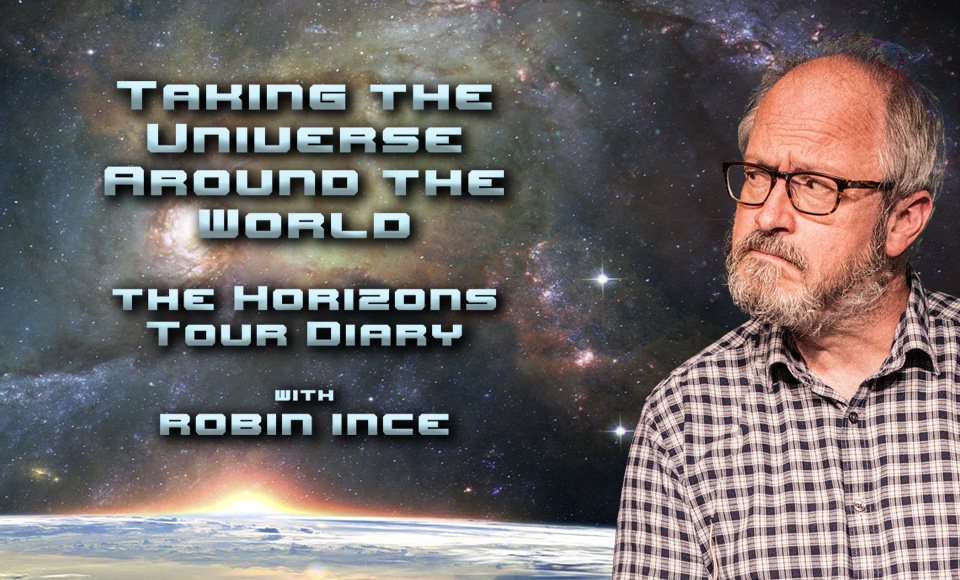 Listen to the Horizons tour podcast, Taking the Universe Around the World HERE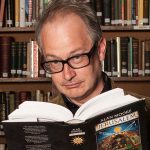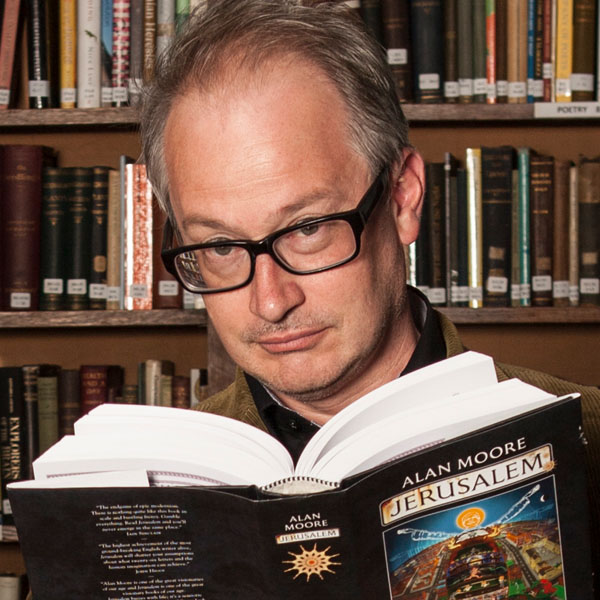 Robin Ince is a multi-award winning comedian, writer and broadcaster.  As well as spending decades as one the UK's most respected stand-ups, Robin is perhaps best known for co-hosting The Infinite Monkey Cage radio show with Brian Cox.  For his work on projects like Cosmic Shambles he was made an Honorary Doctor of Science by Royal Holloway, University of London. His latest book, The Importance of Being Interested is out now.
If you would like to reuse this content please contact us for details
Subscribe to The Cosmic Shambles Network Mailing list here.