Talk of Fallen Comedians
Robin Ince's Horizons Tour Diary
Late night cheesecake was a bad idea, but the waiter was so persuasive. 
He pointed to Frank Sinatra's booth and told us it was his cheesecake of choice and delivered this information in the mellifluous voice of a 1970s west coast DJ back announcing Foreigner's More than a Feeling. 
The day began late, but we were soon into the Hollywood Hills and driving along Mulholland Drive. Did Columbo ever break down on this road? 
Brian's friends invite us to play boule and so I do, very badly. Very very badly. 
After boule, I browsed a fabulous personal library that included first editions of many Muriel Spark and Graham Greene novels, as well as The Great Gatsby. These were beautiful artefacts to hold and still active artefacts in the vibrancy of their words. Muriel Spark apparently wrote her novels in long hand with no crossings out, all her early drafts were left in her head until she reached the draft where the ink could flow. 
We talked of how writing may have changed now that you can cut, copy, paste and cut again and how radio changes now you don't need a razor blade for the edit. 
We ate sandwiches while a dog with David Bowie eyes stalked fallen filling. 
We talk of fallen comedians, from Robin Williams to Barry Cryer and I mention a very sweet poem written by John Dowie for the recent celebration of Barry's life. I tell the joke with the nun and the "why don't you just fuck off" punchline. We talk of detached punchlines – "but those three buttons are mine" and "I don't know, but the pope's his chauffeur". 
Our host enjoys the detached punchline, but is not a fan of the joke and its frequently lengthy set up. This immediately leads to me telling two lengthy jokes which demonstrates that even after all these years, I still don't know how to judge am audience. 
We returned to the hotel to lift weights and roll precariously around on an exercise ball. 
Brian fancies an aperitif before we go to Musso and Frank's Grill, a location in Tim Burton's Ed Wood and The Kominsky Method with a solid grill menu. We go to the poolside bar but are warned that most of those nearby are here for a private sound bath. Steph explains what it is. It sounds like the sort of vague vibrating mysticism that is created for people who fancy a little ritual before their margarita. I look sceptically at the gathering and judge a man for having a man bun that I do not feel goes with his suit. I imagine he is someone with an imaginary job that still somehow makes him lots of money, a demi guru with high hourly rates.
Once in Musso and Frank's, I am immediately drawn to a wig that is sitting on and around the head of man on nearby table. I check with Steph, "look surreptitiously over Brogan's right shoulder. Wig?"
She agrees, "Wig!".
We are meeting one of Brian's friends who is a famous musician and it is interesting to see him being spotted while Brian is inconspicuous. Not really knowing the musician or his wife, I break the ice by explaining my dog watching technique and how my hunt for hairpieces began at the age of eight.
While Brian and his friend talk of climate change and effects pedals, we get to talking about Beckett and soon find that we have a mutual friend in Lisa Dwan, a quite brilliant interpreter of Beckett's work and the nearest theatrical reason I have ever had for wanting to punch the man in front of me due to his distracting behaviour during her performance of Not I.
We are the last to leave. I lie on my bed, the cheesecake heavy and hallucinatory in my stomach, I dream of taking about Blondie's Heart of Glass with Bjork.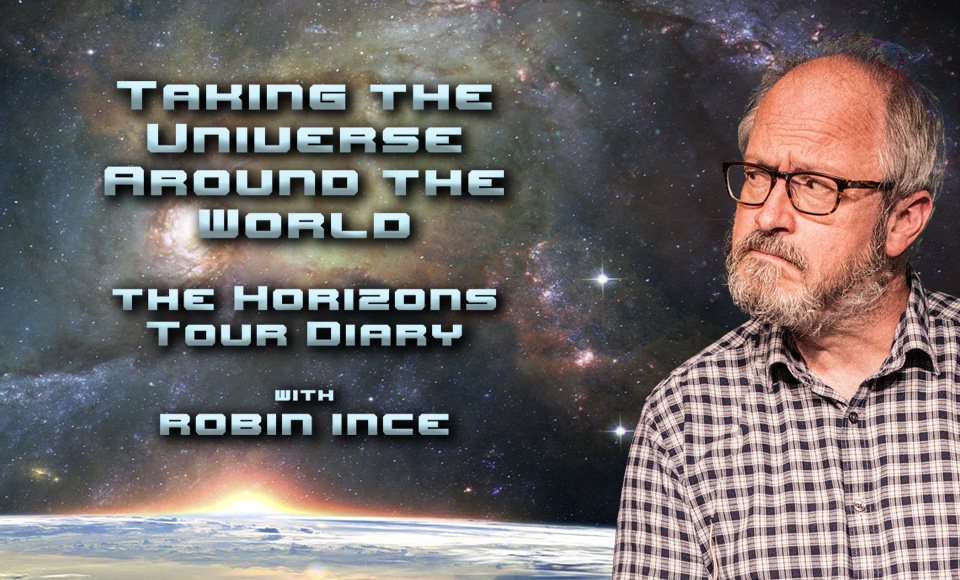 Listen to the Horizons tour podcast, Taking the Universe Around the World HERE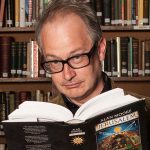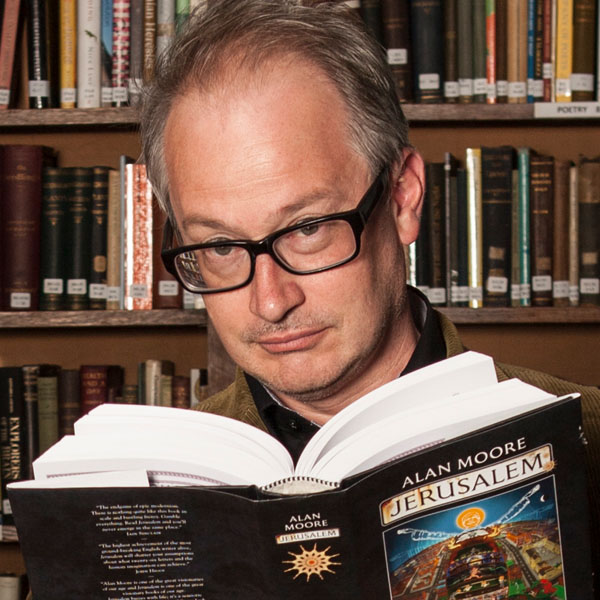 Robin Ince is a multi-award winning comedian, writer and broadcaster.  As well as spending decades as one the UK's most respected stand-ups, Robin is perhaps best known for co-hosting The Infinite Monkey Cage radio show with Brian Cox.  For his work on projects like Cosmic Shambles he was made an Honorary Doctor of Science by Royal Holloway, University of London. His latest book, The Importance of Being Interested is out now.
If you would like to reuse this content please contact us for details
Subscribe to The Cosmic Shambles Network Mailing list here.