Finding Books For Other People
Robin Ince's Horizons Tour Diary
I think dizzying excitement made me a little eccentric in The Minneapolis Institute of Art gift shop, but those behind the counter were delightful.
I almost didn't make it to the museum. 
Brian had an interview with space.com in the morning, so I strolled to the nearest bookshop and, as has become my habit, photographed the underside of concrete benches as I went. 
A man was putting out carpets as I strolled by and gave me a friendly "good morning".
The bookshop, James and Mary Laurie Booksellers was shut when I arrived, but on the shelf outside the story there were some Perry Masons and I had an inkling that my Erle Stanley Gardner collecting pal may be short of two or three of the titles there having previously failed in Boston with The Case of the Baited Hook. The carpet man told me that James should be back later, I returned for our date with boxing and other exercise. 
Last time, we exercised by an inauspicious riverbank.
This time, Brian has researched the lay of the land and found a splendid park for us.
As we swing out of the revolving door, Brian instantaneously turns in the wrong direction. We don't where we are going, but we know it is not THAT WAY. 
From thereon, we trust him. 
After 30 minutes, we find ourselves at the sculpture park. We don't feel that we can punch so near to people enjoying giant cherries on a spoon. Not to worry, Brian has spied a lake on his phone.
We get to the lake and it is the sort of lake where unmannerly people throw in their broken bicycles and cruel people drown their kittens. We end up exercising at the back of a building near where the trash would get taken out.
We ache.
My head is busy with excuses to leave the fitness early, but I stick around to the abs and beyond.
Brian decides we'll get an uber back as he was unnerved by some drunks on the theatre district on the way there (though he doesn't say that our loud).
On the drive back, we see that we were one block away from a lovely park, with a lovely lake and lovely space to box and breath.
Brian goes for another of his naps and I go back to James and Mary's. It is a wonderful antiquarian bookshop with many collectables and I had to make sure that they didn't have a copy of Practically True, my holy grail book by Ernest Thesiger – actor, soldier, raconteur and inspirational embroiderer. When I ask after it, James looks very confused. He is hard of hearing and I think he reckons I am making the book up and, anyway, "what the hell is a man without a bow tie doing in my lovely bookshop. He better not touch the collectable Samuel Johnsons".
I depart with two Perry Masons. Finding books for other people can be as pleasing as finding them for yourself.
As I walk across a parking lot, I see that I am watched over by Bob Dylans of Loving Grace. A vast mural of rainbow colours charts three faces of Dylan and promises that the times are changin' even as we feel a total swell that seems determined to change take whatever progress there has been back.
I am tired from touring, tired from boxing, perhaps too tired to walk the couple of miles to the institute of art while others are safely dozing their way to through the Universe.
But I decide that I must have tenacity.
I do not relax.
Brian often questions this. I am perpetually jittery.
"Why don't you relax?"
Relaxation carries guilt with it.
I can procrastinate, but I can't relax.
I am quite sure I am not genetically Anglican, the religion of my childhood, I have the DNA of a far more guilt-ridden religion, perhaps why so many of my heroes are Jewish.
I walk along the sidewalks where multi-storey car parks seem to be perpetually tower on both sides of the street. I am one of the few pedestrians again. A graduate walks by in his gown and a car of strangers shout out congratulations.
As I approach the Art Institute, I start to spy numerous photographic shoots for those about to wed and those just married.
"You look beautiful" is shouted at two women in satin gowns.
I only have an hour, so rush straight to exhibition of Haunted America. It is the penultimate day of the exhibition.
The exhibition is full of the tattooed and the young, apparitions, poltergeists and painted portents of imminent doom draw more youth than the Impressionists.
The exhibition of a fabulous cornucopia of deaths foretold, ghosts reimagined and UFOs.
Some are traditionally haunting, others are the work of outsider artists with a message about alien interventions.
I am always happy to see the work of Dorothea Tanning who, as well as creating wonderful art toying with the subconscious and unconscious, wrote a gothic novel called Chaos late into her career. Her work often involved doors and mirrors and she once stated that she used to think she was painting on this side of the mirror, but now she had walked over to the other side of it.
I knew nothing of Prophet Royal Robertson until today, a Louisiana based artist who believed that he had frequent contact with inter-dimensional and interplanetary beings.  There wasps Patrick J Sullivan's Fourth Dimension and Macena Barton's Flying Saucers with Snakes.
I frequently thought of how William Blake had multiple ways of perceiving the world which he knew to be true but which he also knew was his truth and no one else's. I saw Sylvia Fein in another exhibition in another city, but my mind is now so traveled I have lost the ability to pinpoint. Her Lady Magician looks at the artist's ability to control mysterious forces. Dulah Marie Evans Krehbiel, Ivan Albright, Helen Lundeberg, there was so much to savour here. Though I do not believe in a world of escaping souls, ghosts and alien visitations that many of these artists did, I rejoice in their very real existence in their minds and their attempt to use art to create a tangibility to their fantastical notions.
I was late for a very late lunch, but rushed to the shop hoping there was a book of the exhibition and was elated that there was (thank you excellent shop people for finding me a pristine copy).
The Minneapolis audience is feisty in the best way. Brian has promised this will be the shortest show we have ever done as Saturday nights start late and physics can be tough to construe after a third beer on a hot day. At the time of writing, we are yet to see if this scientist can conquer time. The venue has one unsavoury memory for me. Last time we were here, I ate a risotto that did not agree with me a couple of hours before the show. The effect verged on the volcanic and I would run from stage to restroom, restroom to stage, and hope all could be kept in at least for the running time of my Final Den poem. All is internally steady tonight…so far.
In the first bit off Brian and me jousting, I heard a young Cox fan turn to his mum and say, "that's mean", but he had the last laugh when he looked utterly perplexed at the idea that I could be younger than Brian.
Tonight's audience questions included –
From the perspective of a photon, is time passing?
OK the universe is expanding. Objects moving farther apart. Is this true of ALL matter? For instance, are the particles of ME moving farther apart, too? And if so, how much taller am I now than I was before your lecture began?
Would Brian be more likely to pilot the Milenium Falcon with Chewy or travel on the USS Enterprise as the Science Officer?
(Brian chose being Han Solo rather than Spock – I suggested that though he might have the sartorial style of Solo, he sometimes displayed the emotional range of Spock)
I am 16 floors up, but the ecstatic Saturday night of Minneapolis rattles my window.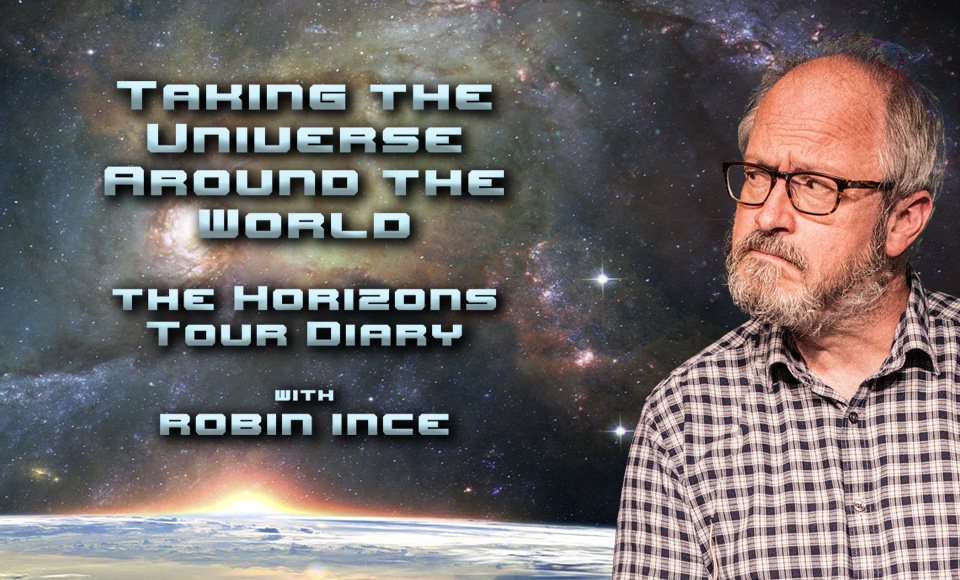 Listen to the Horizons tour podcast, Taking the Universe Around the World HERE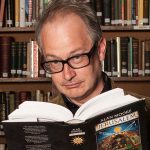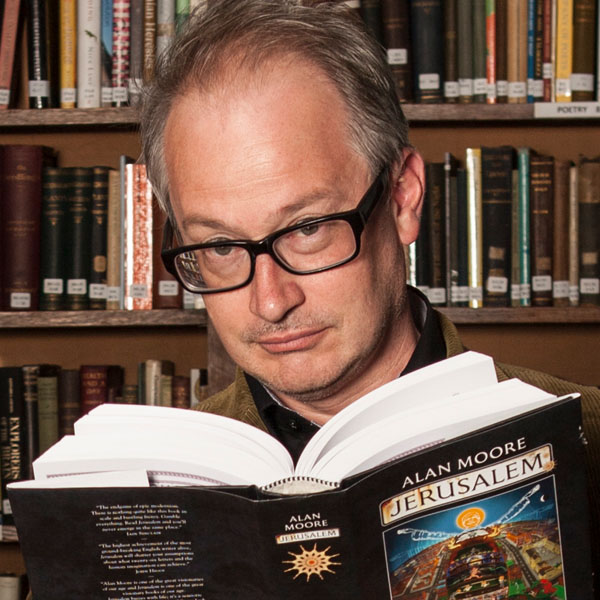 Robin Ince is a multi-award winning comedian, writer and broadcaster.  As well as spending decades as one the UK's most respected stand-ups, Robin is perhaps best known for co-hosting The Infinite Monkey Cage radio show with Brian Cox.  For his work on projects like Cosmic Shambles he was made an Honorary Doctor of Science by Royal Holloway, University of London. His latest book, The Importance of Being Interested is out now.
If you would like to reuse this content please contact us for details
Subscribe to The Cosmic Shambles Network Mailing list here.