An Elusive First Nation Astronomy Book
Robin Ince's Horizons Tour Diary
Arriving in Perth, I go for a wander and, how surprising, find myself opposite Elizabeth's secondhand bookshop, one of the only chains of secondhand bookshops I am aware of .
I go in with a specific book requirement – I am after something on First Nation astronomy. They say those books rarely come in and are more likely to be sold online anyway. 
I leave with a booklet on Australian spiders – the Monkey cage recording that comes after our indigenous astronomy episode. The illustrations include an orb weaving spider and a huntsman, booth of which should be making guest appearances on the show, something Brian is not that keen on. I also pick up Some Trust in Chariots!! In which Australian scientists ask if God was an Astronaut and if Santa is a Soaceman, and a novel called Strange Witness which promises "a double talking ventriloquist talks himself into a death sex trap". 
Tonight I eat with Caroline and Matt and we return to the usual wine tasting method when Brian isn't around – "does it burn? If not, we'll drink it". 
We experience the opposite of burning when we eat the gelato. It is so cold that I imagine being the deceased star of an Emergency Room TV series – "what neither of these ice cream lovers knew was that tonight's favour was LIQUID NITROGEN! "
I script a little of the Wine Monkey Cage which will be the first of the Australian recordings and pop into Boffins Bookshop seeking the elusive First Nation astronomy book – I find it with The First Astronomers – How Indigenous Elders Read the Sky. The book opens with this quotation from Professor Martin Nakata.
"Our traditions go back to the ancient times. It's connected to everything in our entire being and everything we are in the world. For indigenous people it is not just the land and the sea. It is also the sky and in using those reference points. It assigns not just who we are, but our responsibilities as well."
I notice a copy of my book The Importance of Being Interested and ask if they would like me to sign it and pop a message in. The woman at the counter looks suspicious and suggests that Bill must be asked first. I walk to the counter where they have the hotline to Bill. I am told that Bill is at lunch but to sign it anyway.
In the afternoon, I meet Laura Davis whose show Cake in the Rain was a stand out at the Edinburgh Fringe a few years ago. She is a Perth native and we visit the Botanical garden where we talk of ADHD and suicide ideation before stopping to look at an impressive bird and a dowdy peacock spider. One of the stand out moments in Cake was Laura's routine about suicide ideation. Interestingly, since diagnosis and now having an ADHD framework to ponder her mind in, the ideation has all but vanished.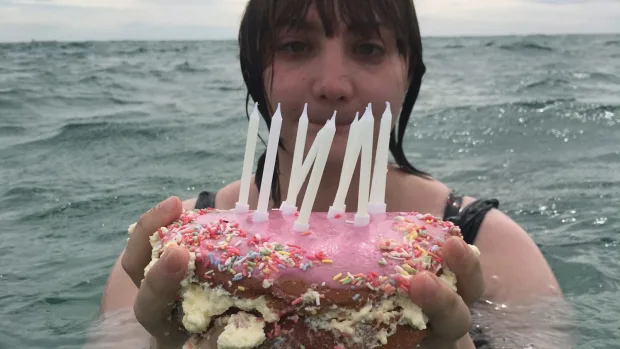 Foolishly, rather than experience more flora and fauna, I persuade Laura that we should go to Mainly Books. Traffic is terrible and there is only 20  minutes of browsing left when we get there. The two wise, grey men who run it would normally allow a browse beyond closing time but they have T20 cricket to watch. I feel I must buy something as I want all such shops to survive – so buy a hardback of Luis Bunuel's autobiography and a book by Molly Haskell about the treatment of women on screen in Hollywood – From Reverence to Rape.
We then queue for dumplings which it transpires will be delivered to us by robot waiters.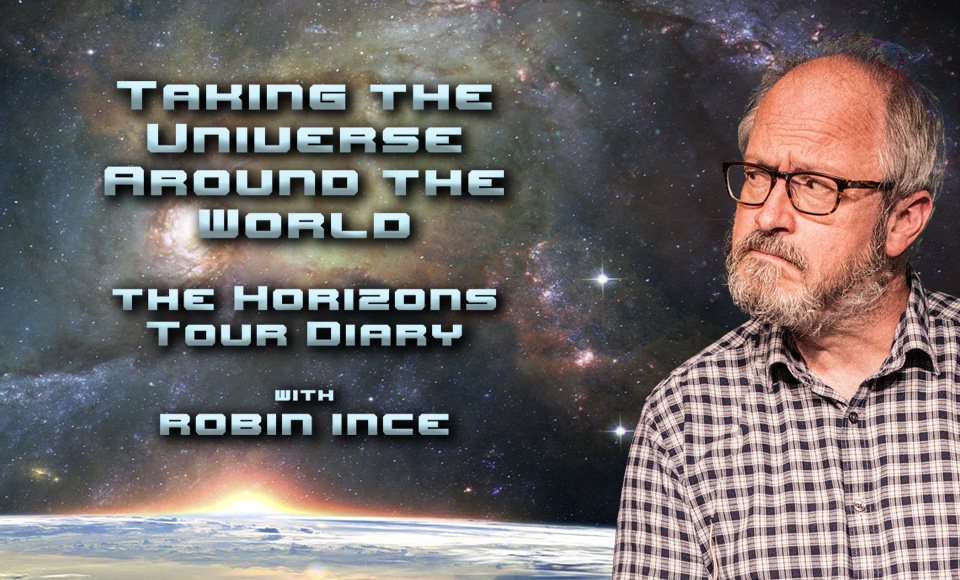 Listen to the Horizons tour podcast, Taking the Universe Around the World HERE.
Bibliomaniac is available for pre-order now at cosmicshambles.com/shop with exclusive art cards.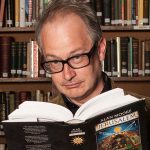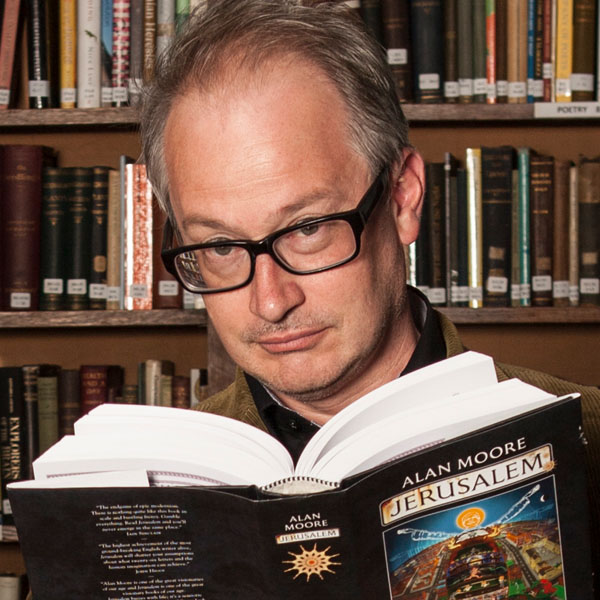 Robin Ince is a multi-award winning comedian, writer and broadcaster.  As well as spending decades as one the UK's most respected stand-ups, Robin is perhaps best known for co-hosting The Infinite Monkey Cage radio show with Brian Cox.  For his work on projects like Cosmic Shambles he was made an Honorary Doctor of Science by Royal Holloway, University of London. His latest book, The Importance of Being Interested is out now.
If you would like to reuse this content please contact us for details
Subscribe to The Cosmic Shambles Network Mailing list here.