The Great Uncertainty of the Hollywood Hills
Robin Ince's Horizons Tour Diary
This afternoon I washed some Maynards Wine Gums. After our workout on the San Francisco beach a few days ago, everything is contaminated by sand, including my half packet of gums.
It felt terribly wasteful, so I gave them a wash and a dry and then I will throw them away tomorrow when I realise that wine gum sand cleansing is a Sisyphean task. 
It was an early morning as we were recording a Monkey Cage about exoplanets at Caltech. Brian was in a state of giddy tiredness as he went through three different baked goods and a cup of coffee. Sash and Maria, the other half of the Monkey Cage team, only arrived at 6pm last night after taking 3 hours to get through immigration. Sash woke up at 5am, opened her curtains to delight in the resplendent Hollywood hills and instead saw a man frantically masturbating by a dumpster. Hurray for Hollywood. 
Eric Idle told me that h was brought up on the maxim of "a gentleman never speaks before lunch", which placed some jeopardy over this 11am recording in the university's lecture theatre. We had a cracking panel of three scientists – Jessie Christiansen, Sean Carroll, Tiffany Kataria and Eric. 
As usual, I asked questions that started on one subject, slid into another subject halfway through, and then became another very by the time I got to the question mark. Lengthy conversations on ADHD have at least helped me understand why my mind plays these tricks on me – too many connections lighting up all at once. Also as usual, when Sash gave us the "time ti stop signal", Brian went onto a totally different subject and he refused to give it up until we were at least 20 m minutes over. 
I ate a cream cheese and jam bagel of my own making, talked of recording sound on Mars missions with some of the audience, and marvelled at the number of biographies of Kepler on the shelf. Sadly, I was not given a tour of the theatre where Richard Feynman gave many lectures , so I hope we return one day. Experiencing bricks and mortar that surrounded so many ideas I have read about helps make the experience of learning tangible. 
Being in LA, we ate a kale salad and fries around a blue swimming pool while a DJ played music that failed to move me to either delight or derision. Actually, we were a little away from the pool as many people had their bottoms out and that is not always conducive to digestion. Steph observed the things in a particularly bemused fashion and kept my eyes skyward in much the same way I did when I hosted a burlesque show, resulting in me almost falling off the stage. 
Brian and Steph decided it was a gym afternoon, but I offered one off the three exception notes I am allowed on tour to excuse me from games. Today, it was the graveyard note.
"To whom it may concern, Robin will be unable to do press ups today as he has come down with a case of needing to list a cemetery".
The Hollywood cemetery is the burial ground of many famous names, including Peter Finch. He is a favourite of both my wife and me, so I went on a quest to visit his crypt. 
I zigzagged the streets, from Hollywood Boulevard down to Sunset Boulevard and eventually onto Santa Monica Boulevard. There was little to see and no houses anywhere close to Norma Desmond's with the exception of a closed down motel that also had a hint of Grey Gardens. 
Of all our destinations, the Hollywood Hills inspires the greatest uncertainty in my mind, "Am I really here?"
The cemetery has many people wandering through it, goths under an orange parasol, movie lovers, and people making the Judy Garland 100 anniversary journey through the stones that connect to her short life. I find the grave of Toto, Dorothy's dog not 80s pop outfit. His real name was Terry and he died in 1945. There is another doggy monument, it is for Michael Szymanski, but he does not lie under it. He is still very much alive. During COVID, his long term relationship fell apart. The big event to celebrate his love and his 60th was off. To heal his broken heart, he decided he would get his tombstone early so he could enjoy it while he was still alive. It is a solid granite bench decorated with seven dachshunds representing the dachshunds of his life. Now he can spend his life sitting on his grave before he lies under it.
"I always knew that I was good at throwing parties and introducing people to other people that created synchronicity and I thought, how do I create a tombstone that still brings people together?  I thought, why not create a tombstone that is modeled after the couch that I have at home? And what did we always have when we sat on our couch? Our dogs were always on our laps or draped across the back, just like they are here."
Though I ultimately failed to find Finch's crypt, I was cheered up to stumble across the grave of Darren McGavin, a superb actor, and star of Kolchak, the Columbo of the paranormal.  Hattie McDaniel, Oscar winner for Gone with the Wind, has splendid rose bush growing around her grave.
"Aunt Hattie, you are credit to your craft, your race and to your family" – Edgar Goff.
I also find plaques for Larry Drake (Darkman, LA Law) and Holly Woodlawn, as well as impressive gravestones for Burt Reynolds, Douglas Fairbanks, senior and junior, Johnny Ramone  and Tyrone Power.
As I leave the cemetery, three seated woman are passionately discussing the correct way to cook turkey burgers. It's the intensity of the heat, otherwise they are all watery. I hope they are three people on their break from their shift at the crematorium.
On the journey back, I see that the Hollywood sign on the hill is obscured by a billboard that asks "Sick of STDs?". How many people came to Hollywood to find fame and found syphilis instead, you'll have to ask Kenneth Anger.
Tonight's show is considerably better than Friday's which makes me realise the failure before was all mine.
Eric and Tania Idle came along to tonight's show as well as Brian's pal The Edge, though you can call him Edge. On the last tour, someone gave Brian a painting of his face. This happens quite a lot. Because people like Brian's face so much, they imagine he would like to have a house filled with paintings of his good teeth and querying eyes. Tonight, it was hung in the dressing room, so anyone who visited may now believe that Brian's narcissism is out of control.
Afterwards, I got to the bar and drink too much with people from Caltech. We have a day off tomorrow, so we are allowed to be vaguely bleary for Sunday. I salute the photographs of Ricardo Montalban as I leave.
Audience questions in LA tonight included –
Why do galaxies resemble the human eye?
Sam (age 9). How is it the universe is expanding faster than light? I thought nothing can go faster than light?
is a strawberry alive or dead?
Oh, and reader, I was right, the cleaning the wine gums did not end well at all. They are in the bin now.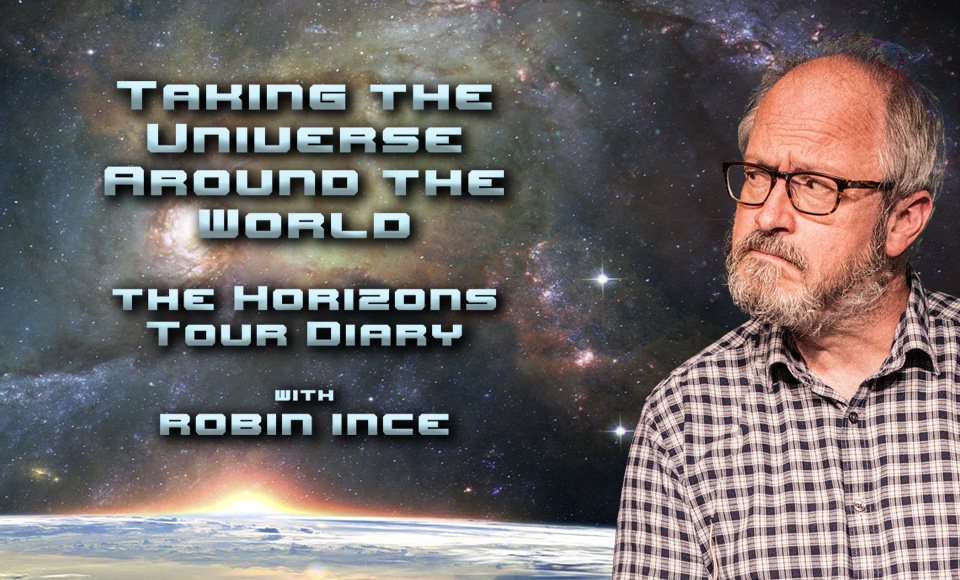 Listen to the Horizons tour podcast, Taking the Universe Around the World HERE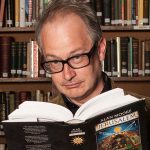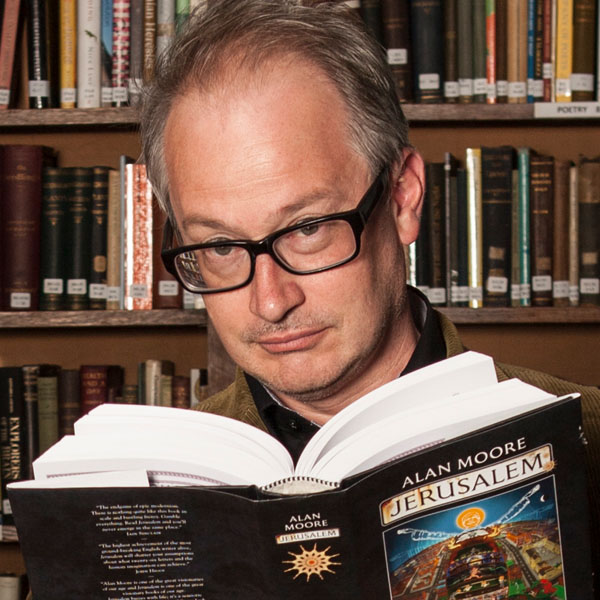 Robin Ince is a multi-award winning comedian, writer and broadcaster.  As well as spending decades as one the UK's most respected stand-ups, Robin is perhaps best known for co-hosting The Infinite Monkey Cage radio show with Brian Cox.  For his work on projects like Cosmic Shambles he was made an Honorary Doctor of Science by Royal Holloway, University of London. His latest book, The Importance of Being Interested is out now.
If you would like to reuse this content please contact us for details
Subscribe to The Cosmic Shambles Network Mailing list here.