Hi, How Are You?
Robin Ince's Horizons Tour Diary
A homeless man with a pre-prophet beard is reading his Bible in the Sun. He is near the beginning. I wonder how many times he has read it.
It is still only 30 degrees, so you can cope with Genesis in the heat. 
Later in the day, I walk past him again, now in the shade as it approaches 40, rolling a cigarette. Thinking of the thin scriptural paper, I wonder if the verses that fail him are destined for tobacco then ash. As Brian tells the audience each night as he explains a physics bet that Stephen Hawking had, even the ash should contain the information, it'll just take longer to find it. 
Austin has the leats evidence of homelessness I have seen in an American city so far, but I presume that is because of the heat which would be Hadean in its destructiveness for someone without easy access to shade and liquid. I presume many of the poorest people will be camping down by the riverside for now. 
Around the corner from our hotel is the Floppy Disk Repair Co. I would love this to be the last ruins of a bygone age but, unsurprisingly, it is actually an exceedingly hip cocktail bar which you can only enter if you are able to type in the password at the door and that changes on a weekly basis. It is safest to always start by presuming everything is ironic. 
We started the day grumpily over granola and spicy eggs (I had the granola). Catching up on England's Sunday morning politics, it seems the Labour Party have decided the best way to be popular is to say nothing, as saying something may alienate someone. Whoever is advising the front bench has obviously decided that positive public reaction to Mick Lynch and his straight talking is not the sort of thing that will win over whatever sort of person they think they need to win over. 
Disheartening. 
I manage to persuade Brian to go to a bookshop. I have seen something in it that I think would be a welcome gift for one of his family. Our first Uber driver obviously dislikes the idea of picking us up so much that they drive in the opposite direction and over a river. Our second lift is more successful. Brian likes what I show him at South Congress Books and finds another book too. This is the first time I have lured him into a bookshop in ten weeks. He is scared to ask them to open the glass cabinet, but I persuade him that it will be okay and he makes one final purchase (I am keeping it all quiet because even though I do not believe his family read my posts, I don't want to ruin their surprises just in case they do). 
Back at the hotel, I write my piece for the UK and Southern hemisphere tour programme, mainly focusing on the cannibalism elements of the tour so far. 
It is about 37 degrees when I decide to walk off to see Daniel Johnston's Jeremiah mural and the Harry Ransom Library. 
The library exhibition has decided to confront me with two of my great failures – James Joyce's Ulysses and David Foster Wallace's Infinite Jest, both books I have started many times but failed to finish due to my easily distracted mind (at least if it is ADHD my reason will be neurodivergently justified). 
"All she ever did was give me a present of the ten best years of her life", was what James Joyce said of Sylvia Beach, proprietor of the great Parisian bookshop Shakespeare and Company. On their first meeting, she wrote that she felt "her tough little paw" in his "limp boneless hand". The exhibition focused on the women who helped Joyce including Margaret Anderson, Jane Heap, Adrienne Monnier and Harriet Weaver. The menu for a dinner near Versailles to celebrate Ulysses is on the wall, it included Le Paté Leopold, Les Quenelles DeVeau Toulouse and Le Poulet De Bresse Rôti, though apparently Joyce said he would have been happy with a glass of milk and a bath bun. Margaret Anderson's report of the trial of Ulysses for obscenity is also on display.
"It is the only farce I ever participated in with any pleasure. I am not convivial and I am usually bored or outraged by the state of farce to which unfarcical matters must descend."
On my way to the David Foster Wallace exhibits, I pass books that Brian would like, a textbook of astronomy originally written in 1230, Johannes de  Sacrobosco's Spaera Munid and Robert Recorde's Castle of Knowledge , which is mainly a discussion between master and pupil of the Ptolemaic system, bit also brings in Copernicus's theory the decentres the Earth. When his pupil dismisses this, the teacher says, "you were best to condemn no thing that you do not well understand."
The Foster Wallace exhibition reminds me that I really need to get on with reading more of him.
There are newspaper clippings of him as a boy in the school quiz team – "David Wallace, a sixth grader from Yankee Ridge School, answers a question as his teammates sit back in relief."
Next to paper he wrote on Pride and Prejudice, an Amherst College friend recalls that Wallce may or may not have been the smartest person on campus, but it was how widely he spread his intellect and his humour that marked him out. In the college newspaper, he uses his review of Eugenie Modesse's The History of Everything to skewer icon of the right, William F Buckley Jr, who dismissed the book on his showboat, Firing Line.
Wallace wrote, "we must expect as much when American naivete and stupidity encounters Continental brilliance and joie de vivre. It is as if the bee runs into the spider by which it is immediately eaten…i wish to take this opportunity to debunk these lies, and contrast the genius of Modesse with the stupidity of Americans."
There is his 1984 story The Planet Trillaphon as it Stands In Relation to the Bad Things, a tale that engages with the periods of anxiety and depression that led to him needing to take two semester long breaks.
"I've been on antidepressants for, what, about a year now, and I feel I'm pretty qualified to tell what they're like. They're fine, really, but they're fine in the same way that, say, living on a planet that was warm and comfortable and had food and fresh water would be fine, but it wouldn't be good old Earth, obviously I haven't been on Earth for almost a year now…"
Exiting through the gift shop, I eye the Ulysses T shirt. If there had been an Infinite Jest T shirt too, I would have bought the pair, my equivalent of The Ramones T shirt worn by someone who couldn't name a Ramones song.
Across the road from the library, I look at Daniel Johnston's artwork on a wall, his famed "Hi, How are you?" Mural picturing the amphibian Jeremiah. It also adorned Kurt Cobain's T shirt at the MTV awards. Johnston and his mural have inspired the Hi, How Are You Project. The Hi, How Are You Pledge is to build a community of support in driving awareness about mental health. The idea is to sign the pledge: "Because mental health matters, I pledge to ask others Hi, How Are You?" And  to share the hashtags #hihowareyoupledge and #mentalhealthmatters on social media.
You can find out more here.
The Uptown Restaurant & Cantina is closed, but promises "World peace through Texmex" when it starts serving.
Tonight is our last USA tour meal out, so we drink a little Texan wine and we like it.
Going to bed, I can't work out if the person in the room above me is becoming increasingly tired while attempting to saw a woman in a box in half or is involved in some sort of strangely sporadic intercourse. I think I hear a derisory poltergeist orgasm over the soundtrack of Law & Order: Special Victims Unit.
I ended up watching Laurence Olivier in The Entertainer after surfing past an advert for a hose that connects with ANY vacuum cleaner.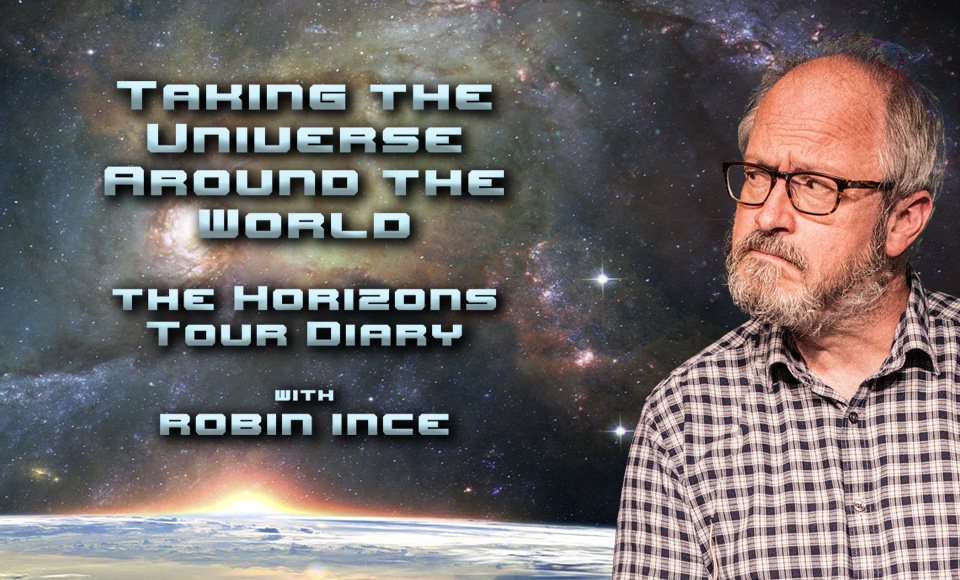 Listen to the Horizons tour podcast, Taking the Universe Around the World HERE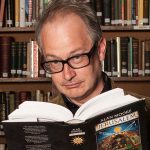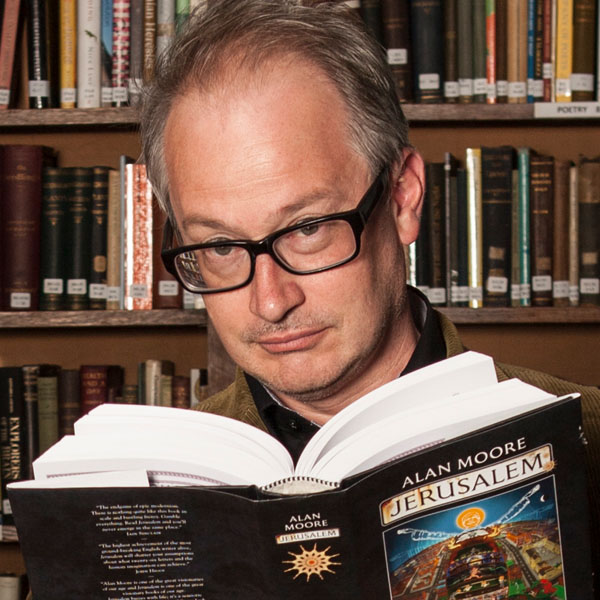 Robin Ince is a multi-award winning comedian, writer and broadcaster.  As well as spending decades as one the UK's most respected stand-ups, Robin is perhaps best known for co-hosting The Infinite Monkey Cage radio show with Brian Cox.  For his work on projects like Cosmic Shambles he was made an Honorary Doctor of Science by Royal Holloway, University of London. His latest book, The Importance of Being Interested is out now.
If you would like to reuse this content please contact us for details
Subscribe to The Cosmic Shambles Network Mailing list here.