Hit by a Truck? Jeff's Here
Robin Ince's Horizons Tour Diary
"Hit by a truck? Jeff's here".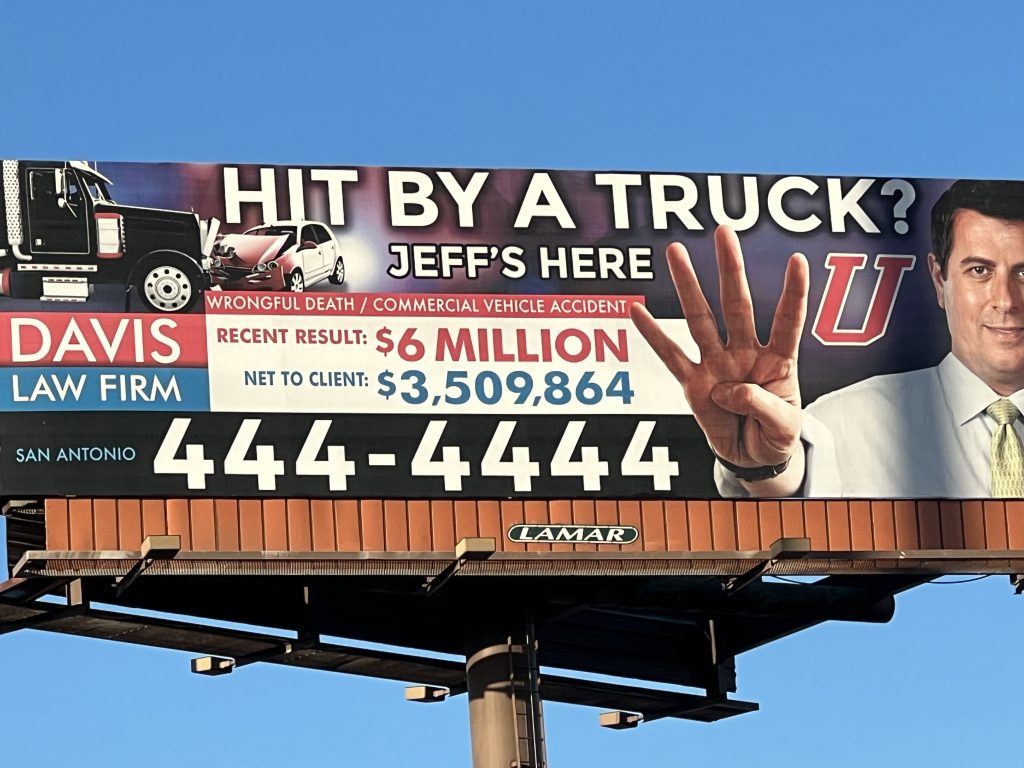 I don't know if it was Jeff that Morrissey was imagining would be with him as he died, but this attorney at law promises to get him remuneration as he goes. 
 I forgot to keep a grip on the dream I had last night. I am trying to retrace my steps into but the doors have closed. 
Did I patronise our driver as I lifted my suitcase into the trunk for our journey from San Antonio to Houston. She was keen to lift it, but I always lift it, whether male of female driver, as the weight of books is now spine defying. These are the kind of things that worry me.
The first 20 miles to Houston is an exhibition of truck purchase possibilities, plus various outlets for sheds and station wagons,  then it's scrub. This is the Tobe Hooper landscape of Texas Chainsaw cannibalism. 
I see a man driving along the verge of his sit on lawnmower and hope he is crossing the state to visit his estranged brother. 
I see old farms ready to be plucked up and spun to Oz.
Outside McDonalds, an ambulance stands, a happy meal has taken a melancholy turn. 
We stop at the restrooms of service station in Flatonia. I want to find a town like The Last Picture Show. 
The road sign that tells you to "Talk or Text Later" could be made much flirtier with the addition of a question mark.
I see a lone shack with a big white gorilla statue outside it, what goes on there.
Another twenty miles down, there's a field of three zebras (real, not carved). 
The billboards want you to eat –
"You deserve pie"
"Look at the Time – It's Pie Thirty"
And for the thirsty 
"Titanic Last Seen Here – we serve REALLY big drinks" 
As we approach Houston, Brian starts to read out the latest from the 6th January hearings. The criminality involved, the furious drive to steal an election while shouting that the election has been stolen by others, is more than unsettling. We hear about Trump demanding that metal detectors were removed so his followers could be gun-handed, throttling one of the secret service so he would march with the mob, and of all the ensuing violence. Just a few days before we hear how his dye job, ersatz Robespierre feared for his life because someone slapped him on the back and called him a scumbag. These are brats for whom the whole world is SO unfair unless they are allowed to smash it all. If they broke a fingernail while strangling a nun to death, they would scream about how they were the real victim as they demanded a Band Aid. 
When we get to the hotel restaurant, the hearing is playing on the TV. No one can pass by the screen without stopping and staring in disbelief. Sadly, NBC has to make way for daytime soap Days of Our Lives, flimsy fare after such real life drama. Brian has to go and do a Star Talk interview while I finish my lettuce and dressing. I start talking to the waiter, who is black and gay though I only know one of those things at this time. I ask if he thinks Trump will be punished, but he has little hope. When I say this seems to be the last test of democracy, he tells me democracy went when Roe Vs Wade was repealed and he fears he will be in the next group of people stripped of their rights. He tells me that one of the problems is how uninformed people can be, how they can be swayed into believing untruths. He tells me one of the books he returns to most often is a biography of Benjamin Franklin, as he warned of so much that we now see happening. 
He tells me he reads a lot of history, in particular about the founding fathers, so he is well-informed enough to correct those who fictionalise their history so it supports their ideology.
He also recommends the work of Ta-Nehisi Coates on critical race theory.
His fear was correct. Back in my room I read, "The Attorney General of Texas, Ken Paxton (R), just said that the Supreme Court should overturn Lawrence v. Texas, which struck down laws that banned LGBTQ people from having sex. If this happened, 16 states have laws banning "sodomy" that would immediately go into effect."
We only have three spare hours in Houston and sadly the Rothko Chapel is a bit too far away, so I visit the Blaffer Art Museum instead. Most of it is closed for an installation, I habit of galleries when I come walking by, but I love the work of Hugh Hayden and his Boogey Men exhibition.
There is a car that is also a ghost that also could be the Klu Klux Klan, a fragment of stairs halfway up a wall that makes me think of a Magritte mash up with Nosferatu, and Scarecrow, a Burberry coat layered with cherry tree bark. The exhibition has has echoes of folk horror, of nature possessing the manufactured. The final room has a remarkable endeavour. Nude is an enlarged human skeleton, made from tree branches. The limbs sprout further branches. It is an ambitious piece of tenacious carving and foraging. The branches that grow out of the arms and legs are not attachments, they are the original branches that grew out of this tree carefully chiseled around. Any mistake, however far into the carving meant starting all over again.
By 4pm, the heat is close to overwhelming and, for the final day and the first time ever on this tour, I manage a 20 minute nap. I am sad to see that this single nap did not do for my skin what all Brian's naps seem to have done for his.
Tonight is a night of goodbyes. Brian and I are driving back to Austin, so whenever we see crew – Noelle, Dusty, Jacob, Jack, Christy and Leigh – we remember to thank them and then thank them again next time we see them just in case we didn't make our thanks clear the first time.
Our adrenaline is playing tricks on us. Adrenaline has a sneaky way of wandering off before a tour is finished. Brian eats some pate to energise himself.
We drive back to Austin through a landscape of closed petrol stations with illuminated forecourts, the kind that you see the last desperate survivor run to in a multitude of horror films.
We stop at a Bucc-ees to use their "world famous restrooms".
The paté wears thin in the Brian's bloodstream, and we mainly stare out of the window for the final 30 minutes having previously planned our next North American tour which we are sure can take in Newfoundland, Tucson, Anchorage and Honolulu. Brian is pretty keen to get to Albuquerque too, but first we must travel across the rest of the world.
Questions from Houston audience include –
Do our organs and blood cells move slower the closer we get to the speed of light? I don't understand how our body doesn't age the faster we move.
I've been asking myself the question about what cause gravity. We only see it's effects, not what causes it. I read a theory that gravity is just a "projection" of another force from other universe on this one. Like a "shadow". What is your opinion?
I write young adult science fiction that takes place on other moons in our solar system. What theory/theories of physics do you wish more people understood that I could weave in to my fiction?
​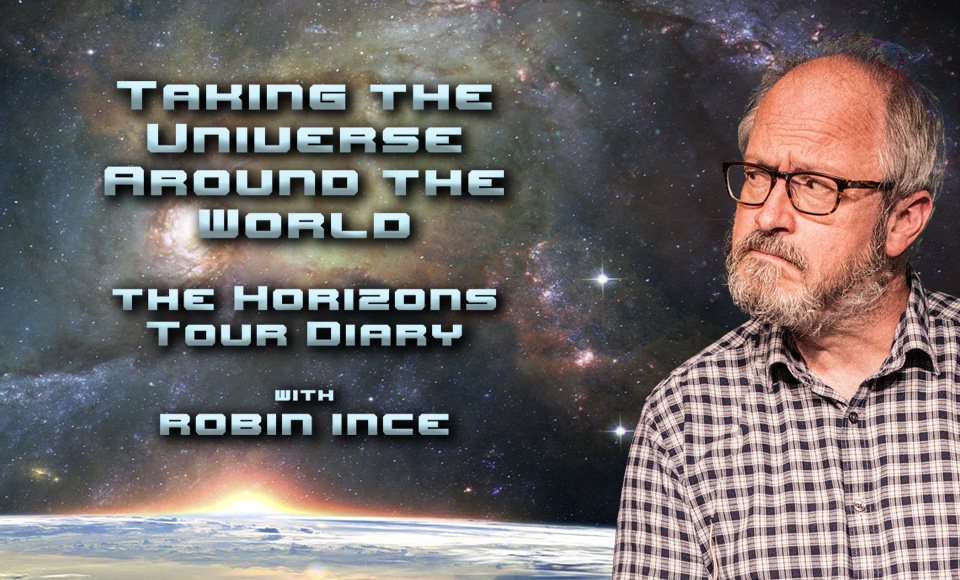 Listen to the Horizons tour podcast, Taking the Universe Around the World HERE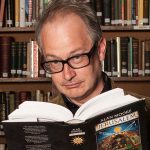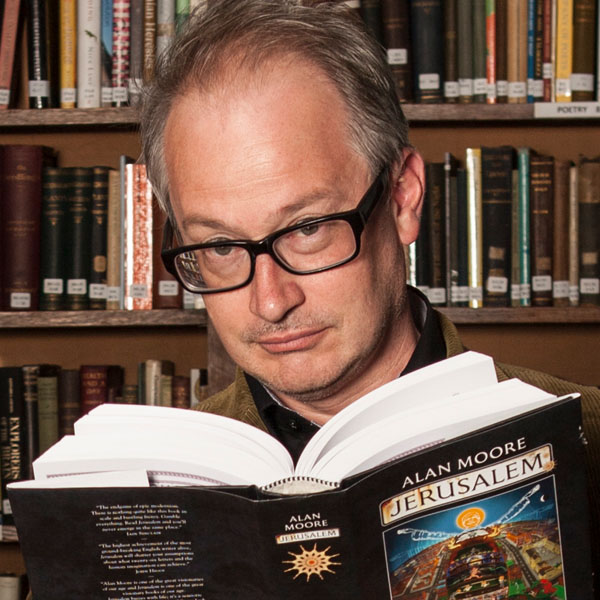 Robin Ince is a multi-award winning comedian, writer and broadcaster.  As well as spending decades as one the UK's most respected stand-ups, Robin is perhaps best known for co-hosting The Infinite Monkey Cage radio show with Brian Cox.  For his work on projects like Cosmic Shambles he was made an Honorary Doctor of Science by Royal Holloway, University of London. His latest book, The Importance of Being Interested is out now.
If you would like to reuse this content please contact us for details
Subscribe to The Cosmic Shambles Network Mailing list here.