Holding the Face of Van Helsing
Robin Ince's Horizons Tour Diary
Today, I held the face of Peter Cushing and bumped into Slash in a room full of swords.
We are in Wellington – another flight with complimentary tea and a biscuit. 
Waking up in Dunedin, I go to breakfast and order a spinach and cheese omelette but receive a plate of creamy mushrooms and bacon. I say I'll just have a croissant instead. Brian does not understand why I don't wait just a little longer for a replacement omelette but I see that time as gone. He believes decisions like this are a clear demonstration of me needing a life manager. 
We drive to the airport surrounded by moist green pastures and recycling depots. 
Guns n Roses are staying in the same hotel as us and it appears that a couple of bagpipers might be too (or are the bagpipers for Guns n Roses, I know Axl liked a kilt). We worry that all of this may increase the corridor decibel level. 
The afternoon is spent at Weta studios and it is a joy. We start in the boardroom surrounded by handcrafted models of muppets, Gandalfs and The Krampus. With those muppets in earshot, I need to ask about Meet the Feebles and I am told about a festering vomit explosion caused by an air-conditioning unit malfunction inside a walrus. 
The varieties of creativity and the fabulous nerdiness of it all is something to behold. It is an energising experience to be surrounded by such energetic imaginations in so many corners and laboratories. Robots and monsters, latex and animatronics, and smorgasbord of Middle Earth swords. I am in love with the room of life masks. On the walls hang the faces of Karloff, Cushing, Lee and Price, Astaire, Dourif and Streep . I handle Cushing's face and tell the story of when he shoved jammy bread in the face of his mother who was feigning death to punish his naughtiness. 
I also share with strangers that Cushing regularly appears in my dreams. We usually have a lovely time.
Near some giant heads, we bump into Slash and his pals coming in the opposite direction. Hopefully tomorrow there will be twin tours with Metallica and Johnny Ball. 
Before we leave, we pay particular attention to some small models of Eagles from Space 1999. At the beginning of most tours I give Brian a book connected to Space 1999. It is a show we both adore. 
Back at the hotel I bask in thoughts of Gods and Monsters.
The next day it dawns on me that I think I drank just a hint too much last night, or it might be averaging 5 hours sleep a night, but an omelette (a real one this time, not bacon trying to disguise it self) and some pineapple juice smooth any skull hindrances. 
The Wellington City Gallery is first. I have find memories of this despite usually having to speed though it due to limited time in the city. This is the first time we have been here for two nights.
It was in this gallery that I discovered John Stezaker's work. He may be English, but I had to travel 20,000 miles to notice his work. They are brilliant collages, usually only utilising two photographs – a woman's face with a railway tunnel overlaid on her features, two lovers face to face, but their faces become cliffs and numerous actor vintage promo picks where two individuals become one. 
It was also here that I became aware of Rosaleen Norton, "witch of Kings Cross" and saw Jasmine Togo-Brisby's Colonial Sugar, a pile of skulls made from sugar representing the human cost of the sugar trade. I also found a greatly reduced copy of a book about Tracey Moffatt, one of my favourite artists – so all in all a magical place. 
I meet Sameena outside. I am a little late as I popped into Unity Books, a very much loved bookshop. I do not expect they will have my book as I am a pessimist in such situations, but they actually have a stack of The Importance of Being Interested and are very happy for me to sign them. As usual, I try and leave different messages in each. They also have a couple of early copies of Bibliomaniac and I sign those, including one for Melissa, an excellent bookseller who dreams of touring the bookshops of Britain. I tell her that she must get to Camilla's in Eastbourne and the book should show her the way.
Sameena and I wander around the Joanna Margaret Paul exhibition and discuss the parlous state of English politics and she tells me of the delights of Wellington when it comes to creativity. She moved over in 2019 and has no plans to return. She tells me that so many of the obstacles to creativity that are strewn across the English artistic world are not littered across her path here. 
Sadly, to many, the dominant English character trait is cruelty. Though I think this is not true of many, there are so many platforms given to those who combine fawning and sneering, people who are always blameless while always blaming others. The selfishness and fear that someone might have got what you believe you deserve has groan from a wrinkled Thatcherite acorn to a tall  but repellent diseased tree, it's sap as damp as pus. Yet again, our press and TV news brings to mind James Baldwin, "I imagine one of the reasons people cling to their hates so stubbornly is because they sense, once hate is gone, they will be forced to deal with pain."
I buy five postcards from the recently closed Helma AF Klint exhibition, I think I would have enjoyed it.
Then, we talk of more positive things and end up in an excellent coffee bar. The friendliness is omnipresent. Sammena seems to already know about 40% of the city's population. We bump into Brian iOS coming in the opposite direction, damp and rosy after a job by the sea. 
Eventually, I am set on my way to Arty Bee books. I stalk their antiquarian stock in hope of finding Thesiger's Practically True but, as usual, answer came there none.
I debate on a hardback copy of David Carradine's autobiography, but decide it is too bulky. To maintain my only hand luggage status, I can only buy slim books. I choose a book of photographs of the poet Anne Sexton , The Last Summer.
"In my dream,
My real dream,
I am walking up and down Beacon Hill,
Searching for a street sign,
Namely Mercy Street.
Not there."
I also pick up a second volume of Elizabeth Smart's journals, On the Side of Angels, and a 1963 book of Illustrators at Work which includes Edward Ardizonne and Quentin Blake. 
The pavements are heavy with Guns n Roses' fans and also a few people in Stiff Little Fingers T shirts. Back at the hotel, I decide to have a little afternoon nap, but my head is making too much noise, so I play Wordscapes instead. At level 221, I decide I will also pop by Pegasus Books. Again, I only buy the thin, which includes Avant Garde magazine issue 13, a reprint of an almanac illustrated by Stanley Spencer, a book club edition of The Day of the Triffids, a James Baldwin interview book, and an anthology of circus sideshow posters. The two booksellers are talking about a visit from Jane Campion the day before, apparently she bought Wuthering Heights. 
On my way to the venue, I see many people graduating, their parents beaming, and hear a close harmony group practising in a stairwell. A passer-by wishes me a good show tonight. 
The gig is a joy. It is our first Arena for a while and there is energy all around us. 
Afterwards, a bunch of people from Weta workshop come by, some with kids too. I think Alice may be eight or nine and I am pleased to hear that she adores Bagpuss. She apologises if she is incoherent, but it is a school night and she has paddle boarding tomorrow. 
The Weta crew are so full of creativity. We get to talking about other works of Oliver Postgate and I idly wonder that, though UK television didn't have its Rod Serling (I am sure you will soon correct me), it was children's TV where such humanity shone. 
The fork lift trucks arrive to take the last scaffolding of cosmology away and we realise that means it. Must be time for bed. When Brian falls asleep, all his friends fall asleep (if only that were true)
Editor's Note – The Title of this entry has changed because the editor's failed attempt at wordplay as confused a lot of people.
​​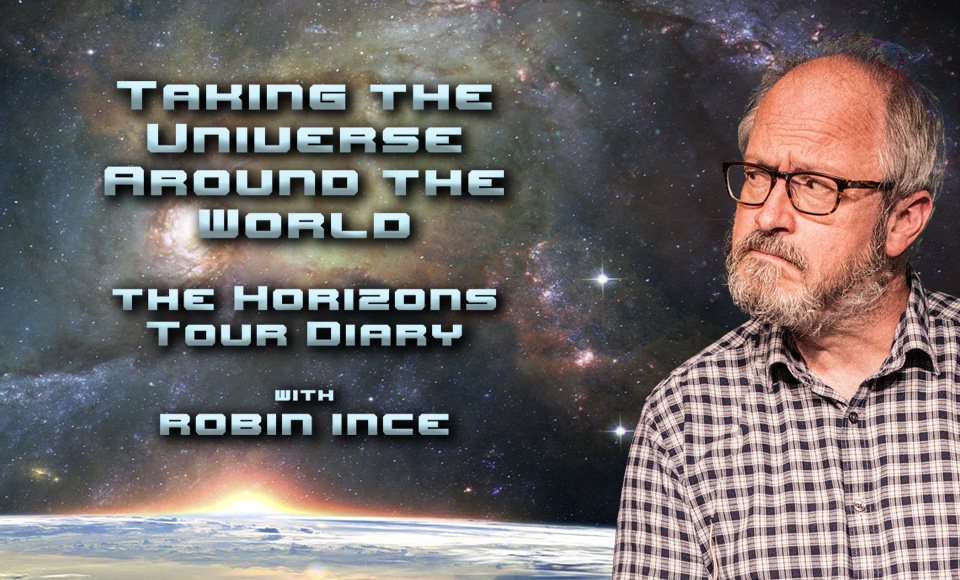 Listen to the Horizons tour podcast, Taking the Universe Around the World HERE.
Bibliomaniac is available for order now at cosmicshambles.com/shop with exclusive art cards.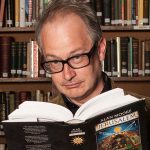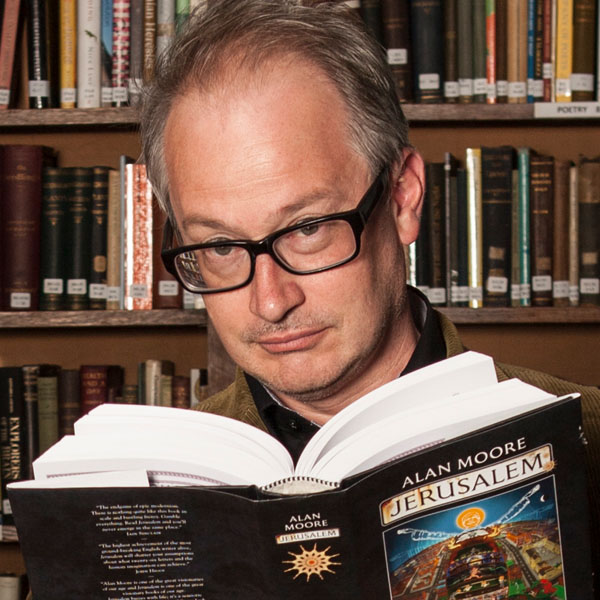 Robin Ince is a multi-award winning comedian, writer and broadcaster.  As well as spending decades as one the UK's most respected stand-ups, Robin is perhaps best known for co-hosting The Infinite Monkey Cage radio show with Brian Cox.  For his work on projects like Cosmic Shambles he was made an Honorary Doctor of Science by Royal Holloway, University of London. His latest book, The Importance of Being Interested is out now.
If you would like to reuse this content please contact us for details
Subscribe to The Cosmic Shambles Network Mailing list here.