Taking a Walk Down Hollywood Boulevard
Robin Ince's Horizons Tour Diary
Last night's dream involved Ted Hawkins, a musician who was championed by Andy Kershaw in the 1980s but who wasn't that keen on the spotlight.
In the 90s, Geffen Records, at that point one of the most prestigious labels in the world, persuaded him to record an album. He was still playing on the streets and would sometimes tell those he got into conversation with that he was signed to Geffen and they would wander away shaking their head and presuming they had met just another delusion "street crazy". The dream involved little more than me watching his set, then going to buy some merchandise from him and worrying I hadn't given him enough money for his work. 
We are going to LA today and Brian is beaming as we are staying the same hotel he lived some months in when he was a young boy keyboardist in the rock band Dare. 
I have taken to smiling much more. As a teenager, I honed knitting my brows in a perpetual scowl. My family also have a strong strain of the lip curl gene. I read that, even when feeling down, the act of stretching your face into a smile can have a positive effect. Sometimes, when fearful of insomnia or maybe when I am just at a loose end, I smile. Face masks have been useful for those who are disconcerted by apparent happiness in public. 
San Jose airport pipes proper music for airports into its gates, easy listening jazz renditions of pop and soul classics with occasional Hammond organ flourishes – I particularly enjoyed It's a Family Affair (originally by Sly and the Family Stone).
I have passed on Sarah Polley's book to Steph and I am still immersed in Cookie Mueller's world. 
I love her description of a nasty boss she had, "what an asshole, a rude bigot stomping through life squashing everything to his level." There are so many people with power over us or platforms who want to squash our lives to their level and Cookie Mueller was one of those magnificent forces that sprang back and became twice the size when people tried to do that. 
Writing of her John Waters movies, those rabid exercises in seedily flamboyant bad taste, she explains that one of the reasons the acting style was so loud was because the recording equipment was so poor you had to shout to be picked up by it.  
Approaching LAX, there is small circular cloud in the sky that l briefly mistake for the Moon. In LA, and above it too, everything is pretending to be something it is not. 
Looking at the tightly packed bungalows in the arid landscape, I think of Bill Hicks's album Arizona Bay in which he rails against the hot and sunniness of this city and looks forward to when it is submerged. 
Brian beams in the Los Angeles light and puts on his Sunshine dark glasses. These were dark glasses that were given to everyone who worked on Danny Boyle's movie Sunshine. Brian was science adviser, less on the science of cosmology and solar activity, it was more showing Cillian Murphy how a scientist ponders and scribbles equations.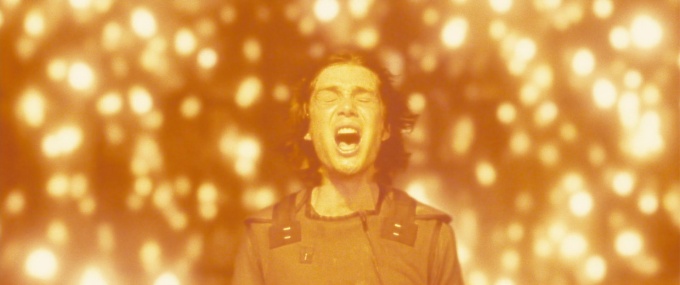 In the next few days we have three Horizons shows, two in LA and one in San Diego, and two Monkey Cage recordings, one at Caltech and one at NASA's Jet Propulsion Laboratory ( a regular haunt for the professor, but an exciting first time visit for me).  
I love my Hollywood Hotel room. It looks like the sort of room that Billy Wilder could have argued with Raymond Chandler over scenes of Double Indemnity and I can see the Hollywood Hills beyond. I sit down at my desk and start to write my Big Issue column with a flourish as if I was hammering away on a Remington typewriter. 
Walking out into the corridor, a man is confidently striding down the corridor, his gown wide open, his fleshy stomach demonstrating his wealth and success. 
After some research into exoplanets, I take a walk down Hollywood Boulevard. 
As I leave the hotel, I think of Nancy Sinatra after sharing a lift with a Nancy Sinatra look. Many women in LA could be mistaken for Nancy Sinatra. By chance, the first star I see on the boulevard is Nancy's. 
I see Bill Cosby is still a star on the pavement. My favourites today include Scatman Crothers, Bernadette Peters, Boris Karloff, Ray Harryhausen and Ray Bolger. I have also found out that Pee Wee Hunt is an American trombonist thanks to this pavement. 
A woman kneels on Marilyn Monroe's star in a position of genuflection as her boyfriend records her worship. 
Passing the attractions, I wonder whether I should find the time for the Hollywood Wax Museum and the Hollywood Museum, will they be tacky or will they merely be mediocre. I know that I will not go to the Museum of Death or the Scientology Museum of Psychiatry again, once was enough for both of them. 
I walk into Larry Edmunds Bookshop, the last bookshop standing on the boulevard. 
It specialises in movie and media books, so I have a vague hope that they might at least have heard of Ernest Thesiger's autobiography Practically True, but I ask in vain.
With 12 bookshop days to go and a weight of books that is beginning to make the weak teeter, I must be careful. What if I find a secondhand bookshop in Houston or San Antonio that offers as many reward as the Utah Book and Magazine Company did?
I browse and earmark possibilities – a biography of Scatman Crothers, a book on the work of Michael Ripper, if you do not know the name you will know the face should you have watched any Hammer horror films, and a book by Don Coscarelli on being an indie film director and creating the legendary Bubba Ho Top and Phantasm movies with Angus Scrimm, a name to savour.
Driving to the theatre, I see a man lying on the kerb, screaming obscenities at the scaffolding above him while tourists walk on by looking for the stars of Sandra Bullock and Bing Crosby, oblivious to the furious despair.
It is good to be back at the Montalban Theatre. On every visit, I delight at the pre-recorded message from the late actor Ricardo Montalban, warning that those who do not turn off their cellphones or blackberries will experience "the Wrath of Khan". There is also a little technological nostalgia in hearing a blackberry warning, their technology becoming only fully obsolete at the beginning of this year.
On the last night in San Francisco, I found out about Erwin Schrodinger. I knew he was something of a dandy and a playboy, but he did not know that was most likely a pedophile, if his own diary entries were anything to go by. This has led to the lecture theatre at Trinity being renamed. Talking to two friends, they wondered about the possibility of equations being renamed. Would it be possible to rename Schrodinger's equation or would that be preposterous? Is this another case that demonstrates that we should not attach a single human's name to achievements, not merely because sometimes there are terrible revelations about them, but because it also supports the idea that great cultural achievements come from solitary minds rather than a multitude, exaggerating the lone hero narrative. I have been mulling over these things for a few days now.
I felt surplus to requirement at tonight's show in The Montalban and think they could have quite happily got through the night without any interjections or poetry from me. This might also be caused by mental weariness.
Early start tomorrow so we can record Monkey Cage before the evening's show. First time in a while I have felt depressed about the show.
Audience questions at The Montalban included –
Considering the vastness of the the multiverse, what do you think about the possibility that we are living in a simulation right now? Or that there is a "God."
Please turn A/C on in balcony!!
What's your favourite moon?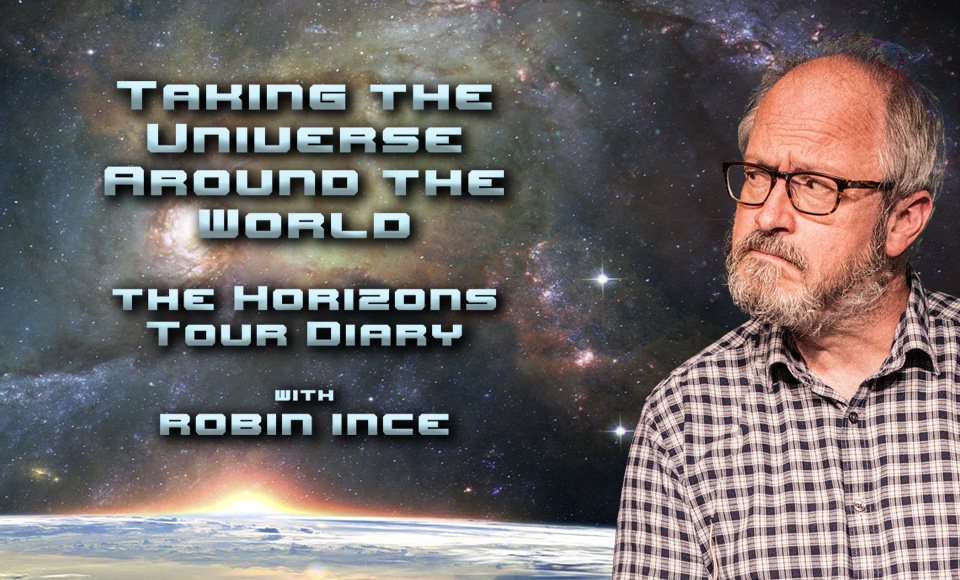 Listen to the Horizons tour podcast, Taking the Universe Around the World HERE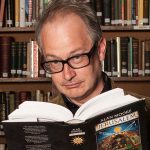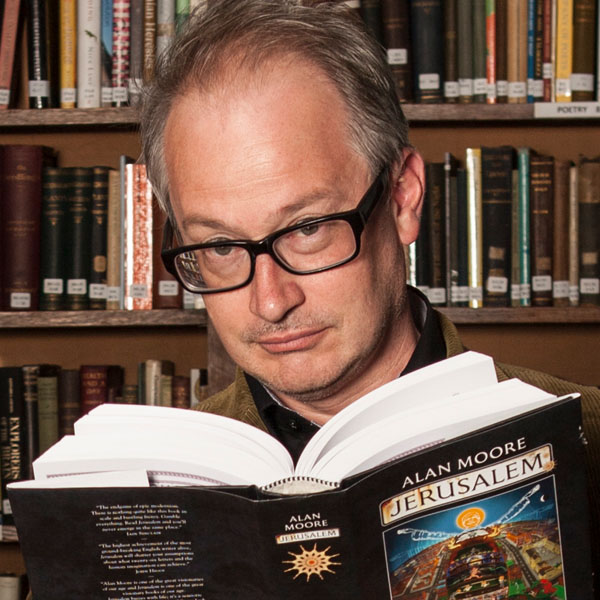 Robin Ince is a multi-award winning comedian, writer and broadcaster.  As well as spending decades as one the UK's most respected stand-ups, Robin is perhaps best known for co-hosting The Infinite Monkey Cage radio show with Brian Cox.  For his work on projects like Cosmic Shambles he was made an Honorary Doctor of Science by Royal Holloway, University of London. His latest book, The Importance of Being Interested is out now.
If you would like to reuse this content please contact us for details
Subscribe to The Cosmic Shambles Network Mailing list here.