Horizon Tour Departures
Robin Ince's Blog
For some, extreme sports is leaping into a canyon attached to a rubber rope or swimming with sharks, for others, it is opening the front door and walking out. 
I am looking at my attic room for the last time for a while. This is where I have spent most of the last two years. There were some months where I lived at my father's house where I slept in the room that I was born in. I have been in familiar places for a long time now. I did spend a couple of months touring the independent bookshops of the UK, but even then, there were only rivers between home and me. Now, there will be an ocean. The Horizons tour with Brian Cox is finally beginning. I am carefully laying out trousers, socks, interdental brushes and books. 
Of course, books. 
I have chosen my books for New York.
First, there is Patti Smith's Just Kids, the beautiful story of youthful hope, love and imagination and discovering the Universe that expands within the people we love. I also have E.B White's Here is New York, an essay written for the New Yorker in the sweltering heat of the Summer of 1948. 
For Washington, I have George P Pelecanos's Shame the Devil, technically 8 pages longer than my 299 page maximum for each city book, but I'll give it a hell of a go. For Philadelphia, I have The Thurber Carnival and Elaine Brown's A Taste of Power: A Black Woman's Story, her story of being the first female leader of the Black Panthers. For New Haven, I have Bernard Wolfe's Limbo – "In the aftermath of an atomic war, a new international movement of pacifism has arisen. Multitudes of young men have chosen to curb their aggressive instincts through voluntary amputation – disarmament in its most literal sense." 
After that, it will be a case of wandering into independent city bookshops, wherever they can be found, and being steered by the readers behind the tills there. 
I also thought that now might be the time to read a biography of David Foster Wallace and I can begin Infinite Jest again. In Every Love Story is a Ghost Story, you'll find the phrase "the howling fantods". This was a favourite of Foster Wallace's mother. A fantod is a deep fear or revulsion.
It is a word I can empathise with now. Having spent so much time surrounded by the familiar, the thought of going on a world tour is daunting and has conjured up a great anxiety. In the last month, my senses for the quietness of my recent life have sharpened. The bird song and the blossom, the movement of the sky, the great fortune I have to be able to have access to peace, even as my inner monologue rambles on, the strange persistence of so many silent and silly thoughts. Returning to the touring world, to city after city, to the noise of cramped and frantic life all around us, the daily journeys to a new room and a new complimentary soap, seems threatening. I feel like the first passengers of automated travel, fretting that they might reach such speeds that they will disintegrate. 
Each morning, I wake disturbed and try to have a conversion with my anxiety, but it was scoured in my brain a long time ago. It is not open to listening and, very probably, not able to understand language at all. It growls with pointless paranoia, always ready to conjure up a new one should you defeat its first choice.
The me-ness of me, sitting in a frontal lobe in its velvet coat and jodhpurs, arrogantly imagining it is in charge of the stable as the horses rear and gallop rabidly, tells me – "you are lucky. Imagine teenage you being told you would cross the world in a traveling show about supermassive black holes and holographic theories. You would be overjoyed." And one of me most definitely is, if I could just get the other ones to shut up then I'm really going places.
I have kept my anxiety concealed for most of my life, though obviously I haven't really. It comes out in moments of anger or unjustified silence towards loved ones, but I only really started to understand the perpetual hammer pounding after I wrote I'm a Joke and So Are You. I feel embarrassed to admit the persistent and unhelpful inner life. Maybe it is not embarrassment, it's shame. It seems impolite. It is not the done thing. We conceal and conceal and conceal until it has grown into a crushing monster that can smash you.
After much thought and worry, I did send an email to two of the people I will be travelling with, just to admit that my anxiety is peaking of late. It will not cure it, but maybe it will reduce just a bit of the internal pressure. I received a friendly email back reminding me that we will be in central park on Wednesday night punching each other in the sunlight and possibly watched over by the Mad Hatter too. Here we go again. I survived the world in 2019, time to go there one more time and survive it again.
Other Books on the packing list
On Having No Head – D.E. Harding
The Practice of Not Thinking – Ryunosuke Koike
Widow Basquiat – Jennifer Clement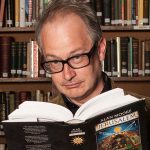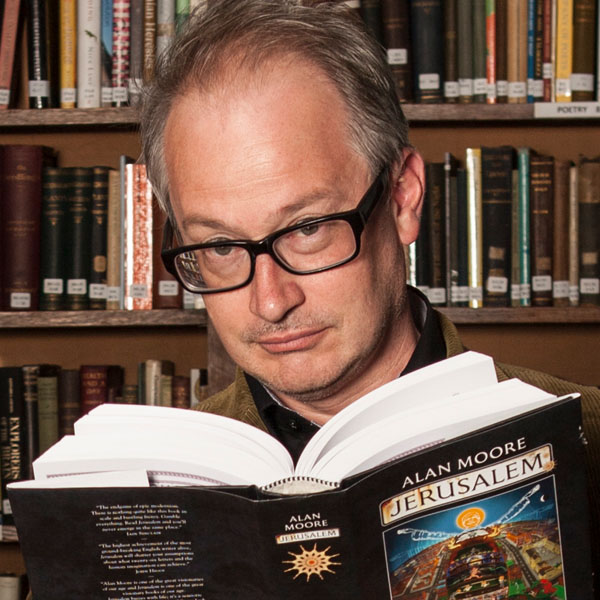 Robin Ince is a multi-award winning comedian, writer and broadcaster.  As well as spending decades as one the UK's most respected stand-ups, Robin is perhaps best known for co-hosting The Infinite Monkey Cage radio show with Brian Cox.  For his work on projects like Cosmic Shambles he was made an Honorary Doctor of Science by Royal Holloway, University of London. His latest book, The Importance of Being Interested is out now.
If you would like to reuse this content please contact us for details
Subscribe to The Cosmic Shambles Network Mailing list here.