The Industrial Soundtrack of Chicago
Robin Ince's Horizons Tour Diary
After a week in Canada and then smaller US cities, the industrial soundtrack of Chicago comes as a surprise, but not for long.
It is the sound of a city making sure it can breath and is not cooked in its own bed. The emergency services have no peace, so neither do we. There is a relentless Irwin Allen film springing up in every corner of the city throughout the night, what is Charlton hanging from now? For who will Gene Hackman sacrifice himself?
Arriving at midnight, I sit up for a while and type, as well as contemplating the possibility of laundry. The division between the clean and the used has lost all definition in my suitcase and I must resort got my olfactory senses for judgement on my socks. We have three days in Chicago and that gives us time to use the hotel's laundry service. I usually eschew that on tours as the parsimonious values I was brought up on make me shirk at $4 for a pair of socks to be cleaned even when I am not footing the bill. On this tour, acting like the liberal media elite, I fill there laundry sack and hold back the travel wash. The laundry bag is a little too small for all my needs, so I decide that I will wash the T shirts by standing in the shower with them on and soaping them like my own skin. This wet T shirt competition is a purely private affair.
I take a double dose of melatonin and dream of eight hours sleep, though I do not actually dream. 
At 9am, I open my curtains and see myself reflected in the building opposite. There is much towering glass in America now, so each building preens into another, angle them right and you have an infinite regression for an architectural narcissus. 
Breakfast is spent watching charity workers failing to stop passers-by while we eat omelettes.
Every day is exercise day and Brian insists I must shrivel in the sunlight rather than seek shelter by the weights in the gym. The factor 50 is pasted heavily until I am pale enough to be ready for jogging bottom remake of Death In Venice. We walk to the park by the pier. This could be Miami.
Steph finds a concrete pit which she tells us will be suitable for our cardio workout. Small dogs watch us quizzically.
We jump up and down, we squat and we press.
Both Steph and Brian have watches that tell them far more than the time. They tell them their heart rate, where they have been, where they might be going, and possibly erase any errant thoughts which are not brand friendly. They check their heart rate has reached the requisite BPMs and I check it is nearly 1pm.  When they first had their matching watches, breakfast would be spent charting their deepest sleep and their heart rate and checking they had not been surreptitiously dead at any point in the night.
We reach the necessary energy expounding that makes Brian smiles and go to seek a coffee. We are allowed muffins. Brian explains black holes to me again and then we find the more comfortable area for me of discussing the brilliance of The Great Gatsby. The two cultures last as long as Brian's caramel slice and gets as far as Foyle's War via entropy and eventually arrives at the time I saw Sean Bean in Romeo and Juliet. 
We are on the avenue that is no good for my consumerism, all fashion and sneakers. You can't find a barely bruised bookshop for miles around. 
I have the word count for my book for the day, it is strict, but short. If there ever is a deadline, at the very least it will be a year away as the book I have just finished, Bibliomaniac, is due out this Autumn.
I look through the walking distance bookshops and choose Open Books, a non profit store with a mission to encourage literacy. It is also far enough way to give me a good walk and weave through backstreets. I walk along the river building spotting which is, more often than not, easier than birdwatching or even trainspotting. I am particularly taken by two apartment blocks that look like the sort of place that the sporting stars of Rollerball would have their swingers' parties.
I continue under the rusted, yellow support stricture of the trainline above. As carriages rattle over, there is a romanticism in recalling Hollywood's grittier 70s cop thrillers occasionally broken by the reality of homelessness.
Other Books is, unfortunately, worth the trip on many counts. I have now gone beyond the book luggage limit, so each new purchase must require a sacrifice. The last few hotels of this stretch will each have a third book in the bedside drawer beyond the Gideon and Mormon Bibles. Today, I must slide open the drawer and place George P Pelecano's Shame the Devil – it's revenge drama will fit well with The Old Testament.
I wander around and read the hand written book recommendations from the booksellers.
I am glad to see By Grand Central Station I Sat Down and Wept in a central position.
It tis Zylon's recommendation.
"This slim but powerful novel may be quoted as the inspiration for some of Morrissey's lyrics, but don't hold that against it!"
Kelsey recommends Shirley Jackson.
"I'm obsessed. I think you might be, too"
Joey recommends The Man in the High Castle
"i know you're 'not a sci-fi person' Neither was I, but then I read the Three Stigmata of Plamer Eldritch…"
The most irresistible book that I managed to resist, 40 days in the wilderness condensed into 30 minutes, was Edith Bouvier Beale of Grey Gardens : A Life in Pictures. I have seen the documentary of Grey Gardens, the Drew Barrymore film version and the musical that starred Sheila Hancock. I discovered it by chance, late night on BBC2 whilst still a teen and I had seen nothing like it. It is a rites of passage documentary, but I deny myself (mind you, we are here for two more days so …. .
There is also an early hardback edition of James Baldwin's The Fire Next Time that really must be mine, but isn't yet.
I pick up some oddities.
A hardback of Valentine Dyall's Unsolved Mysteries. Dyall was best known for the radio series The Man in Black.
"Here is my chance to put down a rumour which started with my weekly broadcasts as 'The Man in Black' – that my appetite for mystery and horror was acquired at six yers of age, when Christmas parcels were mixed up and I received The Works of Edgar Allan Poe instead of Mother Goose. It is absolutely untrue. I was only five…."
There is also a very reasonably priced copy of Sayles on Sayles from Faber and Faber's excellent filmmaker interview series, the pulpy paperback of In Search of Dracula, something 8 year old me would have adored, and Stefan Elg's Beyond Belief – "She actually saw a werewolf". I am also intrigued by Christopher Morley's The Haunted Bookshop and a first hardback edition of Raymond Carver's Where I'm Calling From which includes press release and promo photograph.
As the books are totted up, I see a poetry collection called how to cure a ghost by Fariha Roisin – "fearlessly illuminates her experiences as a young, queer, Muslim femme" – and decide that must be the final book.
I also regret leaving a biography of Oliver Sacks.
I steer another way on the way back to the hotel. The streets of Chicago cross weave over and under each other and when I reach the sidewalk I need, I see the NBC logo ahead of me. I'm reminded of Billl Hicks's beautifully performed and brutal revenge routine concerning the televised death of Jay Leno.
A Columbus footnote – how could I forget to mention that at the Columbus show, I took a risk at answering a question about increasing curvature of spacetime (with Brian's permission) and I actually got it right. I almost walked off the tour there and then.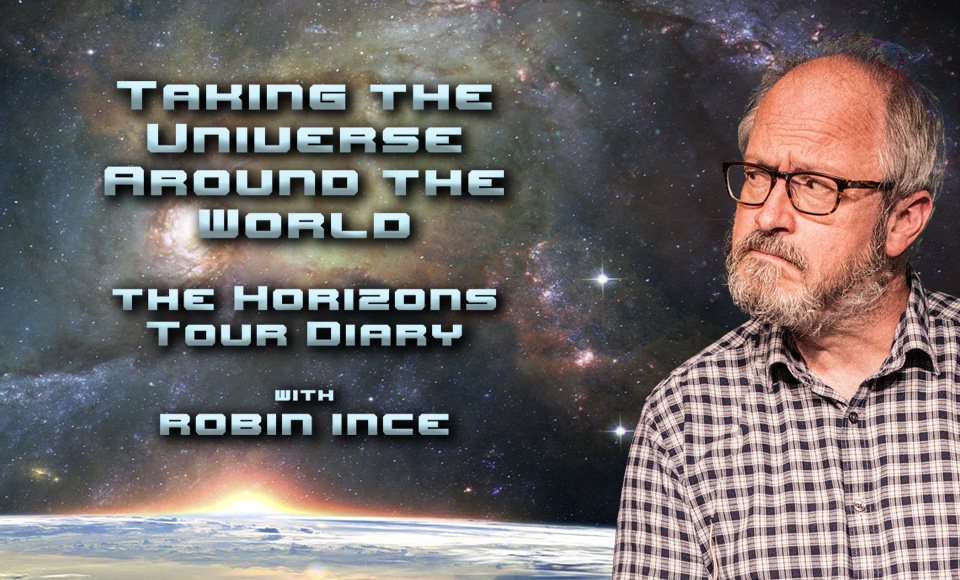 Listen to the Horizons tour podcast, Taking the Universe Around the World HERE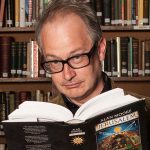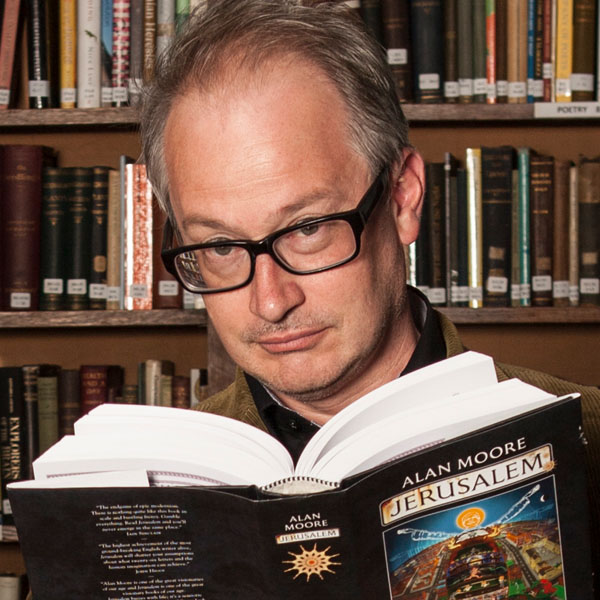 Robin Ince is a multi-award winning comedian, writer and broadcaster.  As well as spending decades as one the UK's most respected stand-ups, Robin is perhaps best known for co-hosting The Infinite Monkey Cage radio show with Brian Cox.  For his work on projects like Cosmic Shambles he was made an Honorary Doctor of Science by Royal Holloway, University of London. His latest book, The Importance of Being Interested is out now.
If you would like to reuse this content please contact us for details
Subscribe to The Cosmic Shambles Network Mailing list here.