It's Bookshop Day!
Robin Ince's Blog
It's BOOKSHOP DAY! For me, bookshop day really began on 7th October as that was publication day, a day of mighty, fast changing emotions.
Because you once had a daydream where your came out and immediately became the most successful book in the world and shocked everyone by going straight to number one in every chart imaginable and Ryan Gosling optioned it to be a movie franchise. When that doesn't immediately happen, you think "oh Christ, in the words of David Hume, my book has dropped 'still born from the press' and the whole thing is a terrible failure, no one knows it exists and it will be pulped to make halloween masks for the children", and then you watch your stigmata form.
Though I have already done a few events, the official start to the 100 Bookshop tour was the Chorleywood Bookshop, the bookshop of my childhood, where I would buy Mayflower Books of Black Magic with money I had stolen from my mother's purse and look longingly at the Star Trek Fotonovels and Target Doctor Who books. I am back at the shop to do a proper event next month, so this was more of a symbolic gesture.
Then, I went to Our Local Bookshop in Tring to do a full on event. It's the nearest independent to where I live and I browsed for a while as people made themselves comfortable with their glass of Prosecco. As I think will be the way of the things, I just started talking and saw where my mind went, trying to attach the tangents to the books around me and the location I was in. I am determined that no two talks will be the same and with over 100 to do that should be an interesting challenge by the time I get to the final event at The Hungerford Bookshop on 9th December.
I did not go to sleep victorious, but nor did I feel defeated. I was also fortunate to get a lovely review from the Independent which described the books as "sparkling. It made my brain throb at times but it also made it buzz". The reviewer got from my book exactly what I would like readers to get from it, but, of course, the moment I read it my mind said, "yes, this is lovely, so there must be a terrible one around the corner." SHUT UP CRITICAL, PESSIMIST VOICE. DON'T YOU EVER RUN OUT OF THINGS TO SAY?
Friday was the first real travel day. I was off to The Book Stop in St Helens , a new community bookshop that has been slightly delayed in opening and so the event was at the community cinema instead. There was an utterly delightful audience that became double delightful when we sold out of books too. Just before we began, I asked the cinema manager what was showing next and he said "Ammonite", so here was my starting point and off I cantered. After my talk, Brian, the trustee of the shop, got up to say that the lesson he had learned today was that you should always tell an author you are doing an introduction sometime before the start, so he introduced me to the audience after my talk.
Then, it was to the Anthony Burgess Centre in Manchester with Blackwells. Arriving in Manchester Victoria, this was the first time I walked through a packed and buzzing city on a Friday night for 20 months. The sense of revelry was growing and there was that excitement of people looking their best and getting ready for a good time before becoming dishevelled, furious and screaming at each other in a taxi queue. It was the happiest part of the Friday, when Friday is all potential and not too much reality. I walked through it all with my wheelie suitcase, a hint of alienation, something I always carry with me and I might put that on wheels one day too.
Another nice gig, though this talk was a little more serious than the one at St Helens.
Met more lovely people during the signing and wondered what Smiths song Rick Astley had got to down the road. The right night to sign a book to Shelagh , which I did.
Then to a sofa in Levenshulme for tea, fruit bread and an episode of the Kenny Everett Video show, Lindisfarne were on.
Total miles travelled – 247 .
As it is Bookshop day, let me recommend Listen by Kathryn Mannix, Begin Again by Eddie Glaude and Nina Simone's Gum by Warren Ellis.
————————————————————-
My next few gigs are Mount Florida Books in Glasgow, The Book Nook in Stewarton, Borderlines in Carlisle, then next week starts with a Monday lunchtime gig at Limestone Books in Settle and ends with a 2pm event at Think Tank in Birmingham on Sunday. All Tour dates here.

Order signed and dedicated copies of The Importance of being Interested here.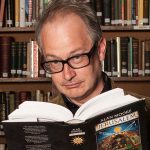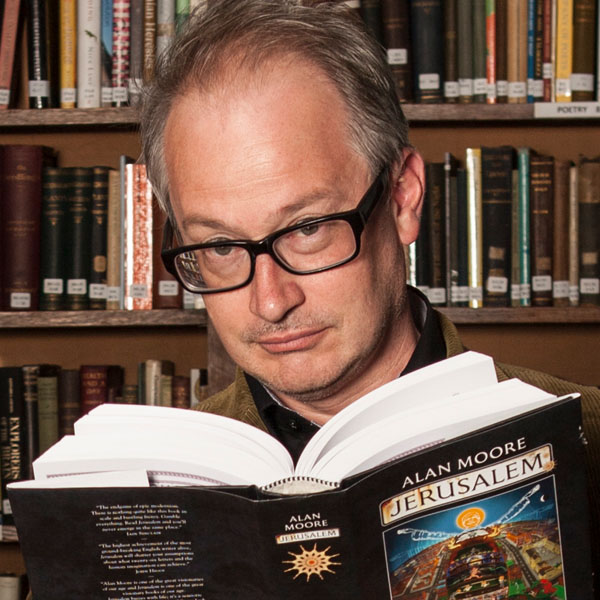 Robin Ince is a multi-award winning comedian, writer and broadcaster.  As well as spending decades as one the UK's most respected stand-ups, Robin is perhaps best known for co-hosting The Infinite Monkey Cage radio show with Brian Cox.  For his work on projects like Cosmic Shambles he was made an Honorary Doctor of Science by Royal Holloway, University of London. His latest book, The Importance of Being Interested has just been released.
If you would like to reuse this content please contact us for details
Subscribe to The Cosmic Shambles Network Mailing list here.