I Coulda Been A Milliner – Jo Brocklehurst at The House of Illustration
Robin Ince's Blog
Comedians are rarely sartorially flamboyant, it can deliver too much information before you open your mouth. There are exceptions. The dazzling garb of Julian Clary is part of the show. When I first saw him it was basic rubberware and blonde extensions, but as his earnings went up, so the glitter increased. Until he revealed himself as a transvestite, Eddie Izzard dressed in a bloke on the circuit manner. On the first night of his first west end run, where he discussed his transvestism on stage, he was drab in a grey A line skirt. The flamboyance came with later shows. Noel Fielding is colourful, but that is the perogative of an arch absurdist and occasional Dadaist.
But as a whole, the comic is not fit to grace the catwalk. They like to blend back in when the show is over. It could be any man in a grey suit jacket and jeans. Before I was a comedian, I once had to help find David Baddiel a carrier bag to take his vast rider back from the student union. We charged him 4 cans of lager for it. He was not impressed as it only left him with 20 for the 40 minute train journey home. When I told him I wanted to be a comic, he advised be to lose my exuberant quiff. I have now lost it due to the gene sequence that rewards you with baldness.
I grew up suspicious of the excessively stylish, perhaps from envy. I was quite aware it could never be me. The clubs where new romantics preened looked vacuous to me, did they stand for anything more than dandyism? Whenever I saw the now grown up habituees of those clubs, they all seemed to have become hat designers. I projected vacuity onto them, the sort of opinion that Robert Elms would scold you for holding.
They are in the House of Illustration, in pastels and in front of themselves.
I am looking at the work of Jo Brocklehurst, who chronicled in pastels the club girls and fetish boys and created tightly corseted and fiercely strapped visions of the population of Wonderland. The images remind me of Egon Schiele, but with a greater rainbow at her disposal and feistier subjects.
It is a bold slash of a culture, some in clubs, some on the street, some in theatre and some mainly resident in her imagination.
It can be annoying when someone hogs a painting and won't move on, but those glued to the canvas here are glued because they are seeing themselves again, twenty, thirty, forty years on.
It is intriguing to see these blitz kids next to their pastel rendition. Is it agony or ecstasy? There is bald man in late middle age, bald and dressed as any IT worker would need to be for smart casual do. Next to him is the zig zag hair and now buried cheekbones of the boy who lived for club night, who palmed lipsticks in boots, who cut a dash with a razor blade. He seems entertained by it all, he seems happy with his past and his present.
While looking at Eve Ferret, I am grabbed by Eve Ferret. I first knew of her as an actor in Absolute Beginners, and then as vivacious and entertainingly verbose guest on late night chat shows where teenage cults are born. Her painting is striking just as she must have been on that stage in 1978.
"40 years ago," she says, "40 years, and she didn't catch me as I was, I can see, she saw me as I am now". She is an entertaining guide to her own portrait. Was this a Dorian Gray which was waiting for Eve to catch up with, but now she can remain the same forever?
Sometimes, the past you only just missed seems more alien than the past that is far before you.
These were intriguing walls with an incredible energy in their representations of the found models. I left wishing there had been even more, but that is the wonderful thing about the House of Illustration, you leave wanting to investigate further, and I always leave wishing I could draw too.
Yet another reason I could never be a milliner.
The Jo Brocklehurst exhibition is HERE.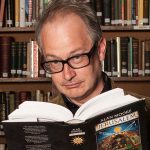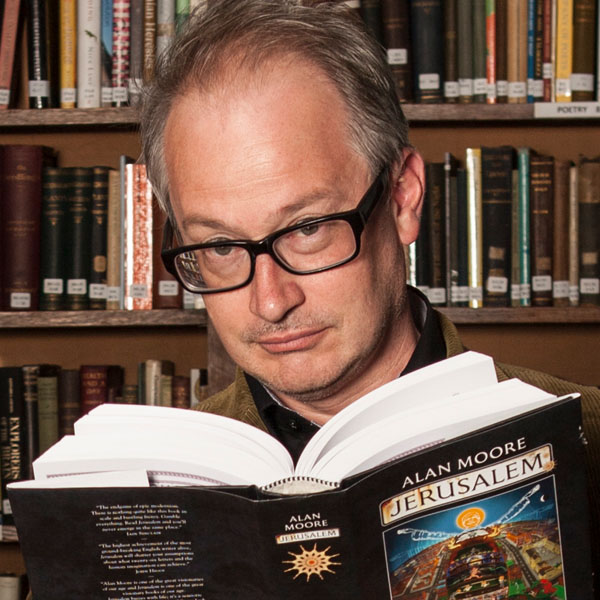 Robin Ince is a multi-award winning comedian, writer and broadcaster.  As well as spending decades as one the UK's most respected stand-ups, Robin is perhaps best known for co-hosting The Infinite Monkey Cage radio show with Brian Cox.  For his work on projects like Cosmic Shambles he was made an Honorary Doctor of Science by Royal Holloway, University of London.