A Lack of English Road Movies
Robin Ince's Horizons Tour Diary
Breakfast is with Alice Roberts, so I am educated about fossils and academia and her hopes for animatronic vikings.
I put in my usual 60 minutes morning writing, then go and sit in a garden that offers relentless olfactory delights and surprises. Lavender is the least of it. 
The last bees patrol the stamens in such of dusty hopes. 
I read on a bench devoid of a small plaque, did no one enjoy this view enough to be memorialised?
Brian gets up for lunch and eats a big piece of meat, then we get back in the van and he stretches out for a sleep. Driving to Sutton Coldfield, I look at the shells of Little Chefs, see now boarded up and overgrown, some now Starbucks, one an adult superstore. Do not accept their complimentary lollipops. 
I think about the lack of road movies set in England – there's Chris Petit's Radio On and Michael Winterbottom's Butterfly Kiss, but few besides those. The roads are just too busy for the traditional road movie. The wide open spaces fill up too quickly, easier if you just have horny Abbotts and knights walking to Canterbury. 
As we pass under the cross stitching of grey overpasses, I look at the patches of trees and shrubs that grow inside the roundabouts and think of JG Ballard's Concrete Island, what Robinson Crusoe's may leave within, occasionally foraging at Leicester Forest East Services?
I am unable to read in cars and vans, so move to the back and listen quietly to talking books. 
I do a chapter of Edward Parnell's Ghostland. He discusses MR James's advice on a ghost story, 
"A slight haze of distance is required".  There is need for uncertainty to truly haunt. It is harder to vanquish what you are not sure exists in the first place.  
I move on to Olivia Laing's Funny Weather and an essay on Basquiat covering the mutability of language and the way it twists and turns depending on the power of who is speaking. 
Of late, Laing has become one my new favourite authors. 
I also made this note in the margin of my head – "The act of making sense is made almost impossible by the speed of information".
A bird flies frenetically across the road and I am struck with the strangeness that so many things battling to stay alive may not even know they exist.
When we get to the hotel, Brian goes to bed again and I sign a bunch of books for Trent to sell at the online Cosmic Shambles bookshop. Once that is done, I catch the end of one Columbo – hard of hearing chess master Laurence Harvey is caught out due to the batteries running out on his hearing aid, and the beginning of another, Ruth Gordon traps her nephew in law in an airless safe believing that he murdered her beloved niece. We departed for Birmingham just as Ruth completed her murder.
The gig goes without hitch or power cut tonight and it is the second biggest audience of the tour so far, about 10,000.
Back at the hotel , I sense a frisson of excitement when Brian walks through the reception. The barman lets out a gasp and rushes in to say "I used to love your shows when I was a child." He is 20 now. A family of three pop by and politely ask for a photograph. Everyone beams except the child in the pushchair who places his finger deeply within his nasal passage.
Another family arrive and ask for a photo too while telling Brian he is the best human there has ever been. I keep quiet…ish. Finally, a man comes in and shakes Brian's hand over and over again. They are all filled with delight. I forget how famous he is sometimes.
I wake up three times in the night – a fractured few hours of little nightmares, a horror portmanteau movie until dawn.
Tonight's audience questions include –
If we all age at different rates does that mean i could be youner than my younger sister
If humans can see water but not air, can fish see air but not water? From Isabelle Pritchard aged 12
How do you think we could plant a tree on Mars? From Reyan Mangat, age 9
​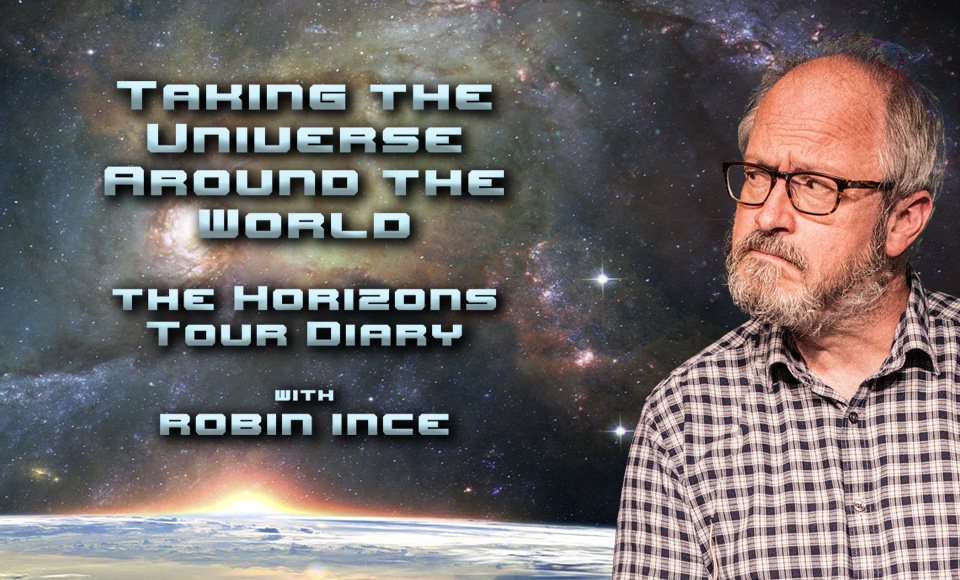 Listen to the Horizons tour podcast, Taking the Universe Around the World HERE.
Bibliomaniac is available for pre-order now at cosmicshambles.com/shop with exclusive art cards.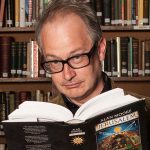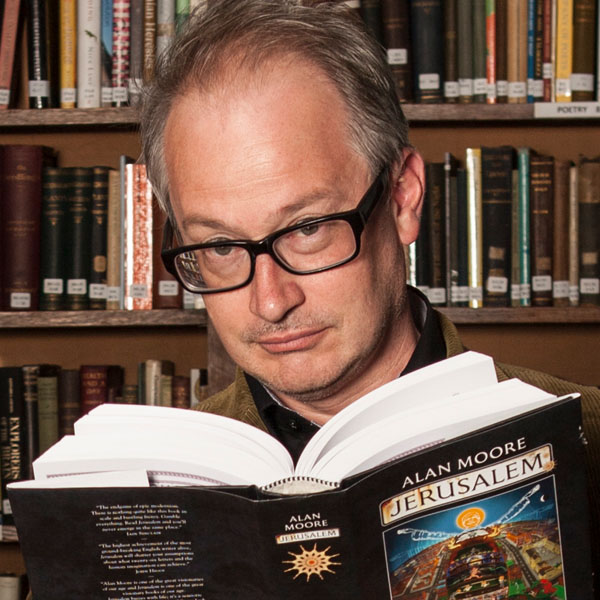 Robin Ince is a multi-award winning comedian, writer and broadcaster.  As well as spending decades as one the UK's most respected stand-ups, Robin is perhaps best known for co-hosting The Infinite Monkey Cage radio show with Brian Cox.  For his work on projects like Cosmic Shambles he was made an Honorary Doctor of Science by Royal Holloway, University of London. His latest book, The Importance of Being Interested is out now.
If you would like to reuse this content please contact us for details
Subscribe to The Cosmic Shambles Network Mailing list here.