Leaving New York
Robin Ince's Horizons Tour Diary - Entry #2
The day in Manhattan started at 6.45am when we wandered down to Q104 for Brian to be interviewed by Jim Kerr.
Jim is the perfect New York DJ – an elegant car rumble of a voice and a love of classic rock. He's been a DJ here for so long that when he began it was just called rock. 
Brian and I marvel at the CD shelves and the realisation that there are far more albums by Heart than we realised. Jim guides us through the photographs on the wall, which include Jimmy Page in a tank top that looks like it is stolen from Paul McCartney's rural knitwear range and signed photographs of Robert Plant. It is an elegant autograph though difficult to work out how the shapes and curves makeup his name, I presume if truly understood these are swirls heavy wit occult symbolism. 
I go into the studio with Brian but have no microphone, so sit like Teller and watch him admiringly as Jim and his co-host Shelli Sonstein, ask smart questions about electrons in between Tom Petty records. 
I risk shouting out something at one point, but I'm generally well-behaved.
Jim has been a DJ long enough to have the confidence to take us back down to the lobby and onto the street in the six minutes he knows he has between Billy Joel and the traffic and travel. 
Back at the hotel, we eat Omelettes and discuss Apollo 8, before Brian goes off for another podcast interview with Barstool Sports. I put my New York books to the back of my case for now and move George P Pelecanos's Shame the Devil to the front , this is my Washington DC novel for my round the world reading tour. It doesn't take long to be viscerally violent and visually striking as I had been told. I only go a few pages in, I'm not in Washington yet, so don't want to break the reading rules (whatever they are in my head) plus I am not quite rested enough for too much homicide. 
I repackage my complimentary soap, I imagining that this scant action against wastefulness will some how make up for the environmental cost of all this traveling. Each time I remove the soap from its increasingly flummoxed packaging, I will think, "but you're a good guy really". 
Now, when I look at hotel complimentary soaps and balms, I will always think of Gilbert Gottfried and his splendid frugality – a $3 million apartment, but he went to gigs on the Megabus and had suitcases under his bed packed with small vessels of conditioner and complimentary razors.
(If you have not seen the 2017 documentary about him and his family, Gilbert, I highly recommend that you do).
The rest of the day is traveling. Natalie picks me up at the hotel at 11am and we sit in a car on 7th avenue waiting for Brian to finish whatever baseball analogy he is using to explain the big bang on his sports podcast. He comes out with a bag of hooded tops for him and a baseball cap to cover my bald head.
I have been anxious about this lengthy car journey. I prefer the train, it feels less trapped, but we are being careful to be in some form of bubble to avoid COVID on this long tour.
Out of the Holland Tunnel and into New Jersey, I am always enthralled by the industrial landscape over the river, as if all these vats and  chimney stacks and keeping Manhattan alive, this world of Elois and Morlocks. After that, the freeway is fringed with skinny, suffocated trees that look like they haven't made out it out of Winter for a few years now.
Brian sits with his laptop and edits the end credits while I stare out of the window and juggling cultural references in my head as we pass malls and clapboard houses, sometimes with Edward Hopper, sometimes with Cormac Mccarthy, sometimes with George A Romero.
I survive the journey without too much edginess, helped by self hypnotism using any girder bridge available and also listening to David Deutsch's The Fabric of Reality.
We stretch with a walk to the White House and admire the enormity of the treasury building, how many copies of Ayn Rand's The Fountainhead are still found on desks there?
We eat a rich meal whose sauces will later strike me in the stomach as I try to sleep and discuss the shamanism of Gwen Verdon and Bob Fosse's choreography before bed.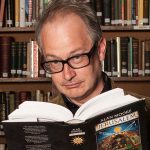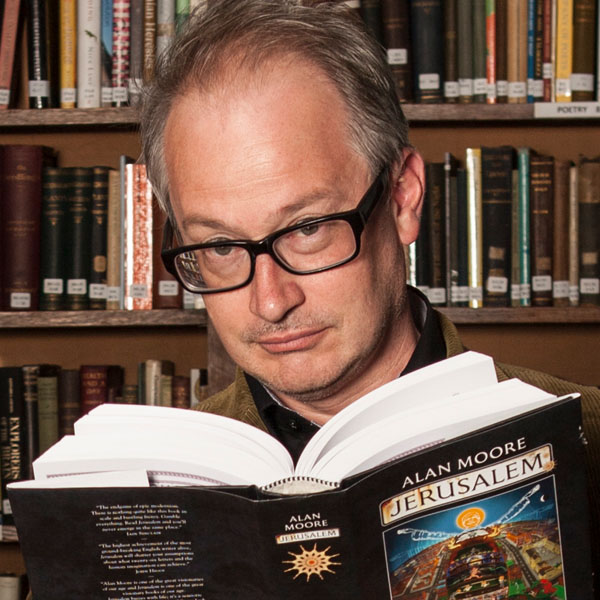 Robin Ince is a multi-award winning comedian, writer and broadcaster.  As well as spending decades as one the UK's most respected stand-ups, Robin is perhaps best known for co-hosting The Infinite Monkey Cage radio show with Brian Cox.  For his work on projects like Cosmic Shambles he was made an Honorary Doctor of Science by Royal Holloway, University of London. His latest book, The Importance of Being Interested is out now.
If you would like to reuse this content please contact us for details
Subscribe to The Cosmic Shambles Network Mailing list here.