Leg Two of the Horizons Tour Gets Underway
Robin Ince's Horizons Tour Diary
My final conversation in England is about the following.
How all autopsies of COVID patients have shown they have very low vitamin D.
Bill Gates controls WHO and predominantly makes his fortune from vaccines and so….
GPs would be struck off if they said anything beyond – have the vaccine.
Children play too many video games. 
He was a very informed driver. I am not sure who informed him, but I decided to just sit back and nod through this alternative TED lecture. It was all my fault, I brought up the government's mishandling of the epidemic. I will never learn, but I will have many lessons. 
The build up to the previous tour was filled with anxiety, possibly spiked by being in the early days of Sertraline. Now, it is just a little sadness at waving goodbye to the family again so soon after returning. I have promised my son that I will keep up to date with Obi Wan Kenobi and Stranger Things. Our most exciting adventure was Lego based. He bought a new Star Wars set. It was missing one piece. In it's place was a flat piece with a fish on it. 
Was it a Babel Fish or was it a goldfish?
Was it a secret piece that meant we had now won a trip to Lego's magical goldfish factory? 
There was some intrigue online as Lego fans could not discover the set this came from.
Sadly, there is no magical prize, it had slipped its way in from the new Pteranodon set. We will not meet the Willy Wonka of Swedish bricks (lucky really, we'd be bound to get into trouble).
My dreams of late have had a cracking cast.
Last night, I went with Nick Cave to see a new film about him projected on a vast screen.
The night before, I watched Iron Maiden sing Run to the Hills with Terry Edwards joining in from the audience with his trumpet.
Before that, I was a drummer for The Beatles and was trying to work out how to tell them I couldn't play the drums. In some dreams, at the moment of confrontation, you can magically play the guitar or cello or zither, this was not one of those dreams. Ringo was furious. 
The usual challenge of the trip after counting out my socks was working out which books would accompany me. I have taken a certain amount of therapy, a surrealist novel dealing with descent into madness and a Jean Rhys, as well as Dennis Potter's Seeing the Blossom. 
I am always worried I am under working, that I haven't done enough, so I did my 5 month review of the year. I was startled to discover I can almost avoid placing on my punishment hessian vest.
I have written a book, recorded 7 episodes of The Infinite Monkey Cage, recorded a two part series (is two parts really a series?) for Radio 4 about reality, toured with Brian Cox and done a bunch of podcasts, films and articles for Cosmic Shambles. I think that is okay and I am going to bask in it for a moment.
Right, that is long enough.
We will be recording two more episodes of Monkey cage while in LA, so that will be the background hum over the next few weeks of touring the Horizons show. 
Though I think my anxiety is beginning to be affected by the pills, I am still a nervous traveller. I check and recheck and check again. 
Even in the car to the airport, I sneak a look at my passport every now and again just to check it hasn't transformed into my wife's. Checking in, my passport misbehaves and I worry that it transmogrified as I handed it over. 
Though the plane is leaving from Terminal 5, it requires taking a bus journey from the departure gate that goes on for just long enough for you to start to wonder exactly which airport you are really leaving from. 
Disembarking, I get into conversation with a retiree. She asks if I am off on a holiday. For once, I answer truthfully. For some reason, I am always wary of telling people what I do, worried it will sound as if I'm showing off (despite the fact that I show off for a living). I usually skirt around stuff as my impostor voice hollers. Today, I just said, "I'm off on a tour"
And when she asked what sort of tour, I explained it was a science show with my pal Brian Cox.
"Brian Cox! From the Infinite Monkey Cage!"
"Yes, I'm the bloke that does the show with him"
She was effusive.
"You've really made my day. My friends in Vancouver love it too."
We veered off in different directions at the top of the stairs and I felt bad that I hadn't offered her tickets. Then, I wondered about wandering up the plane to find her and offer tickets.
Then, I worried that I would not recognise her and accost another woman in error and this would lead to hullabaloo.
So I stayed seated.
The plane is delayed, but fortunately my pal Simona, who works for British Airways, has told the captain I'm on board and, as someone who uses Radio 4 to battle with his pilot's insomnia, he invites me to look at the cockpit (no, he did NOT ask me if I liked gladiator movies). He tells me likes Just a Minute. I explain just how brilliant and vicious Sheila Hancock is and how someone once came to a gig of mine with a beautiful cake with an unflattering image of Sheila Hancock iced into it as they felt she was overly cruel to me.
The plane continues to be delayed and I start to get tetchy and my mind plays all those different scenarios of me missing my connection to Edmonton or my suitcase missing my connection to Edmonton.
I spend the first part of the journey reading Leonora Carrington's Down Below and Marina Warner's excellent introduction to it.
"Leonora had been a questor,  looking for a scripture to match her belief in the metaphysical dimensions of existence."
Warner explains that her metaphysical quest was taken in earnest, but not with solemnity.
Down Below is Carrington's account of her incarceration in a psychiatric hospital and it is a quite brilliant rendering of the malleable reality as the mind reels while it also remains on a quest for meaning.
"I ceased menstruating at that time, a function which was to reappear three months later in Santander, I was transforming my blood into comprehensive energy – masculine and feminine – microscopic and macroscopic – and into wine that was drunk by the Moon and the Sun".
I stare out of the window. Though this journey continues into England's nighttime, it will be a perpetual daytime gaining hours to Canada's west coast.  The clouds look particularly beautiful to me, but there is no point in trying to put that into words. You've heard plenty of words for clouds before and I didn't have any words for them when I was just staring at them, it is only now I am trying to write this that I am drawn to belittling them with my limited vocabulary.
Watching the Sun on the sea below, I start to wonder what I would do if I saw an Unidentified Flying Object that looked to me like a possible alien spacecraft. Of course, I don't believe I ever will, but what if I did?
How would my mind react?
What stories would I create for succour?
How would it change me?
Would it change me?
Then, I get a headache. I think brought on by me looking at the Sun reflecting off the water for too long, but, as usual, my hasty story brain imagines it becoming agonising and I see me let out a scream, annoying all the other passengers, before they see the blood pumping from all the holes in my head.
Fortunately, this does not happen (well, there is still 6 hours to go at time of writing, but so far, so good)
Reader – it is 6 hours later – my head did not explode.
I also start rereading Veronica O Keane's The Rag and Bone Shop about the nature of memory from a therapist's point of view, and Matthew Cobb's imminent book, The Genetic Age which is, as usual, I beautifully structured piece of scientific storytelling.
After worrying about connections at Vancouver, everything went remarkably well and speedily.
Oner more flight and then bed.
Patreon subscribers can watch a new half hour film out TODAY as Robin goes through all the books he purchased on leg one of the tour and then decides on a Top 10. Sign up here.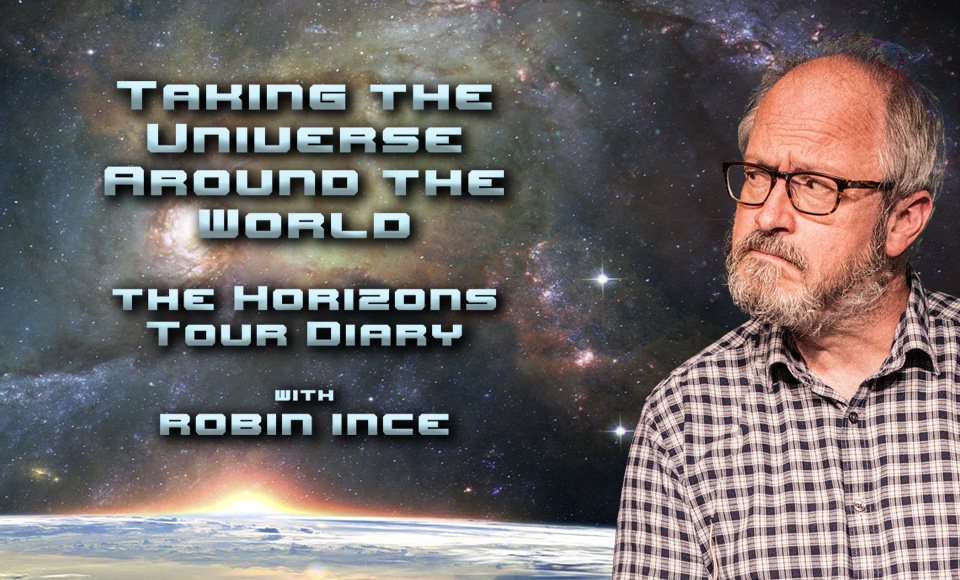 Listen to the Horizons tour podcast, Taking the Universe Around the World HERE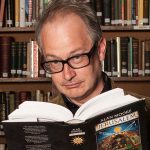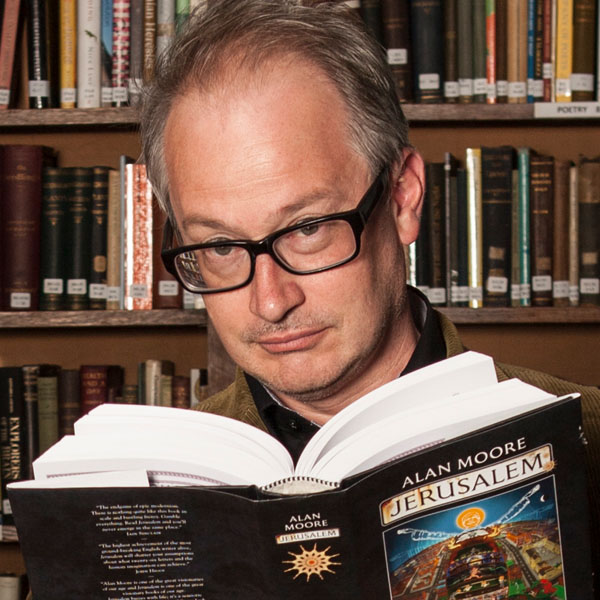 Robin Ince is a multi-award winning comedian, writer and broadcaster.  As well as spending decades as one the UK's most respected stand-ups, Robin is perhaps best known for co-hosting The Infinite Monkey Cage radio show with Brian Cox.  For his work on projects like Cosmic Shambles he was made an Honorary Doctor of Science by Royal Holloway, University of London. His latest book, The Importance of Being Interested is out now.
If you would like to reuse this content please contact us for details
Subscribe to The Cosmic Shambles Network Mailing list here.