Let's Bowl, let's Bowl, let's Rock-'n-Roll
Robin Ince's Blog
No longer ladened like an abused sherpa, I set off for Caversham, a suburb of Reading.
My family are off bowling so I am now burdened with the soundtrack of Grease 2
("We're gonna bow-oh-ohl tonight
We're gonna score-ore-ore tonight" etc)
This will be a mainly standing day on trains.
This is frustrating as I currently find that my distracted mind is able to write new things, but not read very effectively. I look out of the window, detached from the scenery by the screams of a child.
I have enough time to browse Oxfam Bookshop in Reading and for once I have specific purpose. Last time I was there, there was an autobiography of Michael Wilding, a British movie matinee idol whose career was hampered by epilepsy. It is still there and I buy it for my dad. He can read it during the ad breaks on Talking Pictures TV. I also pick up an anthology of science fiction criticism by John Clute. I forget about the pocket recipe book from the 1950s about things to do with cream that has a gaudy cover, this will be a later regret. I ask the person behind the counter if they would like me to sign the copy of The Infinite Monkey Cage book the have for a very reasonable £3.49, but she tells me it will be best to wait for the manager.
Uncertain of how long it will take to walk to Caversham, I tell her I will return another day.
On my walk, I remember a trip to Reading Jail. Shortly before it was demolished, it was open to the public.  Patti Smith performed Wilde, the works of Marlene Dumas were hung on cell walls and Oscar's cell door was displayed.
I walk across another of those autumnal parks that could have been sprung out of the staples of a 70s children's picture book.
There is another Oxfam in my way shortly before FourBears Books. I am tempted by the chunky hardback of Anatomy of Melancholy but have enjoyed my lighter Saturday rucksack so decided against it. An armchair and teddy bear are set up for my signing, all watched over by a Jimmy Carr of Loving Grace (his promotional cardboard cutout has been a regular guest nestling next to a quizzical two dimensional Michael McIntyre in a few of the bookshops I have visited, though none of the radical ones).
I meet Dr Fiona Barker who has been in the shop to sign her rather lovely children's book Setsuko and the Song of the Sea. I sign one of my books for her dad. If I behave correctly during the signing, I am promised a cupcake. I sign one book to "The inquisitive people of Finland" and another to a school library. It is a relaxed but reasonable turn out and I am allowed a cupcake.
I nearly duck back into the Oxfam for some Melancholy, but have a circuitous route to Eastbourne, so avoid it.
Another standing only train.
When I arrive in Eastbourne, there are two men in Star Trek costumes (original series – one Kirk, one Scotty). This will be the last time I arrive at an evening gig in daylight.
Joanna Neary and double act Dyball and Kerr are prepping the room in the Lamb Inn when I arrive. Nat, who runs the pub so brilliantly, is bloodied as below us there will be a halloween disco.
I perform for 70 minutes for the first half, a sort of book talk though slightly more stand up than of late, and the second half is the comedy club jamboree which includes a brilliant early 80s electro pop song from Joanna called Human Farm. I have said it many times before, but she remains one of the most underrated comedy performers in the UK, a sparkling original. Dyball and Kerr make me laugh frequently too.
We hang around and drink for a while in lovely company including the artist Dave Mckean and author Guy Adams who promises to give me his spaghetti western trilogy next time.
I drink half a glass more of wine than I usually allow myself. How will this affect tomorrow's gigs in Uckfield and Shoreham-by-Sea? I think this is our first cliff-hanger.
————————————————————-
Coming soon to many towns – do not forget National Space Centre in Leicester this Friday or the Berkhamsted Book Festival on Sunday which includes Natalie Haynes, Mark Steel, Nikesh Shukla, Claudia Hammond and Alexei Sayle. All Tour dates here.

Order signed and dedicated copies of The Importance of being Interested here.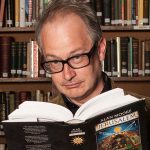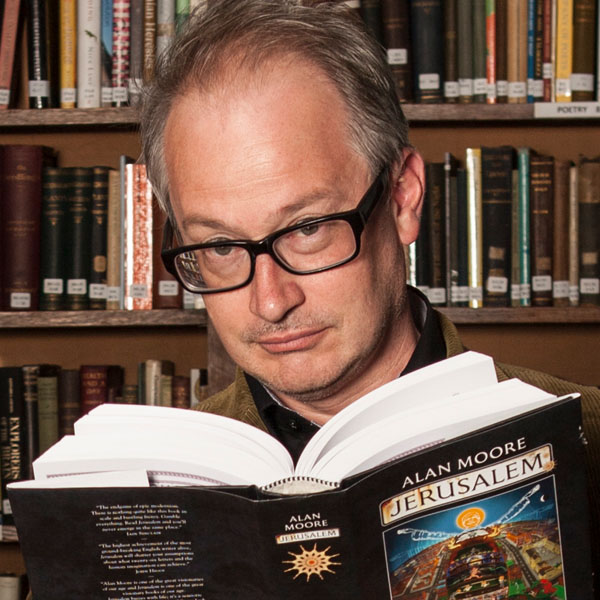 Robin Ince is a multi-award winning comedian, writer and broadcaster.  As well as spending decades as one the UK's most respected stand-ups, Robin is perhaps best known for co-hosting The Infinite Monkey Cage radio show with Brian Cox.  For his work on projects like Cosmic Shambles he was made an Honorary Doctor of Science by Royal Holloway, University of London. His latest book, The Importance of Being Interested has just been released.
If you would like to reuse this content please contact us for details
Subscribe to The Cosmic Shambles Network Mailing list here.