A London Book Crawl
Robin Ince's Horizons Tour Diary
At 8.10am my wife wakes me.
"Aren't you meant to be up?"
By god, I am.
Not understanding the fancy new phone that has been forced on me, my alarm was silent. 
I peppermint my teeth and rush at my trousers and I am at the station by 8.35am, just in time for the train cancelled announcement.
Today, I am visiting five London bookshops to sign books and say hello. I am quite aware that it won't be Beatlemania – I am doing it for the fun of it rather than as a commercial enterprise. 
Bookshop number one is Dulwich Books. 
I start the day exhausted, which is useful, as there will be a continuity of feeling throughout it. 
I sign for a few customers and meet Levi Parikian , a conductor and author. He buys my book, so it seems mean not to buy his, Why Do Birds Suddenly Disappear. 
Next is Bookseller Crow. I am early enough that I can browse the charity shops and find two books in Shelter – a novel, Lesley Glaister's Digging to Australia and a psychiatry book about extreme behaviour which I open on a page about lycanthropy so decide it must be mine. 
My pals Helen and Martin pop in as well as keen Rik Mayall fan (who couldn't be) , Cathy, who is celebrating her birthday, and Vanessa, for once without her dachshund, but with a delicious food parcel. She has noticed that I forget to eat when doing bookshop sprints so has collected a delightful selection of treats from the high street. I thoroughly enjoyed the book Why Marianne Faithful matters, so seeing there is now a volume on Why Patti Smith Matters, I decide that is the book I will take with me. 
Kirkdale Books is a short train ride, just long enough to bite into a piece of leek and cheese pie and then. Start the process of brushing off the enormous number of crumbs I create. I am messy person. It is innate. I need to train sparrows to pick at the crumbs that so often cover me. 
​Last time I was in the bookshop, they had a lovely hardback copy of No's Knife in their cabinet of wonders. Fortunately, someone else has treated themselves to it in the intervening 10 months.
It is more of a cup of tea and a natter than a signing, a lovely collation of bibliophiles and a teacher. I am given a copy of David R Bunch's Moderan – a science fiction novel enticingly described as a fusion of Nietzsche and Whitman.
"In Moderan, men are made mostly of metal. They retain strips of flesh to contain their humanity. They live in Strongholds. They prowl the war rooms of their Strongholds and plan wars."
I take the overground to Dalston Junction and the bus to Stoke Newington High Street. I arrive at 4pm on the dot. I am glad to see that an "author event" is an alibi for cake.
My friends Deborah and Richard are there. Richard, a former librarian, Buzzcocks manager and, according to Morrissey's autobiography, someone who said something "very unhelpful" when discussing the cover image of The World Won't Listen. He appears in Bibliomaniac twice, once in a story about Nico and once in a story about some marmalade on disc 3 of 50 Shades of Grey. It is a languorous signing, off and on between icing.
There is also a guest dachshund to make up for Vanessa's dachshund deciding to stay home. This one is far more timid though and, once you have given it cake, there is no sense it has advanced your friendship.
A woman at the counter is excited to discover I am in the shop as I am the author of her favourite book. She is currently listening to the audio version. It turns out, a confusion has led to her believing that I am John Higgs. As John Higgs is one of my favourite authors and a friend, this gives me the opportunity to plug more of his books as well as sneaking in that he appears in Bibliomaniac in a story about the time that me, him, Salena Goden and Kae Tempest got to see and hold William Blake's notebook.
She promises to buy my book next time.
I leave with a copy of Angela Y Davis's Freedom is a Constant Struggle.
I saunter by foot to Dalston Kingsland by foot and take overground to West Hampstead.
Tonight's talk is not as busy as the last time I talked here, but it is a lovely crowd.
I have a spare cookie from Vanessa's survival parcel, so give it to Victoria as she is first there and may need a biscuit.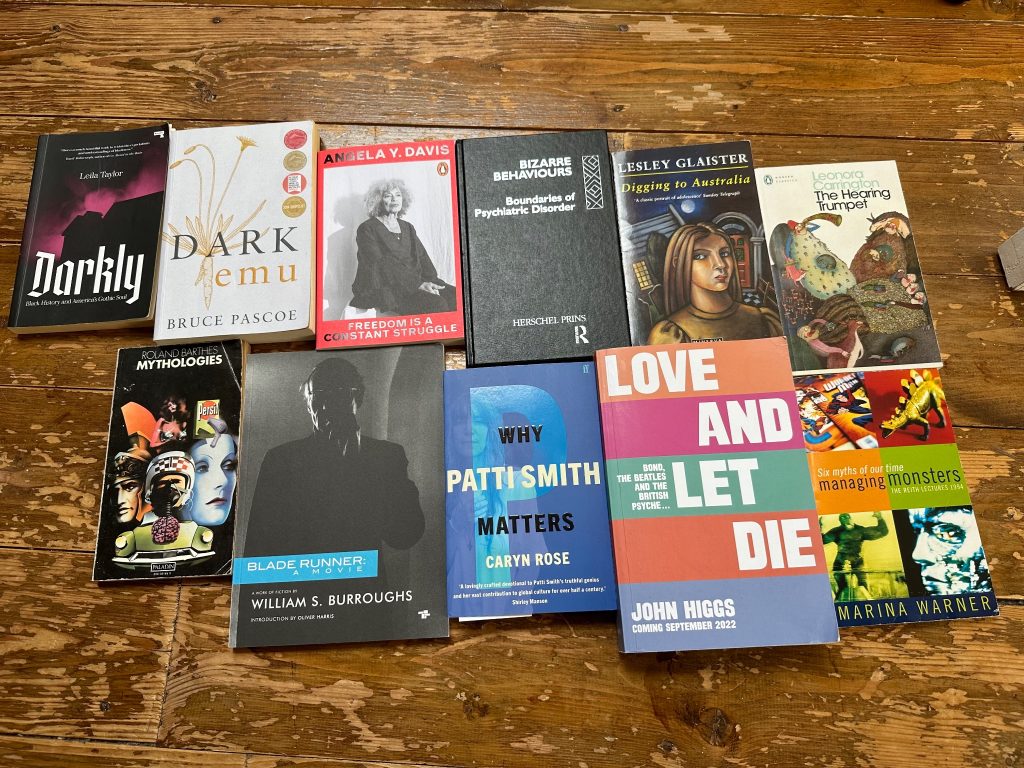 Tonight's complimentary book is Blade Runner: A Film by William Burroughs.
By the time I arrive home, everyone is nearly in bed and I start ti plan for packing as I fly to Australia tomorrow afternoon.
Necessities are passport, sertraline and at least 11 books as my flitting mind means that I often change reading intentions mid flight.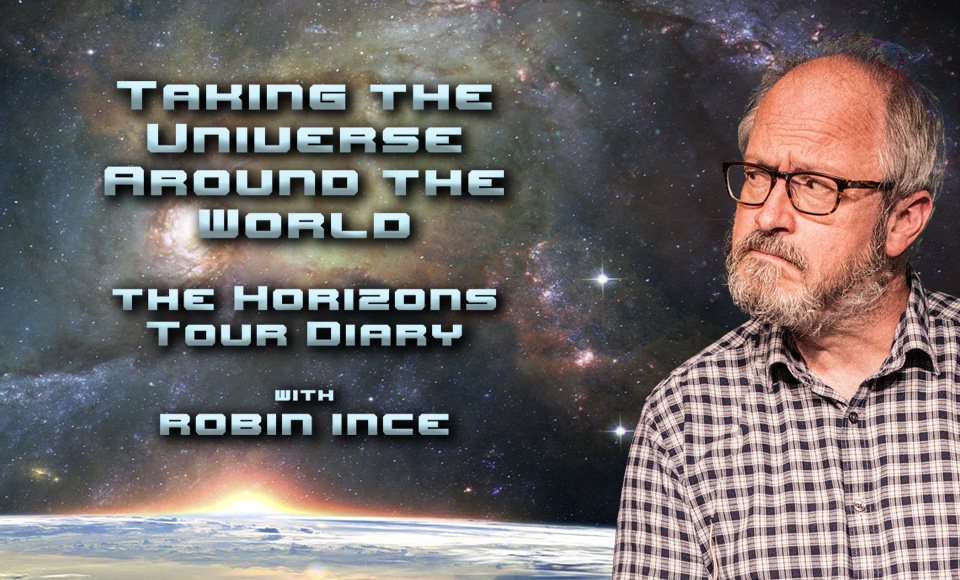 Listen to the Horizons tour podcast, Taking the Universe Around the World HERE.
Bibliomaniac is available for now at cosmicshambles.com/shop with exclusive art cards.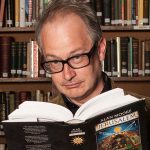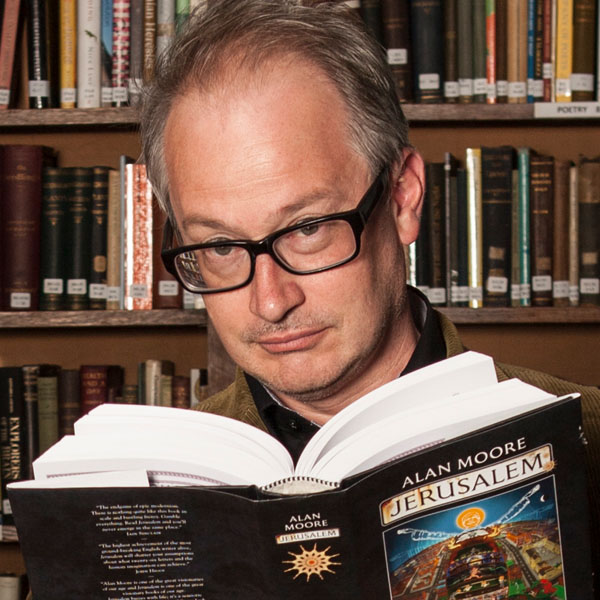 Robin Ince is a multi-award winning comedian, writer and broadcaster.  As well as spending decades as one the UK's most respected stand-ups, Robin is perhaps best known for co-hosting The Infinite Monkey Cage radio show with Brian Cox.  For his work on projects like Cosmic Shambles he was made an Honorary Doctor of Science by Royal Holloway, University of London. His latest book, The Importance of Being Interested is out now.
If you would like to reuse this content please contact us for details
Subscribe to The Cosmic Shambles Network Mailing list here.