Memento in Reverse
Robin Ince's Horizons Tour Diary
Thursday night was the best gig I have done with Brian Cox in Manchester.
What I continue to find strange is how relaxed I feel before going on in front of 10,000 people. 
I feel the good fortune that inspiration struck last year as I sat on Wembley station platform and came up with a new poem pretty much in one fell swoop. Brian gave me a few minor editing notes as we toured the USA, but what I first said out aloud at the Beautiful Days festival is pretty much intact. 
Great to see @ProfBrianCox and @robinince in Manchester tonight #horizonslive pic.twitter.com/CkrZ2a5Rz9

— Duncan Ross (@duncan3ross) September 22, 2022
It was Shelagh Delaney drizzle on my walk to the arena and I strolled circuitously to take in my nostalgia. When I first gigged in Manchester, I would sleep on people's floors and then fill my day with whatever I had money for. Usually, that was one coffee from the Cornerhouse which would last as long as it took to read a chapter of Men. Women and Chainsaws. There was normally enough left for a film matinee too. 
Once I was earning over £30 a gig, there was enough money for a veggie breakfast at Cafe Pop, which was decorated with the album sleeves of the cheep and cheerful Top of the Pops albums that housed cover versions of the latest songs in the hit parade. I remember winning one at fair once. It had a version of Una Paloma Blanca on it which was, unfortunately, as good as the original. 
Outside Vinyl Exchange was the first time I saw Mark E Smith punishing the pavement with his shoe leather as he walked with a heavy carrier bag full of Megabooze bargains. 
Affleck's Palace was where I bought the lurid shirts that said Madchester to me and the market a few yards north of that was where I would pick up bootlegs of movies like Spider Baby and Female Vampire. 
In another version of this tale, as I walked backstage into the Arena, I'd be thinking, "Who would have thought that kid being heckled by drunks at The Frog and Bucket would end up here…", but I know where I still belong. It is a delight to play in front of a packed arena, but the stage I still truly belong on in Manchester is XS Malarkey, the Tuesday night comedy club which I adore and where I warmed up some of the ideas for Reality Tunnel (also recorded in Manchester, at Hulme's Z Arts). 
I'll keep playing this entry in Memento reverse.
On Wednesday, I went and stayed over in Levenshulme with my producer pal, Carl. In between luxury hotels, it is good to sleep on a lilo squeezed between filing cabinets. 
The Barnados charity shop offered rewards of a Look In annual which immediately opened onto a photo of a gurning Gary Glitter and a Guide to the Information Superhighway written in 1994.
Tuesday was a return to Derby's velodrome. This has never been a favourite of ours but this time, we really enjoyed it. Maybe it is just that this show is brighter and better. The only downside was the car parking which was so dysfunctional that many were late and some felt the need to leave early. It was a clash of human imagination and achievement, sometimes minds succeed in understanding the singularity of a black hole ,while failing to create an effective parking system.
Monday was an early morning flight from Aberdeen to London. We were meant to be performing in Liverpool, but it was decided that the show should be postponed due to the Queen's funeral which, among other things, required almost every security person in the UK to travel to London.
Our pilot was confident.
At 6.40am, he announced that all was good, we were just waiting for the de-icer and we were way ahead of schedule. Once the plane was 45 minutes late for departure, he announced that he could no longer see the de-icer. We left an hour late and then landed in Heathrow and heard the announcement, "I'm sorry to say that the jetty supervisor is looking crestfallen". It seemed that a malfunction meant there was no way to disembark for 45 minutes.
I arrived at my dads house in time for the Queen's funeral and behaved politely and without any factious commentary. Any time I felt that bubbling up, I would got to the kitchen and help with the preparation of the egg sandwiches and crisps.
As someone with an interest in religion but without belief, I had recently contemplated popping to a temple or two to observe services, but watching the droning prayers and hymns, I realised that my mind is quickly frustrated. This form of Anglicanism seems so lacking in charisma or connection. The Lord's Prayer is recited with no sense of meaning. As ritual goes, it is not quite up there with a pool cleaner whistling I Vow to Thee My Country while pulling verruca plasters out the filter. The day itself seemed to cheer people with its pageantry and pride that we can at least march in time as we move forward into a crumbling future.
In the evening, and with no sense of connection, I watched Eat the Rich, the 1987 satire that grew out of The Comic Strip Presents… and starred, amongst others, Lemmy, Ronald Allen from Crossroads and Big Ron from the Albert Square market. I think I liked it even more than when I first saw it at the Baker Street Odeon.
Sunday was a long journey from Newcastle to Aberdeen broken up by a viewing of Withnail and I which we all lip synced to,
Audience questions included
So quantum entanglement is like having soul mates for photons. Is this the mathematics of love??
Could a tardigrade survive in a black hole?
Can entanglement be compared to heaven ie everything here on earth has an equivalent heavenly existence
​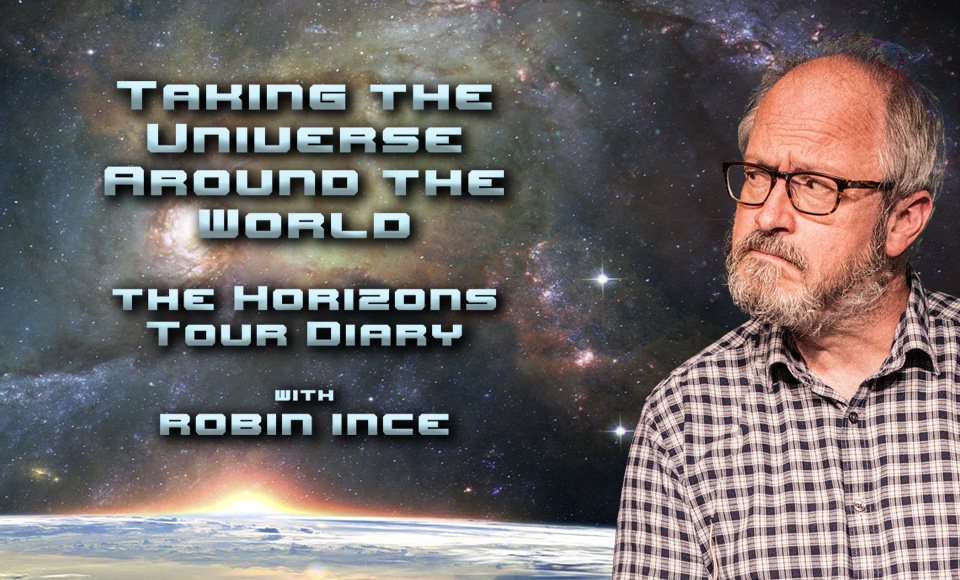 Listen to the Horizons tour podcast, Taking the Universe Around the World HERE.
Bibliomaniac is available for pre-order now at cosmicshambles.com/shop with exclusive art cards.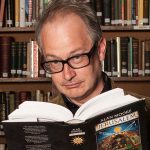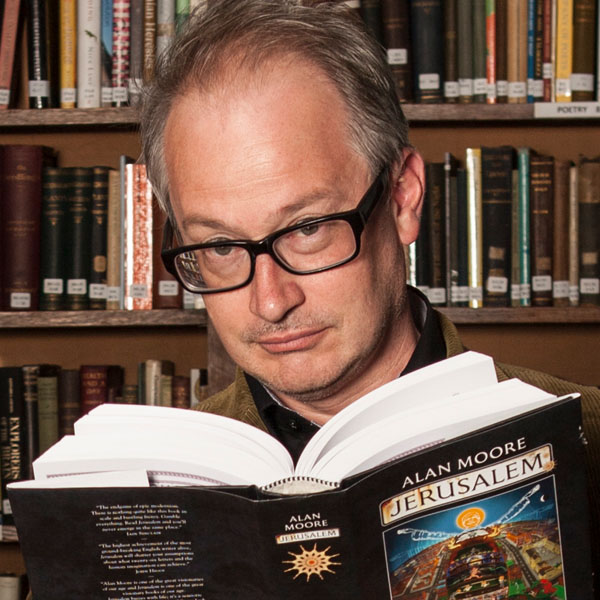 Robin Ince is a multi-award winning comedian, writer and broadcaster.  As well as spending decades as one the UK's most respected stand-ups, Robin is perhaps best known for co-hosting The Infinite Monkey Cage radio show with Brian Cox.  For his work on projects like Cosmic Shambles he was made an Honorary Doctor of Science by Royal Holloway, University of London. His latest book, The Importance of Being Interested is out now.
If you would like to reuse this content please contact us for details
Subscribe to The Cosmic Shambles Network Mailing list here.