Memories of John Sessions
Robin Ince's Blog
One of my strongest memories of seeing Simon Gray's The Common Pursuit in the west end was the moment John Sessions answered the phone before it had rung. He then looked at the audience with a face of magnificent "oops"ness. It was a preview and that night was a little ramshackle with Rik Mayall's energy dominating the stage.
The cast also included Stephen Fry and John Gordon Sinclair, so it was quite a night out for this spotty teenage nerd comedy obsessive. At that time in my life, somewhere between school and adulthood, I spent every Friday with my friends Carolyn and Heather eating mushroom pate and watching Whose Line is it Anyway on Channel 4. It was the most exciting night of the week.
I was trying to work out when I became aware of John Sessions. I thought it was when a fellow shop worker banged on and on and on about his one man show Life of Napoleon, but I already owned the Spitting Image LP Spit in Your Ear by then so definitely knew him from his appearances on that in a sketch where Peter O Toole wakes ups without his penis and he also did a spot on Edward Fox for a Private Eye freebie Flexi disc (I can't remember the sketch exactly, though I think it was a spoof on Guns of Navarone and dealt with the recent SAS shooting on Gibraltar).
He performed one of his solo shows on Channel 4 which included a Das Boot spoof involving a kazoo and a wonderfully mangled Meryl Streep talking about her garden in Africa (it is lost somewhere on one of the many betamax tapes stacked in the cupboard that contains all the ghosts of my youthful obsessions).
He also played Zipser in Porterhouse Blue where I think he died in an exploding condom accident.
In the period of the late 80s, he cut a fascinating figure. He wasn't a stand up, but he showed me there was another way of delivering a solo show that wasn't a play. I was similarly fascinated by Eric Bogosian and Spalding Gray. He joined the ranks of personalities that I would buy anything that involved them and watch anything they spoke on. Whose Line is it Anyway made his name, but it also gave him the reputation for being a bit smug and domineering. He was so keen to impress. Looking back, I don't think he was smug, I think that expression on his face also came from terror and hope and wish for acceptance. He also wanted you to know he knew things and when it came to the authors round and he would choose Gabriel Garcia Marquez, his face would smile in a way that could be confused for self congratulation but I think also hinted at a certain self effacement, "Oh no, look at John, being all clever with his authors again."
Demonstrations of cleverness or intelligent reading are not taken well in England and that can lead to embarrassment should you wish to  communicate such things.
One of the most memorable episodes involved John Sessions and Jonathan Pryce doing the film styles round. Every time Pryce went to say something, Sessions would grab the scenario from out of his hand and make it his. Eventually, Pryce looked to the camera and said, "sorry, if I had know the part was so small, I would never have taken it". As I read more interviews with Sessions, I sensed a fragility, I thought more and more that his dominance in that situation was not from ego but the hope to impress Pryce or anyone. 
After Whose Line…, he did a series of late night shows at the Donmar Warehouse as a warm up for his BBC TV series On the Spot, a solo improvisation show where he would be not be hindered by interruptions from Tony Slattery and Josie Lawrence. I went to watch a few of these shows with Heather and Carolyn. I fear that I was growing cynical. One night it felt that he just couldn't find the story he needed and, in what looked like desperation, said "and then came Laurence Olivier…"
I accidentally let out a quiet sigh, but it was obviously louder than that as Sessions reacted immediately, "oh yes, boring old John, crowbarring in Laurence Olivier, I think we should have an interval." I was mortified and felt terrible. Now, having been a performer for nearly 30 years, I feel even more ashamed of that moment and how it must have cut him .
A few years later, after many respectable acting jobs including My Night with Reg, he created the brilliantly simple and wonderfully absurd Stella Street with Phil Cornwell and Peter Richardson and again I was setting my video (VHS now, not betamax) to tape every show.
I always felt that Sessions didn't seem comfortable in his own skin, there seemed to be a sadness that was barely concealed. I hope I was wrong. I wish he had continued to create those solo shows. He played a very important part in inspiring young me and showing me possible ways to use the stage and create shows. Tonight I will eat mushroom pate again and try to perfect my Edward Fox impersonation.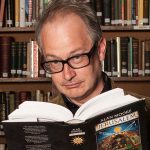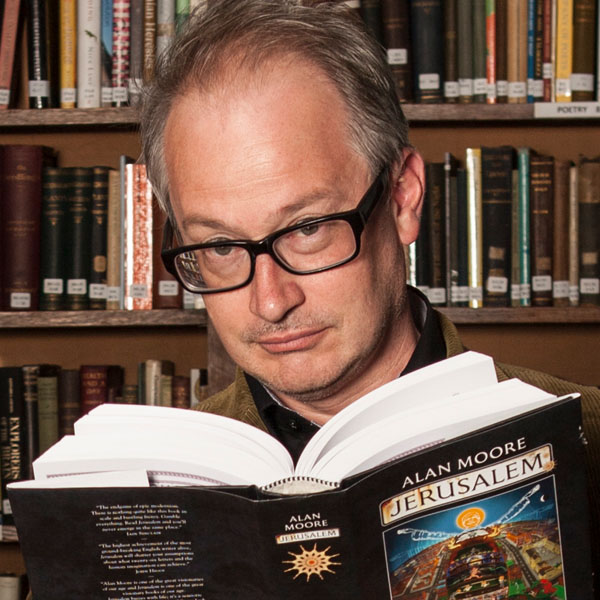 Robin Ince is a multi-award winning comedian, writer and broadcaster.  As well as spending decades as one the UK's most respected stand-ups, Robin is perhaps best known for co-hosting The Infinite Monkey Cage radio show with Brian Cox.  For his work on projects like Cosmic Shambles he was made an Honorary Doctor of Science by Royal Holloway, University of London. His latest book, I'm a Joke and So Are You is out now.
If you would like to reuse this content please contact us for details
Subscribe to The Cosmic Shambles Network Mailing list here.