Memories of Nick Cave and Bruised Knees
Robin Ince's Horizons Tour Diary
A period of reflective and respectful mourning seems to mean a period of relentless abuse towards Megan Markle.
Nothing so clearly highlights the spite that drives our newspapers than the twisted forms they take as they combine simmering genuflection with abject, profitable hate. I see visions of the fractured bone flesh forms of the cursed dancers in the Suspiria remake. 
In Nottingham, I pop into Five Leaves Bookshop in Nottingham to see if they have a copy of Edzard Ernst's Charles: The Alternative Prince , an examination of the new king's celebration and promotion of alternative medicine. It is not on the shelf, so I will order it from them when I return to do a Bibliomaniac event in November. 
The glass cabinets of Oxfam fortunately hold nothing for me, but I plug out a book on philosophies for life, from the mystic to the scientific, a book on mysteries – was god an astronaut or was god a mushroom? And a good hardback of Marina Warner's Monuments and Maidens. 
I enjoy returning to Nottingham Arena as it was here that I saw my favourite Nick Cave and The Bad Seeds' gig. A late purchase meant I could only get seats, so I made up for that by repeatedly punching my leg so hard during Jubilee Street that I created a sizeable bruise. 
The gig passes almost without incident, but… 
When Brian explains something, he is interrupted by a "how do we know that?". I am surprised (and relieved) that doesn't happen too often or we would be there for days. He joins in a few more times, eventually asking a question so long that even Brian says, "I don't think we have time for that now". Once we get to doing 24 hour shows, we'll be getting dangerously close to a Jim Jones Kool-aid scenario. I await the mothership. 
We have a post show drink with Drac, who toured with Brian across Europe and with Europe (Joey Tempest's kingdom) in his golden Dare days. Simona, an air steward, also joins us, which gives Brian the chance to wax on his favourite planes and work out which ones we reckon he could land in an Airport '75 situation. Tonight, he is Karen Black. 
Back in my hotel room, the sound insulation is closer to amplification and I listen to whoever is above me pacing about and urinating. Eventually, I shout at the ceiling, "Oh for fuck's sake" and for once, it works. 
Tonight's audience questions included 
If there was one physics equation or problem you could solve before you die which would it be and why?
Do we really need time  or could we survive without time.  What is its purpose other than to say how long we have lived for
Reckon lightsabers or hyperspace travel can be a reality one day
The following day I woke up melancholy.
Maybe it is because Jimmy Carr was in my dream.
The feeling refused to shift.
There is a day off between Nottingham and Hull, so while the others go to the next rural idyll hotel, I took the train to my dad's house.
I tried to read the books I bought the day before, but head is too unsure to focus on words.
I have fantasies of escaping from everything, finding a shepherd's hut north of Cromarty, found some decades later by Ben Fogle.
I am cheered up by just missing my connection at London Marylebone, this means I have time for a quick browse in Archive Books on Bell Street, one of my favourite London secondhand bookshops. There is order, but also chaos in the corners. I have a high 14 minutes to browse.
I find a copy of Lupino Lane's How to Become a Comedian which was most likely Denis Norden's copy. The shop has some of Norden's book collection and I have picked up Dickie Henderson's autobiography and The Rationale of the Dirty Joke among others that were once held and underlined by Denis as he wrote his links for Looks Familiar or blooper reels. As well as being a great comedy writer he was clearly a true comedy enthusiast. I also pick up New Writers 3 with four short stories by Alexander Trocchi and a guide to writing by EB White. Turning around, being carefully not to teeter any pile of books with my rucksack, I find a box of Beckett, but fortunately only need the one today. It is capped off by a book of three screenplays by Luis Bunuel and an anthology of Clare Tomalin's reviews for my dad. I don't like to approach him without a book present in my hand.
My dad is no republican, I believe he was greatly moved by the death of the Queen, but he is already fed up with the endless reports of endless coffin queues and the dredging up of anyone with a memory of a cock-legged corgi.
I am keeping most of my opinions inside my head, but my skull would whistle like steam train should I dare to trepan it.
We watch All Creatures Great and Small and wrack our brains trying to remember who was Siegfried in the movie (of course, it was Anthony Hopkins).
After apple cake, I return home and attempt to assist my son in his maths homework. I am usually told, "That is not how we do it now, dad", but, for once, I am helpful with my methods.
A few hours back in reality during an arena tour creates an odd sensation. The body is still gearing up to speak to 10,000 people while it is in a kitchen with a couple of people who are too busy to hear you. I occupy myself with minor chores, then go and watch Stephen Graham in Boiling Point. It is perhaps not the best film to unwind to, but it is damn good.
My dreams were of a brutal and dystopian future. I didn't see Jimmy Carr there, but I presume he was.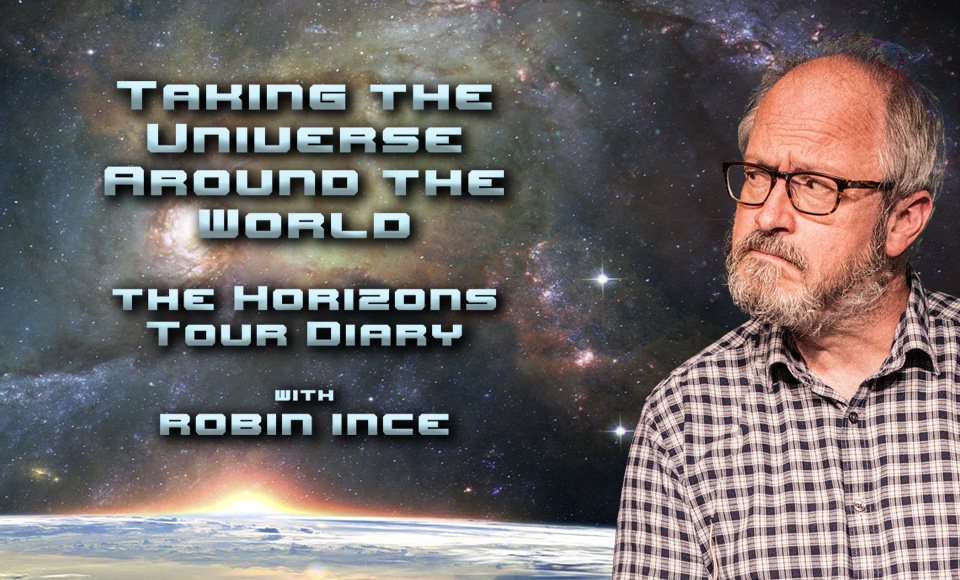 Listen to the Horizons tour podcast, Taking the Universe Around the World HERE.
Bibliomaniac is available for pre-order now at cosmicshambles.com/shop with exclusive art cards.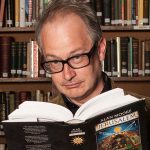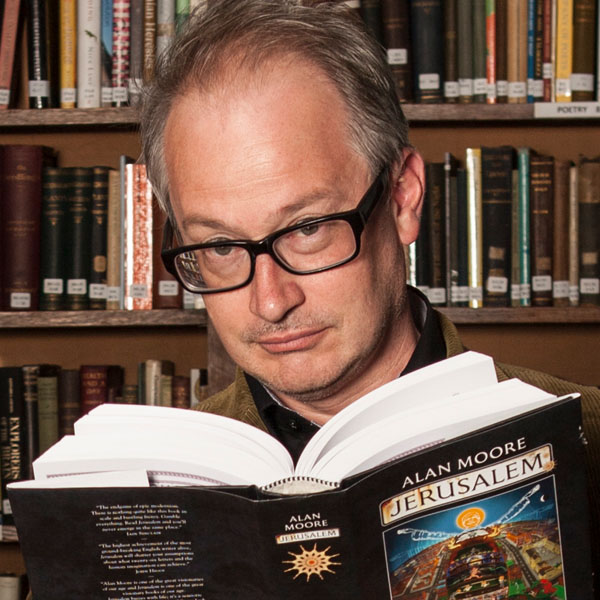 Robin Ince is a multi-award winning comedian, writer and broadcaster.  As well as spending decades as one the UK's most respected stand-ups, Robin is perhaps best known for co-hosting The Infinite Monkey Cage radio show with Brian Cox.  For his work on projects like Cosmic Shambles he was made an Honorary Doctor of Science by Royal Holloway, University of London. His latest book, The Importance of Being Interested is out now.
If you would like to reuse this content please contact us for details
Subscribe to The Cosmic Shambles Network Mailing list here.