The Mobius Strip Hell of The Lighthouse Family
Robin Ince's Blog
One of the most important, engrossing and pointless tasks of preparing an Edinburgh fringe or tour show is compiling the audience walk in music.
Almost before I have conjured a title or theme, I have started composing a list of songs the audience will barely notice as they make themselves comfortable. Sometimes I am in an upbeat mood, or at least I want them to be in an upbeat mood, so I have often used Billy Bragg's Waiting for the Great Leap Forwards followed by The Polyphonic Spree's cover of Lithium. The Bonzo Dog Doo Dah Band's Sport (The Odd Boy) is another favourite as it is pertinent to the younger lives of many of my audience, who were rarely picked first for games, plus it has some delightful bell playing at the end that is a fine example of expert stereo recording. I have often walked on to Basil Poledoris's main theme from Robocop because I find the stirring, bombastic orchestral surge is a good counterpoint to what the audience see before them, a pale man in a cardigan.
One of my favourites was the use Michael Legge and I made of The Lighthouse Family's Lifted for our Pointless Anger Righteous Ire show of 2012. For 15 minutes, a loop of the first minute of Lifted, expertly spliced like and easy listening Mobius strip of hell, would play to our waiting audience. It was magnificent to hear the slow rise of indignant rustling as they twigged the true horror. It got the audience into just the mood we required.
On my last Edinburgh Fringe run, in 2014, I was particularly enamoured with the archive releases of Trunk Records, so the audience walked into the soundtrack from Blood on Satan's Claw, Bright Eyes from the Classroom Projects' album, Music from Mathematics , which is what the future was going to sound like when keyboardists passed the Turing test, and Philip Larkin reading some of The Less Deceived.
For this year's two shows all I know for sure is that I'll be playing Arthur Russell's This is How We Walk on the Moon before my show about art. I better get on with it or I'll never get around to writing the shows.
My Edinburgh fringe shows are now on sale here and here.
Many people have been asking about the play in music for the Brian Cox arena tour, expertly put together by our tour manager, Giles. It is a selection of songs about space and science, though currently it has no Pond. We must repair this error. Here are the arena songs of cosmology.
My top three out of these songs are The Killing Moon (Echo and the Bunnymen), Go! (Public Service Broadcasting) and Another Girl Another Planet (The Only Ones), what about you?
Here are the arena songs of cosmology.
Just Jack Astronaut
Taylor Swift Starlight
George Harrison Here Comes the Sun
Echo & The Bunnymen The Killing Moon
Sunhouse Spinning round the sun
Stevie Wonder Saturn
Coldplay Sky Full of Stars
One Republic Counting Stars
Madonna Lucky Star
Elton John Rocket Man
The Flaming Lips Approaching Pavonis Mons By Balloon
KT Tunstall Crescent Moon
The Beatles Across the Universe
Paul Weller Science
Wolfmother Violence of the Sun
Elbow Lippy Kids
David Bowie Life on Mars
Lost Horizons Space Walk
Gorrilaz Every planet we reach is dead
Lou Reed Satellite of Love
The Waterboys The Whole of the Moon
Guided By Voices I am a Scientist (I am a Scientist EP Version)
Eels Daisies of the Galaxy
Frank Sinatra Fly me to the Moon
The Kinks Supersonic Rocket Ship
R.E.M. Man on the Moon
Bonzo Dog Doo Dah Band Mr. Apollo
The Police Walking on the moon
Sheila B. Devotion Spacer
Elvis Presley Blue Moon of Kentucky
David Bowie Space Oddity
Deep Purple Space Truckin'
Muse Supermassive Blackhole
OK Go Shooting the moon
They Might Be Giants Science is real
Public Service Broadcasting Go!
Dispatches Circles Around the Sun
Pink Floyd Astronomy Domine
Colourbox The Moon is Blue
David Bowie Starman
Bonzo Dog Doo Dah Band Urban Spaceman
Stone Tepmle Pilots First Kiss on Mars
Bing Crosby Swinging on a Star
Paul Weller Saturns Pattern
Toad the Wet Sprocket New Constellation
Beastie Boys Intergagctic
B52's There's a moon in the sky
Moby We are all made of stars
They might be giants Why does the sun shine?
The Only Ones Another Girl, Another Planet
Babylon Zoo Spaceman
You can listen to Michael Legge and me on Vitriola Music Shambles here.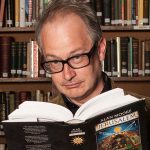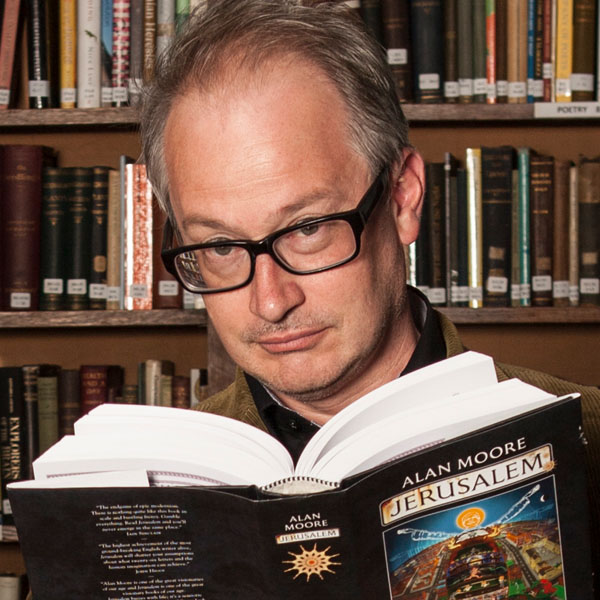 Robin Ince is a multi-award winning comedian, writer and broadcaster.  As well as spending decades as one the UK's most respected stand-ups, Robin is perhaps best known for co-hosting The Infinite Monkey Cage radio show with Brian Cox.  For his work on projects like Cosmic Shambles he was made an Honorary Doctor of Science by Royal Holloway, University of London.
Featured image by an Unknown photographer – Beeld & Geluid Wiki Dutch TV, 7 June 1968, Fenklup